Dillane Wehbe's Struggle and Success
The Dillane Wehbe of today — a junior freestyle swimmer — is not the same as the one of three years ago. That may be true of anyone. However, it is especially so for Wehbe. 
He is in a different school, having transferred to Fordham in 2019 from American University. But more importantly, he has a much different perspective on life.
For Wehbe, things stem back to Bishop Hendricken High School in Rhode Island, the place where he grew up and first realized he suffered from depression.
"I kind of grew up my whole life with depression," he said. "I thought I was the average kid and thought I was normal for being sad, but as I got older, I kind of recognized like these are some weird thoughts I'm having in my head."
Wehbe doesn't know what caused his struggles to develop, saying that he grew up in an ideal situation without a reason to be depressed, a testament to the challenges of acceptance those who struggle with mental health continue to face. He even had tremendous success as a swimmer. An All-State performer ten times and a five-time state champion, he was part of a rigorous club program that produced incredible results in the water. However, that success was also part of the challenge.
"I went to an all guys high school, a very strong community of guys, and you don't want to be the weak guy." Simply put, Wehbe was afraid to be himself.
Those difficult emotions resulted in the first suicide attempt for Wehbe in his junior year and a second in his senior year. Both were whirlwind events, something that happened without any sign of how things reached this point. They also served as moments for Wehbe to realize he needed a change at the time in his life and from American University later down the line.
Wehbe cites those around him who helped overcome this event, be it his childhood friend Nick Haddad with whom we spent his entire life or an entirely new community here at Fordham. Speaking of Nick, Wehbe said, "He and I swam our whole lives together; he was like a brother."
It is that emphasis on friendship and family through which Wehbe developed a newfound appreciation, saying, "to get where you are, you need a strong support group."
Wehbe cites his friends at Fordham — Spencer Clarke, Max Asnis and Arthur Gooden, to name a few — who he "never has to worry around," along with his brothers back home.
"They definitely are people that helped keep me grounded. I always kept my little brother in mind, and I want him to see a big brother who he is proud of."
It is an emotional journey that certainly has not been easy, nor did it happen overnight.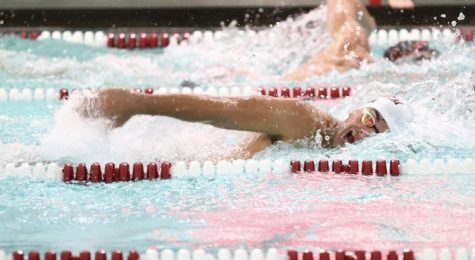 "Ultimately, it just takes a lot of hard work and reflection and growth. It wasn't easy either. It was like a six-year process to get where I am today, probably longer. But you know, it's just a continuing process every day, you know, every day you try and make yourself better."
Part of that process for Wehbe came through swimming, which he describes as "very different for me now than it was three years ago." Considering his athletic success, Wehbe said, "It used to be my escape really because I could just go there, work hard and be with my teammates and we just go about our business as athletes. We didn't have to worry about the politics outside of athletics."
But as Wehbe has learned, the life of an athlete stems far beyond their performance. "Yes, we're held to a higher standard. I get that. But it's also, we shouldn't be ashamed of what's going on in our heads," he said. "And I think that that's what really helped me get through because it allowed me to be a voice for a community that I didn't, at Fordham, I didn't know I could reach it or branch out to."
Now, Wehbe has become very entrenched in those so-called politics, and for the better as well. "When I got to Fordham, it was very different because now I am a leader in the athletics community … I get to make my mark," he said.
"I have a role to be myself, and athletics used to be that you had to fit the mold and do the whole shut up and dribble stance and be the perfect image, and now it's not, and that's something I really embraced."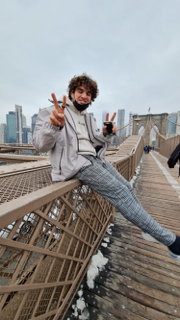 One of the ways Wehbe has embraced this new image has come through The Herd, a fan engagement initiative he started in collaboration with the Fordham Athletics Marketing Department amid the pandemic. 
Fans at Women's Basketball or Volleyball games can likely recall Wehbe and his friends cheering in the bleachers with paint across their chests or signs in their hands. "I would just go do my thing and have fun with my friends. It's sport and that's how sport is."
 Now, he is attempting to bring that same energy to the entire Fordham Athletics community. It has been a combined effort from Wehbe and Fordham's Assistant Athletic Director of Marketing, Nick LaMarca.
"One day I just walked in his office and was like, "Hey, can we just start this?" To his surprise, Wehbe got a yes, and has been rolling with it ever since.
Wehbe interviews coaches in The Ram Table as Kaitlyn Downey handles "Keeks & E on Eddies." "She [Downey] kills it with her parts. Nick kills it with his parts … It's showing a side of athletics that I think people need to see," he said. "We're pretty cool people outside of it."
It's just the start of what Wehbe hopes will grow into something more, and it has all been done without any fans in the stands. "Not having the actual games has been the biggest challenge cause that's where we as athletes get to perform," he said.
"If people could see the games and sports being played and then see what's being posted on The Herd, I feel that's what would be beautiful … It would be a snowball effect … We just haven't had our snowball effect yet."
As Wehbe continues to wait for that moment, though, he has dived deeper into another passion: music. "I've been working on music my whole life," Wehbe said, but "every time I picked up an instrument, something would stop me from using it," namely trouble with a piano or drums teacher for the enthusiastic person he is.
The pandemic has given Wehbe a new opportunity to pick up his passion, one that started about two and a half years ago and became a serious occupation this past December. "I spent pretty much all the money I had and pretty much bet on myself."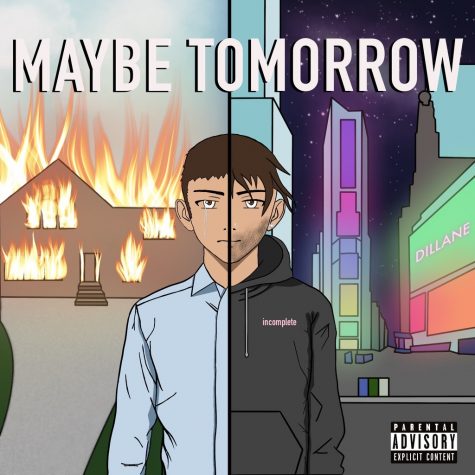 After tinkering around in the time since Wehbe is finally ready to show off his work. For the past three months, he has been working on his first project, an EP entitled "Maybe Tomorrow," set to release on March 12.
"It's definitely got a lot of very raw emotion … attachment to it … I hope the listeners can relate themselves to it in any way."
Wehbe does not want to share any more than that, "I think that's all I should say, I kind of want everyone to go listen to it."
And for Wehbe, this is very much a "reflection of mental health," a journey that has been unfolding over the years, laid out in this EP. It is a sign of just how far Wehbe has come and the mindset that he carries today.
As for how he feels now, "I was scared I wouldn't be embraced but now, it's hey man, I'm gonna be myself and I'm a lot happier because of it."
When asked about what he would tell his younger self, "Don't try and be yourself for anyone else. Be yourself for you. Every single person is a great person when they're themselves."
Wehbe also reflected on what it means to be an athlete, a question that has come into much focus throughout the pandemic and one that Wehbe has competed with his entire life.
"When you're doing your athletics, work your tail off and do everything you can in the sport, but also remember that you are not just the athlete. You are not just a student, you are you and you can be whatever you want in this world." 
It is a message that is not just about athletics, or for those struggling with mental health as Wehbe did, but for everyone.
"It's not even just people who are suicidal, it's anyone, any mental health, you know. Every day is going to be a battle, but you just have to beat it and you have to find ways to express yourself and find ways to make yourself feel good and be your truth."
Wehbe finished with one simple message, "Be yourself and live your life." He has done just the same.