Softball Opens Season with Weekend Split
After waiting an entire year and withstanding a two-week pause, Fordham Softball finally set its 2021 season into motion this past weekend. 
Things officially kicked off on Friday afternoon, with the Rams earning a 5-4 win against Army West Point. Army, a team pegged to finish second in the Patriot League following a 14-9 showing last season prior to the pandemic, put up a strong fight against Fordham.
The Black Knights carried the momentum from a 16-4 win against Howard University to open their season into Bahoshy Field. Army built a 4-0 lead behind some early jitters from Fordham. Jolie Duong knocked in an RBI double in the first and was shortly brought home courtesy of an error by junior Sarah Taffet at shortstop.
Two runs off the top later grew into four, and Alicyn Grete struck out 11 over the first four innings to silence the Fordham offense. On the other mound, senior Madie Aughinbaugh had a rocky start, allowing six hits and three earned runs through four innings.
However, much of that was expected for Fordham with just a week of practice since the on-campus pause concluded. And in the sixth inning, Fordham found its footing. 
Aughinbaugh reached base with a walk and stole second to get in scoring position. From there, junior Rachel Hubertus blasted a double into center field to drive in the run, making an early impression after missing nearly two years due to injury.
An Army error drove in junior Gigi Speer to tie things up heading into the seventh. Junior Makenzie McGrath held the Black Knights off the scoreboard, and sophomore Devon Miller kept things clear for the bottom half of the inning.
Still trailing by a pair of runs, Fordham had much work to do in the seventh. The errors continued to pile up for Army, with some pitching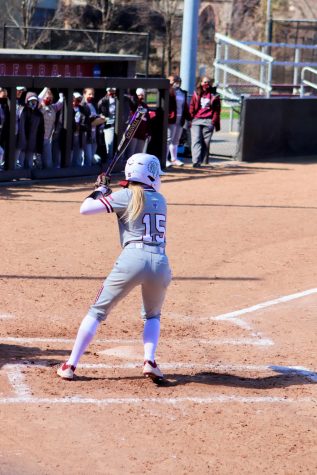 woes handing free bases to the Rams. Senior captain Brianna Pinto made Army pay with a single to drive in senior Aubree Barney and Aughinabugh followed it up with the same, knotting things up for Fordham.
That was not all, though, as Fordham saw a chance to complete the comeback and capitalized on it. Taffett sent a ball into centerfield to drive home the winning run and give Fordham its first win of the season.
Pinto and Aughinbaugh led the Rams with a pair of hits and an RBI each, while Miller earned the win on the scorecard with two strikeouts in her lone inning of work.
Fordham did not have much time to celebrate; however, turning right back around to face Seton Hall University less than 24 hours later, this time on the road. It was a high-scoring affair, with the Rams giving up a dozen runs over six frames, including eight in back-to-back innings, and falling by a score of 12-6.
Fordham continued its rhythm to the tune of an early two-run lead behind an RBI single from Hubertus. They grew their lead even more in the third as Taffet added a two-run home run. However, it was all Seton Hall from there.
Kelsey Carr drove in three with a home run followed by an RBI double from Ally Taylor. The Pirates matched that production in the fourth inning, adding another batch of runs behind a double from Abby Wingo.
Each team tacked on a couple more runs, but the game was decidedly in Seton Hall's favor. The Pirates started their campaign with a difficult schedule, facing two of the top 25 schools in the nation at the Gamecock Invitational. They have rattled off three wins in a row since, including that against Fordham.
Rounding out the weekend was a Sunday doubleheader against the University of Massachusetts Lowell. It began with a tight 2-1 ballgame in which Fordham pulled out the victory.
Following a slow start in game one, Aughinbaugh was fantastic in her second go-around. Aughinbaugh dealt four strikeouts and allowed just one unearned run — a product of one of the Rams' three errors — over six innings. However, Fordham made up for those few mistakes with some crucial infield play.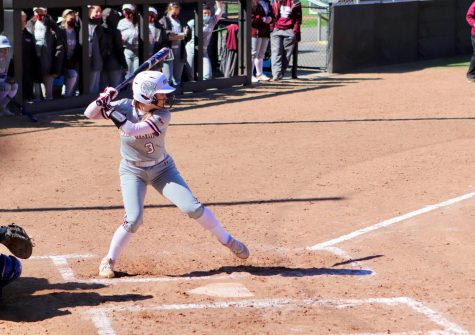 Anne Marie Prentiss cemented her hot start at the plate, adding to her first career home run from the day before with a second against UMass-Lowell. Junior Julio Martine knocked in a run with an RBI single to give Fordham the 2-1 lead, which was secured by McGrath for her first career save.
The second game was not as kind to the Rams. UMass added one run immediately in the first, but Fordham responded with two of their own in the second, including a home run from Hubertus, to take the lead into the third. However, things went in a drastically different direction there.
Freshman Bailey Enoch, after giving up six hits and three runs in two innings against the Pirates, struggled in the starting spot. After picking up the first out of the inning, Enoch gave up a two-run home run to Sarah Ratcliffe, and a flurry of singles suddenly brought six runs to the plate for the River Hawks. 
Fordham tacked on one run late, but UMass earned the convincing 7-3 win to close the weekend.
Speaking to Fordham Athletics after the game, head coach Melissa Inouye said, "We saw some really good things from the team and we look forward to getting back at practice and improving from the weekend."
Specifically, Fordham will be pleased with some impressive hitting production from Aughinbaugh — bound to be a pivotal part of the Rams' success this season — along with Taffet, Prentiss and Hubertus. 
For a roster returning every one of its players, the mixture of experienced names alongside young players adapting to the college game will be a key story for Fordham this season. That was evident this weekend.
Regardless of the outcomes, easily the greatest gift for Fordham has to be simply taking the field again. They will look for much more of that this season, and it picks up again this Wednesday at 3 p.m. in the Bronx against St. John's University.