Masks Still Sell, But NYC Street Vendors Notice Decline of Sales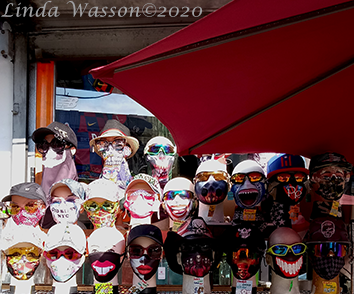 Baba, a 60-year-old New York City street vendor, was the only seller whose table was not playing music throughout the densely-packed, Latin music-filled streets of East Harlem. As the loud conversations between his competing vendors and their customers filled the street, Baba vented his frustration with a freezing mask business. 
"Now that the vaccine come, business is very slow," said Baba. "I sold a lot of masks before the vaccine. I used to sell one to two masks a day. Now I don't make money. I'm still selling because I got to come get something to eat. If I don't try to sell, how am I going to survive? How am I going to pay the bills?" 
Some street vendors in New York City report that they have seen a recent decline in the number of masks they sell. They each offer different explanations for why sales have slowed. Baba believes the increased availability of the COVID-19 vaccines is the reason his once-booming business is now struggling to stay afloat. Ka, a 55-year-old vendor from Harlem, began selling masks last month and believes business slowed down because the city distributes masks for free, though this practice has been in place since last summer.
Angel, a 50-year-old vendor, said he made more money before the pandemic despite being currently able to draw in roughly 50 customers daily. Like many other street vendors, Angel buys nylon masks, which are manufactured in China, in bulk and resells each mask for about $5 a pop. His customers can also purchase Lysol spray, hand sanitizer, surgical masks and toilet paper. These items are different from the knit hats, watches and other accessories he would normally be selling during winter months.
"Store doesn't have what I have," boasted Angel. "When the pandemic kicked in it was hard to get Lysol, but I got it because I was well connected. I have connections all over New York and New Jersey."  
Patricia, one of Angel's customers, prefers to buy masks from street vendors rather than a local store. "They're more buyable," she said. "They're out here selling them at a reasonable price, and they fit my face. They're tight and they fit my whole face. Better than them store ones do. These are adjustable, those are not. And if you've got a small face, there's no way to adjust them with the store ones. These come with an adjustable band."
Another customer, 52-year-old Valentine, expressed a similar preference for buying face masks from street vendors over retail stores and said he liked the mask designs available at street vendors' tables. Valentine said "style and fashion" are the main reasons he and many others continue buying face masks from street vendors. He also insists the street masks he buys are more effective than ones he has seen in stores and expressed his desire to protect his loved ones from the potential fatal effects of COVID-19. "I lost my wife to coronavirus and my mother," said Valentine. 
The Yankees-themed mask he purchased had thick padding to keep out droplets, something which many of the surgical masks commonly sold in stores do not provide. However, even without a thick layer of padding, CDC studies have proven the effectiveness of surgical masks at blocking respiratory droplets and other airborne particles. 
Although many street vendors express frustration with a slowing mask business, El, 48, maintains optimism about his business. "Every morning I wake up, I don't say 'I'm going to try to make money,' I'm going to make money," he said.
El said he has earned a greater profit during the pandemic selling masks than he did when he first started in August selling children's toys. "I took my unemployment money, and this is what I did," he said. "I have a family, a child to support. I lost my job. I make $50 a day because I do something constructive with my life. I give out deals. I give out free masks to children not wearing masks. I'm not just selling — I'm offering help." 
El sells masks in New York and Connecticut. Although nearly all vendors have adjusted the products they sell as a result of the pandemic, El continues to sell hats, scarves, bluetooth speakers and headphones whenever he isn't offering discounts on masks to the many COVID-susceptible homeless men and women who live on the cold city streets.
Currently, New York state has distributed at least one dose of a COVID-19 vaccine to 14% of its population as of Feb. 28. New York is in the bottom 10 states where residents have received at least one shot of the vaccine, according to the Daily Wire. With these still-low vaccination numbers, and many people still expressing a preference for buying masks from local street vendors, it is clear that while the mask business is an uncertain one from a long-term perspective, there is still a market for masks in the very near future.