Andrew Yang Gives Spring a Soundtrack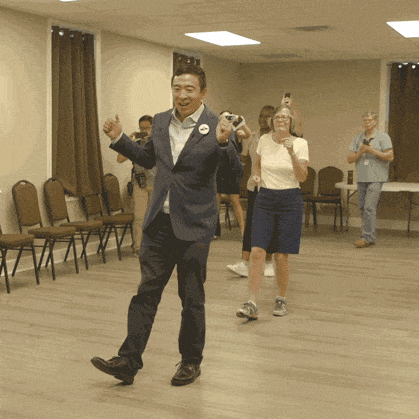 Most Americans know Andrew Yang for his sudden political career: presidential candidate turned CNN commentator turned New York City mayoral candidate. However, it might be news to you that Yang also has great taste in music.
When I first saw that Yang released "Andrew Yang's NYC Spring Playlist" as part of his mayoral campaign, I was skeptical. Perhaps a result of watching countless politicians' futile attempts to appear likable and relatable, but I went into Yang's playlist expecting a cheesy mix of songs selected by his campaign team to generate the most interest. However, I was pleasantly surprised.
Yang's playlist consists of 62 songs, spanning seven decades of music. The oldest song, "Respect" by Aretha Franklin, came out in 1967; the newest song, "Leave the Door Open" by Bruno Mars and Anderson. Paak, was released less than two weeks ago. That being said, Yang leans toward classics on this playlist. It's dominated by old-school hip-hop and dance hits.
If there's a mood that unifies this entire playlist, it's dance. This shouldn't be a surprise — Yang's tweet promoting his playlist includes a video of him bopping along. Every one of these songs is danceable, and there's a funky disco presence that runs through the playlist. "Let's Groove" by Earth, Wind & Fire is a bop and a half, and I envy anyone who can resist the call of "Whoomp! There It Is" by Tag Team.
Yang's music taste also has tendencies toward the silly. I realized this as soon as I saw "I Gotta Feeling" by the Black Eyed Peas, a song that I cannot take seriously no matter how hard  I try. Yang also includes the theme from "Space Jam," and the playlist is anchored by The Lonely Island. It's a playlist with its own sense of humor.
There's also a couple of intriguing inclusions. At first listen, "Came For The Low" by ZHU seems out of place — it's a relatively obscure EDM song — but it has personal importance for Yang. In 2019, ZHU endorsed Yang as a presidential candidate, and Yang appears in the music video for "Came For The Low."
Of course, Yang's playlist isn't free of cheesy New York songs. The most egregious of this is "I Guess the Lord Must Be in New York City" by Harry Nilsson. The Beastie Boys' "An Open Letter to NYC" offers another perspective of the city. However, more notable is that most of the songs on this playlist come from New York artists. I appreciate the effort that Yang took to keep the playlist local.
As fun as this is to listen to, I cannot completely separate the playlist from its political origins. At moments, I hear exactly the campaign-selected songs that I feared. "Rebel Rebel" by David Bowie and "Holy" by King Princess are fantastic songs, and they fit with the playlist's overall vibe, yet I can't shake the feeling that these songs are inauthentically added to cater to the LGBTQ+ vote. I feel similarly about Yang's decision to include Spanish-language songs by Bad Bunny — as much as "TE MUDASTE" slaps, I worry that Yang has ulterior motives in winning over Hispanic and Latinx voters.
Campaigning concerns aside, I enjoyed Andrew Yang's playlist immensely. It's groovy, it's fun and it's real. Yang nailed the "springtime in the city" vibe. It's something I could see myself listening to while staring out the window on the 4 train. I don't know if I want Andrew Yang as my president or my mayor, but I definitely want him as my DJ. 
You can listen to Yang's mayoral campaign playlist here on Spotify.