Beyond the Scoreboard: What To Make of 2020-2021 Men's Basketball Season
What began as a unique and unprecedented season for every program around the country amid the COVID-19 pandemic ultimately concluded in a familiar frustrating fashion for Fordham Men's Basketball. Yet, the Rams should enter this upcoming offseason feeling more optimistic than pessimistic about what their future holds.
Now, if fans are immediately skeptical about associating the word optimistic with Fordham Men's Basketball, it's genuinely understandable. The Rams rollercoaster season ended at 2-12 overall and spawned a 2-11 Atlantic 10 Conference record, marking Fordham's third last-place finish in four years. And, as has been the case in recent years, Fordham saw their season culminate with another early exit from the 2021 A-10 Men's Basketball Championship following the Rams first-round loss to George Washington University.
"I feel like us as a group, we always pushed through," sophomore center Joel Soriano said during last Wednesday's postgame press conference. "I think they wanted us to make an excuse of going through quarantine after quarantine, not practicing or playing, missing games but I feel like we just pushed through everything."
Sophomore guard Chris Austin echoed Soriano's sentiments when reflecting on the challenging season, calling this year's team "a special group of guys" while also saying, "I feel like we can handle anything and we all support each other."
When asked to summarize this past season, junior guard Jalen Cobb described it as an unpredictable experience but commended his teammates for never faltering under pressure throughout the year. "We handled it with a lot of character, and I feel like that gets overlooked by a lot of people," said Cobb. "I feel like if they really had some perspective, they could understand how tough this season was on us as a whole."
It would be nearly impossible for those who follow the program to extrapolate anything positive from this past season on the surface. If given further context, it's genuinely remarkable Fordham was even able to complete half of their schedule.
Fordham went 293 days without playing a meaningful game of basketball before having their latest season opener in program history. For perspective, only three schools (Alabama State, Siena, Merrimack) tipped off their respective campaigns later than the Rams. An early positive Tier 1 COVID-19 test effectively eradicated Fordham's non-conference schedule, forcing them to start the season by leaping straight into conference play. Unfortunately, navigating these procellous waters created by the ongoing pandemic left Fordham no choice but to watch 12 of their 25 regular season games get canceled this year.
As if this set of circumstances weren't already enough, the season's biggest development came at the head coaching position. In late January, Athletic Director Ed Kull announced that head coach Jeff Neubauer would be leaving Fordham, leaving associate head coach Mike DePaoli to serve as interim head coach for the remaining seven games. Considering Neubauer's tenure at Rose Hill resulted in a 61-104 record over six seasons, his eventual exit seemed inevitable and was absolutely warranted in the grand scheme of things. Regardless, Neubauer's midseason departure only added to the towering deck being stacked against Fordham throughout the year.
Because COVID-19 cases began to spike at the Rose Hill campus, the Rams entered another 14-day pause in mid-February as mandated by New York state. In the end, Fordham went 18 days in between their last regular-season game against Saint Louis University and last week's first-round defeat to GW. Despite having to manage these imperfect conditions from start to finish, nobody on the team has given any excuses when discussing the season in totality.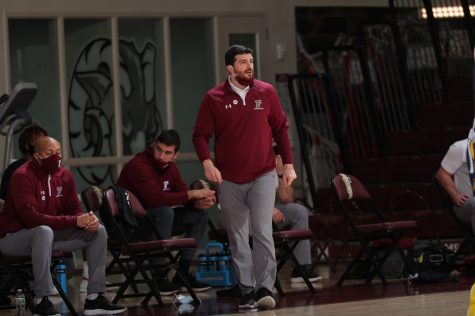 Here's the deal: When you think about everything these student-athletes endured just getting through the finish line, it's easy to empathize with how demoralized and frustrated they must feel looking back on this season. Instead, the team never publicly displayed either of those emotions in looking for sympathy handouts. The players showed true professionalism under erratic circumstances by the season's end, certainly a testament to DePaoli's leadership in the interim.
If the priority is to swing for the fences and hire an established name to take over, it does not bode well for DePaoli's chances of being the long-term answer as head coach. However, given his significant rapport with the team's core players and the experience he's accumulated over 11 years at Fordham, retaining DePaoli as an associate head coach should be a top priority for the incoming head coach.
Bringing up any other candidates in the conversation is purely conjecture at this moment. In my opinion, Fordham's next head coach should be able to accomplish three things: Recruit the state of New York competently, schedule harder non-conference opponents to adequately prepare for A-10 play and implement efficient offensive strategies that are sustainable for success given the program has only averaged 70 or more points per game four times since the start of the new millennium.
Cobb agrees there are more positives than negatives in what the Rams bring to the table heading into next season. "We already have this culture of defense installed in us, so that'll carry over," Cobb says. "Offensively, we need to build a culture of being unselfish, playing together and just hoop. I feel like we can do good things here."
Whoever chooses to accept this job is not walking into an immediate winning situation by any means. The Rams are coming off a decade that saw six last-place finishes in the A-10 and just one postseason tournament appearance. More importantly, the program hasn't earned an NCAA Tournament berth since the 1991-92 season. Building a perennial conference contender figures to be an arduous and meticulous process, but make no mistake, it can most definitely be done.