Business of Sports Society Takes Annual Symposium Virtual
After being forced to cancel its marquee event last year due to the COVID-19 pandemic, Fordham's Business of Sports Society will be hosting its ninth annual Sports Business Symposium, co-presented by the Gabelli School of Business. Though the event will take place fully virtually on March 25 from 4 to 9 p.m., it boasts the same opportunities and speakers previous participants will recognize.
Speaking about the Gabelli Sports Symposium, BSSF President Nicholas Lehman said the following: "We are so excited to host our 9th Annual BSSF Sports Business Symposium virtually this year, as it has expanded our horizon to attract speakers and aspiring sports business professionals from across the country, making this a truly national event." 
This year, BSSF is stepping things up by presenting two keynote speakers: Mary Cain and Tim Hinchey. Kicking things off will be Cain, a professional runner for Tracksmith and a women's athletes' rights advocate.
She was the youngest runner to compete for the United States at the World Championships level at just 13 years old. Her story became public in 2019 as she disclosed a personal experience in the New York Times about the physical impact of her time at the Nike Oregon Project. Now 24, she has since joined Tracksmith, an independent running company, in hopes of reigniting her career.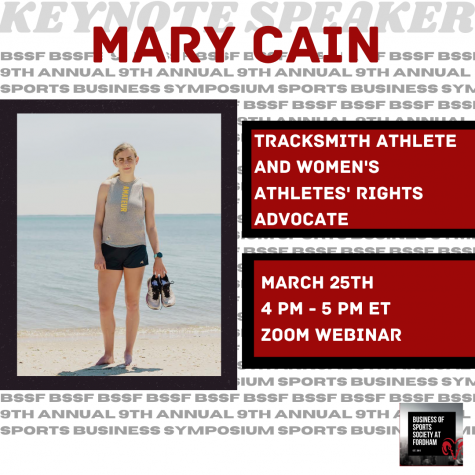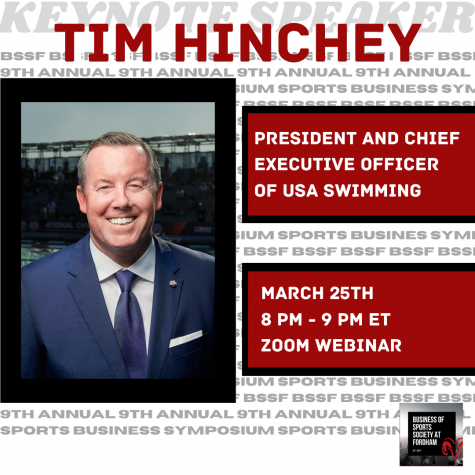 The second keynote speaker, speaking at 8 p.m., Tim Hinchey, is the president and chief executive officer of USA Swimming. Hinchey previously led numerous sports organizations both in the United States and abroad, including the Colorado Rapids, Derby County FC and the Los Angeles Kings among others. Since taking over USA Swimming in 2017, Hinchey became the CEO of USA Swimming Foundation in 2019 to spearhead the organization's philanthropic causes.
Between the two speakers are three panels, each with their own unique theme. At 5 p.m. is the disruptors in sports business, which the club defines as those involved in new avenues in the industry such as gambling, social media and analytics. Featured speakers include Eliot Crist of the FTN Network, senior analyst at the Lotte Giants, Matthew DeMarte, David Artzi of DA Athlete Marketing, and finally, sports lawyer Dan Lust.
The second panel, at 6 p.m., will be centered around partnerships. Speakers include Barstool Sports' Mary Beth Gambke, along with Steve Olwell from the New York Racing Association and Terry Tsouratakis, director of corporate partnerships at LAFC. Rounding out the group will be Stephanie Maes from MGM Sports and Mark Gennarelli of the New York Giants.
At 7 p.m., BSSF will enter the communications and community relations sphere with four additional speakers. Heather Hall from BSEGlobal, DJ Sixsmith from ViacomCBS and Excel Sports Management's Rachel Walsh will be joined by independent consultant and public relations expert Joe Favorito.
Lehman also reflected on the significance of hosting the event, a project that has been months in the making. "I am so honored to host this event, as from my first days at Fordham I have put all my energy into working for BSSF, and I am excited to see this year's Symposium be our largest and most successful ever despite the huge amount of adversity we have all overcome in this past year."
The Symposium is open to all in and outside of Fordham and will take place this Thursday, March 25 from 4 to 9 p.m.