Bronx Night Market Returns After Hiatus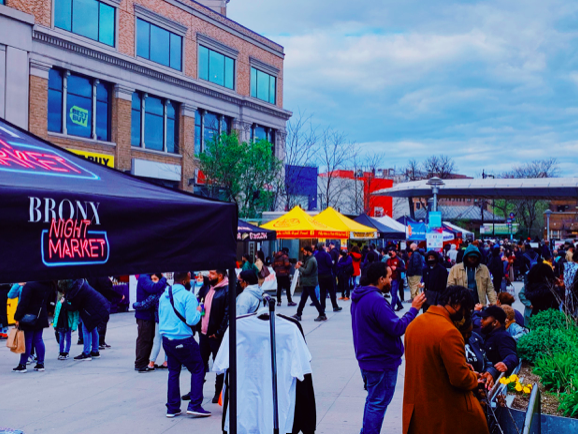 If you walk right off campus on an early Saturday evening, a heavenly aroma immediately overwhelms your senses. It's the Bronx Night Market — a pop-up food festival that runs from April to November every year.
The quarterly magazine "Edible Bronx" and creative agency "BLOX" first conceived the market back in 2018. Now tucked away between Fordham Road's TJMaxx and Walgreens, the Night Market attracts thousands of customers nearly every weekend. The Market's primary goal is to showcase a diverse array of food and support dozens of local, up-and-coming chefs. Someone attending the Night Market will walk away, having experienced a multitude of cultures.
Things, however, look a little different at the Night Market this year. Since thousands of hungry attendees often swarmed, the Market needed to restrict its capacity due to the ongoing COVID-19 pandemic. Now, the Market requires all visitors to register online before attending the event to maintain proper social distancing protocols. The registering process is free of charge but cannot take place on the day of the festival.
Additionally, the Market usually runs from April to November without hiccups, but rising cases in the Bronx caused the festival to postpone the majority of its fall 2020 dates. However, the Market made its highly anticipated return in 2021 when it opened to the public on April 3.
Once you successfully register and get inside, the Night Market runs relatively as usual. Many of its mainstay vendors are still there, selling their culinary creations and making small talk with customers. Despite COVID-19 upending the Market's trajectory towards success, its popularity has shown no signs of decline. Even with the registration system, the Market's space was completely filled by 5 p.m., with hundreds of masked individuals dashing from booth to booth.
Since its start, the Night Market's organizers wanted all of its options to be affordable for any customer. Therefore, most of the vendors' price points range from only $3 to $11, so $20 can go a long way.
You can easily feast on a three-course meal at the Night Market. There is "Fresh Maine Lobstah Rolls," which sells a tantalizing array of seafood straight from the sea, "Hangry Dog," which offers a unique spin on corn dogs, "Twisted Potato," which sells thinly-sliced potatoes on a skewer and "Wah Gwaan" which sells Caribbean-style tacos.
If you still have room in your stomach after dinner, the Night Market continues to tempt you with a wide selection of dessert options. These include "Dre's Water Ice and Ice Cream," "Island Love Cake" with their famous aged rum cakes, "Sweet Shots with AJ," which adapts Italian, Latin and American flavors in their experimental cupcakes and "Sam's Fried Ice Cream." Altogether, these vendors represent cuisines from over 20 nations around the world, giving attendees a makeshift global culinary tour.
However, the Bronx Night Market offers much more than just food — its assortment of beverages is truly a sight to behold. The festival offers a wide selection of alcohol, such as craft beer and spiked seltzers, for customers to sample. TRULY, a popular spiked-seltzer brand, sets up a tent each week for attendees to try new flavors. Aside from the food, you can rep the Night Market every day of the week with their merchandise. They sell sweatshirts, t-shirts and beanies, all emblazoned with its trademark blue and pink logo.
The Night Market offers a beautiful glimpse into Bronx culture. Bronx residents from all across the borough make their way to the Night Market every weekend. Some serenade audiences with their various musical talents; when visiting the market, you will most likely hear the sound of someone's saxophone chorusing through the air. It's a place where both the Bronx community and those just visiting for the day can come together and enjoy some incredible food and drinks.
Fordham students should absolutely take advantage of what the Night Market has to offer. It gives an incredible, affordable alternative to the cafeteria or other on-campus eateries, all while supporting local small businesses. Students should definitely stop by before the end of the semester since the Bronx Night Market is something you don't want to miss out on.