Sláinte: Fordham Irish Dance Presents Sixth Annual Irish Night Performance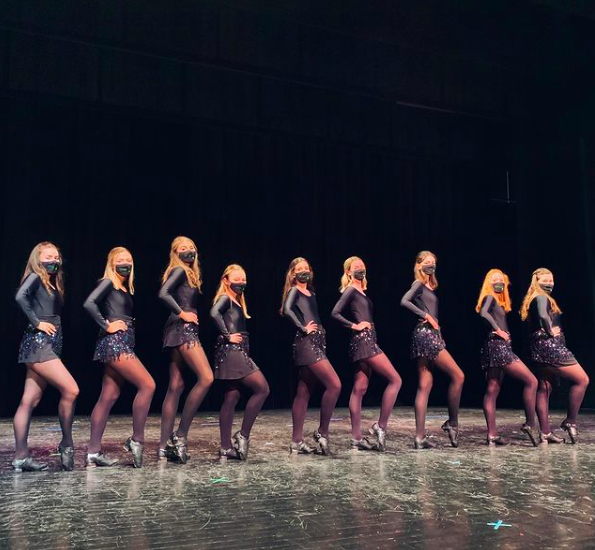 On Wednesday, Sláinte, Fordham's Irish Dance team, virtually premiered their sixth annual Irish Night. The performance showcased new choreography from a semester of in-person and Zoom rehearsals. It included dances to songs from the classic Riverdance to "Boom Boom Pow" by the Black Eyed Peas. The entire show is available to watch on Sláinte's YouTube page, where it already has over 700 views.
Student Steven Ruggiero, FCRH '22, recorded Sláinte performing six numbers, and the YouTube video features performances from the a cappella groups the Fordham B-Sides and the Satin Dolls. Members of Sláinte share their favorite part about being on the team, and an instrumental performance of Irish music by student Kenny Vesey, FCRH '22, plays as the credits roll.
The dances are done to a combination of traditional song and modern pop music, with both soft shoes and hard shoes. In "Team Building," choreographed by Brianna McCartney, FCRH '23, dancers performed classic four-hand and eight-hand reels — although they didn't hold hands as is traditionally done, due to COVID-19 safety standards. In "Capone," dancers took the stage in sparkly skirts and hard shoes to perform a jazzy number to music from the show Celtic Tiger.
Co-president Reilly Keane, FCRH '21, said filming went on without a hitch, thanks to the amount of practice the team had done this semester. Keane is excited for the team to have a professional film as a way to look back on this performance. "It's up on YouTube, which means it gets to stay there forever," she said. "For anybody who is looking to go to Fordham, wants to Irish dance, or wants to know more about [us], there's a whole video right there, put together."
The team had to adapt many of their typical practice and performance routines to follow Fordham's COVID-19 protocol and keep students safe. "There were obviously a lot of stumbling blocks we hit," Keane said. "Even though it's nowhere near what we've done in the past, it's completely different. It's great."
Typically falling the week of St. Patrick's Day, Irish Night was originally planned for March 16, and it was going to be a two-night performance with a live audience in addition to a livestream. However, following Fordham's two-week shutdown of in-person activities, Keane and her co-president Madi Carr decided to postpone the performance until April 14 and make it an exclusively virtual event.
"It's just a massive, massive change," Keane said. "It's really tough to do something when you don't have a rulebook."
Sláinte also had to begin rehearsing for Irish Night before the semester had started. Over winter break, e-board members choreographed new pieces from their homes and recorded themselves dancing. Through a shared Google Drive, the rest of the team accessed these recordings and taught themselves the dances. By the time students returned to campus in February, Keane says they were familiar enough with the steps to accelerate the pace of in-person and Zoom rehearsals.
The team held a Zoom session on their computers at every rehearsal to allow the people who couldn't come in person to remain acquainted with the choreography. They also held a few practices outside.
Keane says it was a challenge to balance both keeping people safe and putting on a good show. "It can be tough to clean dances, put people in spots and figure out formations if people don't come in person. But at the same time, we don't want to push people if they don't feel safe."
Despite the difficulties Sláinte faced this semester, Keane and Carr were able to implement many goals they had for the team. They began holding open beginner classes on Saturday afternoons and doing more across-the-floor work and team exercises. They were also able to put on an outdoor performance on Hughes Terrace on St. Patrick's Day, in addition to their performances during the first semester of this year.
And through the added isolation and stress of this year, Sláinte has found ways to cope through team bonding and a fun, low-pressure dance environment. "Everyone's excited that we still are able to dance," Keane said "And it's a fun way to keep doing something that we've done since we were kids."