Metzler Takes the School Hammer Record as Track & Field Take On a Double-Header Weekend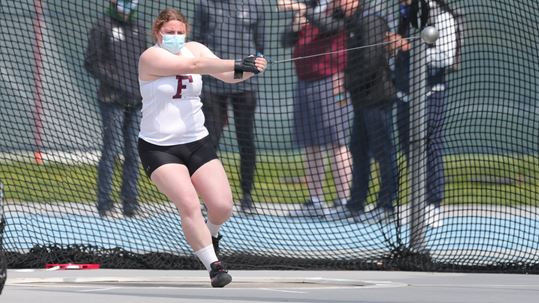 Fordham Track & Field returned to Galloway, New Jersey, this Friday to kick off their double-header weekend with the Stockton #3 Invitational Meet. The men's squad was led by a pair of first place finishes from freshman Justin Lombardi, running the 1500m race in 4:08.95s, and freshman Justin Rhee, landing 6.35m in the long jump. Sophomore Benedict Reilly joined Lombardi in the 1500m with a time of 4:11.99s that was good enough for third, and freshman Eric Galante also joined Rhee in the long jump with a third place finish of 5.96m. Other significant performances included freshman Thomas Lewis and sophomore Eric Jacobson's respective second and third place tallies of 1:58.39s and 1:59.33s in the 800m, freshman Steve Zucca's second place finish of 8:57.52s in the 3000m, junior Alec Wargo's third place hammer throw finish of 39.30m, and Rhee's second place finish in the triple jump at 13.39m. 
The womens' efforts were defined by sophomore Amanda Gurth's third place shot put finish at 11.42m, freshman Abigail Llach's first place 800m finish at 2:24.35s, senior Maeve O'Connors' first place 1500m finish at 5:16.93s, freshman Clodagh McGroary's first place 3000m steeplechase finish at 12:16.10s, and, most notably, junior Casey Metzler's first place victory in the hammer throw with an incredible 44.07m. What set Metzler's performance apart was that her throw broke the Fordham women's hammer throw school record. The record was previously held by Ariana Washington, set in 2006 with a throw of 43.76m. 
However, Metzler was not done breaking records after the meet on Friday. As Fordham traveled to West Long Branch, NJ, this Sunday for the Monmouth Meet, Metzler once again beat her team's hammer throw record, finishing her weekend with a throw of 44.43m that earned her 5th place. Also representing the team was sophomore Kyla Hill, winning the 100m dash with a finish of 12.37s, landing second in the 200m dash with a time of 25.43s and taking a 4x100m team composed of freshman Michele Daye, herself, sophomore Ruby Avila and freshman Skylar Harris into a third place finish at 49.21s. 
The men's team finished Monmouth with five top-3 finishes. These were notched by senior Antony Misko in the 400m dash with a third place time of 49.61s, junior Zalen Nelson in the 800m race with a second place finish of 1:52.52, graduate student Nicholas Raefski and junior Brandon Hall with first and second place finish in the 5000m with respective times of 14:33.70s and 14:42.28s and a second 4x400m finish of 3:19.11s belonging to the team of Misko, sophomore Erik Brown, junior Patrick Tuohy and junior Jeremiah LaDuca.
The unprecedented rebound season that the Fordham track & field team has managed after a year off is nearing its close. Beginning the season with a historic home meet, the Rams will carry their momentum to finish the 2021 season with another double-header weekend, this time composed of the Tom Farrell Classic on Saturday, May 1 in Jamaica, New York, and the Atlantic 10 Championship between May 1-2 at George Mason University in Fairfax, Virginia.