Commencement 2021 in the Times of COVID-19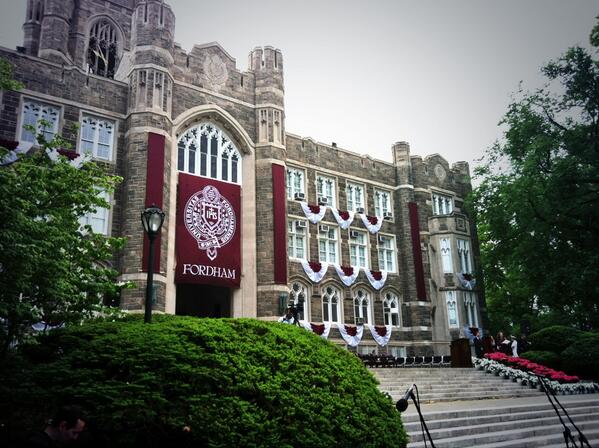 Fordham University recently altered its commencement plans after New York state released updated guidelines on April 12 for graduation ceremonies due to the evolving COVID-19 pandemic.
Originally, the university planned to host 15 separate graduation ceremonies for Fordham undergraduate students over the course of three days.
However, Fordham will now hold seven ceremonies over four days and allow each graduating student to bring up to two guests, according to Michael Trerotola, assistant university secretary and special assistant to the president.
"We had made contingency plans just in case New York State released new guidance, so we were prepared to rather quickly announce a shift in our plans," Trerotola told the Ram.
On April 12, Gov. Andrew Cuomo announced that any venues with a capacity of 2500 people or more will be limited to 20% capacity for any events hosting over 500 people according to the governor's official website.
In order to ensure socially distanced seating, Fordham has limited each ceremony to 1,000 total attendees. In case of severe weather, this numbers will safely fit under a tent on Martyrs' Lawn, according to Trerotola.
Julie Doonan, GSB '21, said she is excited that her parents can actually attend her graduation ceremony in-person on May 19.
"I'm so happy. I feel like I've done a lot of hard work, so it's nice to have my parents be able to come up be a part of my special day," Doonan said.
Gov. Cuomo also announced that graduates and their guests are required provide proof of vaccination against COVID-19 completed at least 14 days before the ceremony, a negative PCR COVID-19 test within 72 hours of the ceremony or proof of a prior positive COVID-19 test within the past 90 days.
In addition to the newly-imposed New York state guidelines, attendees to this year's commencement ceremonies must wear face masks at all times while on campus, according to Fordham's official website. Fordham's ticketing system will allow outside attendees to upload the proper documentation before arriving on campus, according to the website. Otherwise, university staff will screen attendees upon arrival.
Doonan's parents are coming from Morristown, New Jersey, to attend the ceremony, she said. "They are excited. They've both been vaccinated since January. They are just really proud to be able to come," Doonan said.
All seven of this year's commencement ceremonies will take place on Edwards Parade, according to Fordham's official website. Ceremonies celebrating the graduates of Fordham College at Rose Hill will take place May 17, May 19 and May 20.
Ceremonies celebrating Fordham College at Lincoln Center graduates will occur on May 17 and May 18. The Gabelli School of Business graduates will have ceremonies on May 18 and May 19.
At these ceremonies, the graduates will be called by name, walk across the stage and receive a ceremonial scroll from their class deans, according to Trerotola.
There will be one main virtual university commencement ceremony, according to Fordham's website. During this ceremony, which will take place at 10 a.m. on May 22, Rev. Joseph M. McShane, S.J., president of the university, will confer all of the degrees on the graduates and a guest speaker will address the class of 2021.
Trerotola said Fordham administrators are happy to be able to provide multiple in-person graduation ceremonies this spring in addition to the main virtual event.
"We know that our graduates want an in-person experience to celebrate their achievements and we are delighted to be able to provide one," Trerotola said.