Sacir Hot: Finding a New Love for Soccer
Sacir Hot took a promising playing career into coaching, with a player-first mentality characteristic of his unique experience that has carried FC Motown and Fordham University to new heights.
Soccer is a sport that often starts at a very young age. In some countries, children are born with a ball at their feet. And even here in the United States, that is slowly becoming the case as well. Whether it be in the growing fanbases of the MLS or the homegrown college players, soccer is becoming a quintessential American sport.
Sacir Hot knows that better than anyone else. With parents originally from Montenegro, Hot was born and raised in Fairlawn, New Jersey. Not a soccer powerhouse in the traditional sense, Hot found a love for the game early in his life.
He attended public school in the area alongside his two brothers as his soccer journey was slowly beginning. At just 12 years old, Hot made his way into the Red Bulls Academy team, then the long-lost MetroStars. And as Hot set himself up to continue his career at Boston College, he was already captaining a pair of teams at the academy level.
It sounds sudden for a small-town high school player, albeit with countless accolades, to be playing in the Club World Cups in 2007. And Hot understood that.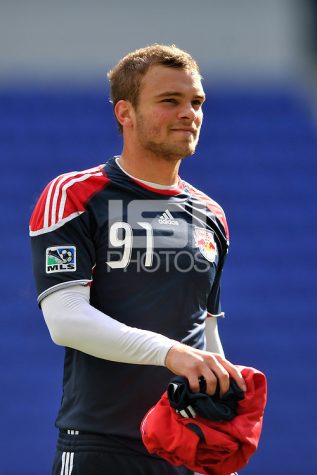 "Honestly, I thought I overachieved in the sense that when I went to Boston College. I never even thought that I was going to go professional," Hot said.
Despite that doubt, a professional contract was in the cards. Taking advantage of the abbreviated college schedule, Hot remained a part of the Red Bulls Academy, eventually working his way up to the team's U-23 National Premier Soccer League team. And all the while, he said, "I found ways where I could play year-round, whether it was in the Haitian League where I was playing for amateur teams as an 18-year-old in front of 300 fans in South Orange."
No matter the backdrop, Hot continued to impress. Training with the first team, the center back caught the attention of then head coach Hans Becke. In January of 2011, Hot was officially signed to the New York Red Bulls. 
Alongside that, he continued to perform at the international level as part of the youth national squads. In a particularly memorable moment, Hot was selected to travel with the U-20 team to Guatemala for World Cup Qualifying. All of it was playing out as the definition of a homegrown success story.
However, it did not last forever. Eventually, Hot's intuition came true, as he was released after a year and a half with the team. Hot went to spend a year in Germany competing for a contract among the likes of Borussia Dortmund and Borussia Mönchengladbach.
Ultimately, though, Hot knew his life was heading in a different direction. There comes a moment of doubt for many involved in sports, almost expected for someone born into it like Hot.
Hot candidly said, "At a very young age I decided to just quit … I used to play this for the love of it and for fun. Once it became a job, I kind of would say lost love for it."
It was a moment of reflection, a decision that seems difficult to most, but Hot knew it was the right one. "I've always lived my life with the thought of everything happens for a reason. I went to sleep better at night once I came to terms with it," he said.
Stepping away from the sport did not mean that Hot was not grateful for it. For one, there were the friends and relationships made across state and country borders and the countless experiences he will not forget. He also realized just how special of an opportunity he had, even if only for a few years.
"My dad always used to say to me … you're one of millions and millions and millions of kids your age that play soccer in the United States that got a contract … It's a small pool and you should be proud of that in itself," he said.
Hot hung up his soccer cleats and entered a new life. That is, until it creeped back up again. "I worked in the workforce for about five to six years and then realized how much I missed it," he said.
From there it was only a matter of figuring out where to get started again and to restore that love that had been lost. The answer was with FC Motown. Started in 2012 in nearby Morristown, New Jersey — a mere 30 minutes from Hot's hometown — and originally known by the same name, Motown is an amateur soccer league that spent its early days in the Garden State Soccer League.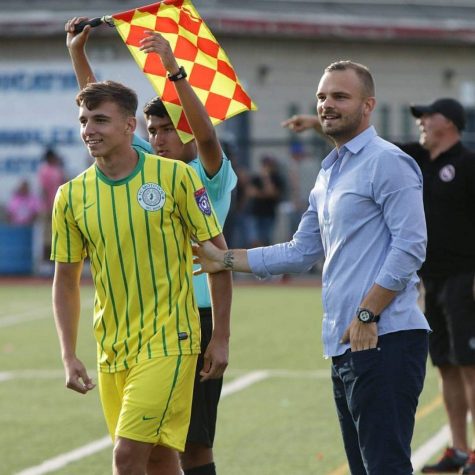 Upon Hot's arrival in 2016, there was not much to write home about with Motown. Even Hot took some time to get going, saying that he "started up with Motown as a player for two or three games and then realized again it was too late and that my body wasn't ready for soccer."
So what did he decide to do when the playing days were over? Coach. And after just a few games and a transitional period as a player-coach, Hot was officially named head coach of FC Motown on Sept. 10, 2016. It may seem like another sudden change for Hot, but the soccer pitch was still the same.
"Growing up I was always a captain," Hot said, "and if you ask anyone I'm sure they'd tell you that I was mature from a young age." He was mature not just an individual in a professional setting, but as a player on the field.
"I played the game more in a cerebral way versus an athletic way because I wasn't so athletic and fast, and I played center back and you see the whole game in front of you," he said. "And I used to love and study and watch as many soccer games as I could when I was younger. So I think those kind of things mixed in together, you know, guided me into coaching."
It turned out to be a natural fit. In his first match coaching the team, Hot led Motown to a victory in the second round of U.S. Open Cup qualifying to book a spot in the 2017 tournament.
He went on to win in the first round there against New Jersey Copa FC and to win all twelve of his matches in the Garden State Soccer League. The team's run ended one round later, but it was an incredible start to Hot's tenure that has only gotten better since.
In 2018, Motown joined the National Premier Soccer League, still an amateur league but a significant step forward as the moniker implies. The competition was set to increase, but Hot and his team were up for it. Battling the challenges of an uncertain roster on any given day or the competing mindsets of players, Hot led Motown to the top of its Keystone Conference.
Two more wins in the conference playoffs advanced his team to the Regional and National Playoffs. Motown eventually lost in the NPSL National Final, but it was the journey that resonated most. After another successful 2019 season and a canceled 2020 due to the COVID-19 pandemic, Hot is ready to make his return to Motown one more time for the 2021 season just a few weeks away.
The timing could not be more perfect. Before Hot shifts into the green, he has a major run left in the maroon of Fordham Men's Soccer, where he has been an assistant coach since 2018. It started by capitalizing on one of those relationships he built in his playing days, with Fordham head coach Carlo Acquista.
Hot was a scout with the Red Bulls academy as Acquista is on the first team, and it was there that the two first met. "Growing up, if you talk to him, he'll tell you about the one time he coached against me, and he got me thrown out the game because of his coaching tactics. He'll never let that story die out," Hot said.
And with a common connection, Hot decided to give him a call and seize an opportunity at Fordham. His arrival was one year off of the Rams' magical run to the Elite Eight of the 2017 NCAA Tournament, something they are looking to repeat this year.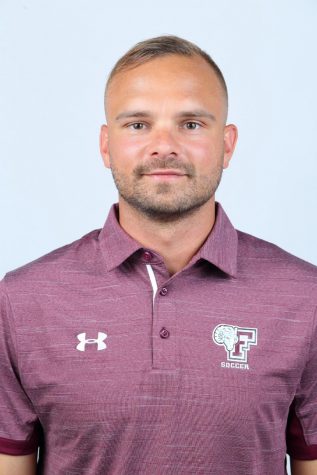 With a victory at the A-10 Championship, Fordham is set to face Marshall on May 2 in the second round of the NCAA Tournament. There is one "collective mindset" of success, and Hot has been amazed by it.
"I have never seen more of a group of warriors than our guys. I've been blown away with the amount of effort and sacrifice and the grittiness and the resiliency our group has … You see them play one game in the A-10 vs. Saint Louis and George Washington, and you want to go to war for them as a coaching staff where it is the other way around." 
It is an especially stark contrast to what Hot has experienced coaching at the amateur level, referring to college athletes as "younger" and "more eager," saying, "they want to learn." The challenge of getting everything on the same page no longer exists. There is one goal now, and that is winning the Atlantic 10 Championship.
"I think if we do the things that we do well, we'll have a shot … As long as you take care of the controllables, then everything else will fall into place …. If we do that, I'll take our chances," he said.
In the NCAA tournament, anything can happen. More broadly, that is the same for soccer as a sport, something that Hot has taken to heart in his coaching philosophy: "I always believe soccer's a player's game … at the end of the day, the ultimate decision is from the player, what he decides to do on the ball."
It is why Hot describes himself as a players' coach, giving "freedom with restraints." And for teams at two drastically different levels in need of that, it has clearly worked out well. 
Hot also sees something changing in America as a whole. Soccer today looks very different than it did a decade ago, and as someone who has been involved with it in all its facets, Hot knows the direction of the sport better than anyone else.
"Oh man I wish I was growing up now, that's what I would tell you," he said, laughing. "We're getting so much better as a country and the trajection that we've seen from U.S. Soccer and MLS is unparalleled to any other country … I think we're on a good path and it's only a matter of time until we're considered one of the top nations in the soccer world."
As other countries have proven, it is places like the amateur and collegiate levels where that love for soccer begins and the moments when it becomes ingrained in a culture and ultimately a nation. It is something Hot has felt his entire life as well.
"It's almost like a religion, right," he said. "Even for supporters and for coaches and for players, we consider soccer like our religion. We live by it. We die by it. We do everything daily that benefits and pushes us further whether you're a player, coach, whatever."
And now, with an FC Motown season right around the corner, he will get to experience both sides of that, serving as head coach of the NPSL side and watching some former Fordham players take the field for the team's new USL League Two squad from the stands in street clothes.
Before that, Hot and the Rams will have a chance to build one more memory this May. As he believes, "everything happens for a reason," and regardless of the outcome, it will only be a first step to something even better. For Hot, that meant finding coaching and a first step that has evolved into a new love.