Softball Allows Just One Run, Completes Season Sweep of La Salle
Behind another pair of pitching gems from Devon Miller and four home runs and twelve RBIs from Rachel Hubertus, Fordham rolled past La Salle for the second time this season.
Fordham Softball has just five losses on the season, two of which have come against a single opponent, Army West Point, and none in the conference. This past weekend, the Rams improved to a perfect 12-0 in A-10 play this season with a four-game sweep of the fellow Explorers in the North, grabbing all eight games against them on the schedule.
La Salle themselves fell to 0-24 on the season, the worse of two winless conference teams, with the latter being St. Bonaventure University. Fordham is in the opposite realm, sitting at 29-5 and rolling past La Salle the way they have all season long, with a lethal combination of dominant pitching and explosive offense.
Fordham started off their trip to Pennsylvania by blanking the hosts on Friday, winning by 7-0 and 9-0, respectively. Since putting her slow start in the rearview mirror, sophomore pitcher Devon Miller has been incredible, adding two more wins to her resume on the weekend. 
The first came on Friday to push her streak of consecutive games to three. This time, Miller allowed a mere two hits and six strikeouts for what has become a routine outing for her. Miller went on to receive her second nod as Atlantic 10 Pitcher of the Week because of it.
The story of the afternoon, however, was undoubtedly redshirt junior first baseman Rachel Hubertus. After missing all of 2020 with a season-ending injury suffered the year prior, Hubertus has been on a tear in her return. She has produced in nearly every game the Rams have played to a .327 batting average and a team-leading 110 at-bats, 36 hits, a whopping 43 runs batted in and now, double-digit home runs with ten on the year.
Two of those came on Friday in her finest performance yet to cap off a late run from the Rams to pull away in the opener. For five complete innings, both teams were left off the scoreboard, with Fordham only pulling off two hits of their own against a terrific effort from Sarah Dowalo.
However, in the sixth, the flood gates began to leak, and in the seventh, they burst open. Junior infielder Sarah Taffet took first with a walk and was sent all the way to third following a double from junior infielder Julia Martine as part of a one-two attack that kept punching.
Taffet came home on a wild pitch for Fordham's first run of the game, and Hubertus added a cushion with a two-run blast to left-center. Now heading into the seventh, Fordham had one more chance to pad that lead, and that they did.
Senior outfielders Brianna Pinto and Anne Marie Prentiss reached base with respective singles, and Taffet walked again to load up the bases. Sensing the potential for things to get out of hand, La Salle interim head coach Sarah Prezioso turned to the bullpen in hopes of suppressing the Rams' run-scoring potential.
That strategy worked for one at-bat — a Martine strikeout — but not for the next. Hubertus delivered with a grand slam to right-center field, driving home all four runs and putting the game well out of reach for the Explorers. It was also the first multi-home run game of Hubertus' career.
And if that was the opener, game two was an encore for Hubertus. There, she picked up another three RBIs, including one more home run, to lead the Rams to a 9-0 victory. 
Without graduate pitcher Madie Aughinbaugh in the lineup, Fordham turned the ball to Prentiss in game two, who herself is a perfect 5-0 in her starts on the season since overcoming two initial losses in relief. And it was perhaps her best performance yet, five shutout innings with just two hits allowed and five strikeouts.
Fordham was not interested in waiting around quite as long in this one either. In the third inning, singles from Pinto and Martine put runners on the basepaths, with speed ultimately bringing them both into scoring position. Hubertus then sent a sacrifice fly into left field to score the first run of the game.
Still with three runners on base, freshman third baseman Bella Ayala bombed a ball into left center field to bring them home. It is the most RBIs in a single game yet for Ayala, catapulting the Rams to a 4-0 lead.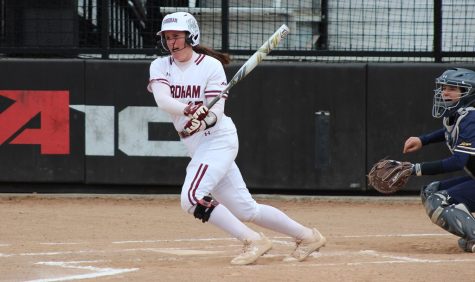 Just two innings later, Fordham put its power on display again, in one familiar and a second more special manner. Hubertus belted a ball into left field to score Taffett following a walk for her ninth home run of the season. Then it was the redshirt senior outfielder Kelly Bright delivering the unfamiliar, knocking in three more RBIs with the first home run of her career.
It is a beautiful sight for the Rams to see two players back on the field from injury leading the way, as Bright has struggled throughout her career with setbacks, but put those aside on the afternoon. With the game now firmly in control, Prentiss took care of business in the fifth to cut things short and give Fordham the first two wins of the weekend.
Saturday was a bit of a different story. There were no five-inning walkthroughs, but rather, a pair of tightly contested, low-scoring ball games that were the closest between the two teams thus far this season, ending by scores of 3-1 and 3-0, respectively.
Miller was back on the mound 22 hours after the opener and continued her perfect run of form: seven innings, four hits and back into the double-digits in strikeouts with 10. With both outings considered, she now sits at 10-2 on the year with 115 strikeouts and a mere 1.37 ERA. There really is not much more to say about Miller after having rattled off nine consecutive wins and shown significant improvement in her second season in the maroon and white.
Things did not come easy on the day at the plate, though, with an infield error helping yield the contest's first run of the top of the third inning. Pinto reached second on an error from the shortstop, and with her speed, bolted all the way to third following a wild pitch. Now in scoring position, a single from Julia Martine was more than enough to bring the unearned run against Morgan Orlowski home. Orlowsi, making her first appearance of the season after recovering from injury herself, delivered an encouraging 3.1 innings of work with just two hits and runs allowed, one earned. 
That lone earned run came in the fourth, as Orlowski ran into some trouble in the inning with pitch control, loading the bases with a trio of walks. Dowalo entered the game in relief, but all it took was a Pinto single to bring a run home, though La Salle picked up two crucial force outs at the plate to keep the contest within reach.
Trailing by two runs, Fordham again earned that extra little bit of cushion necessary in the sixth with the deep ball. This time, it was freshman Bailey Enoch, serving as third baseman on the day with Ayala at designated hitter, sending one out of left center field. And considering how consistent Fordham's pitching has been, three was all it took to secure the third win of the weekend.
Fordham could not find perfection, however, faltering for the lone blemish of the series in its final contest, a 3-1 victory for the Rams. Enoch shifted from the field to the mound for this one, pitching a complete game to earn the first win of her college career.
Enoch received a touch welcome to the big leagues in her first start back in early March against the University of Massachusetts Lowell but has been largely successful in the time since outside of a six ERA rough patch against Stony Brook University. Enoch has earned a pair of saves in relief but now has her first win in the starting circle behind seven innings pitched with just five hits and a single run allowed, unearned. 
That run was also how the game started, as La Salle earned its first lead of the weekend thanks to some help from the Fordham infield, as an error from Taffet at second base was enough to bring Maddy Little home following a leadoff double.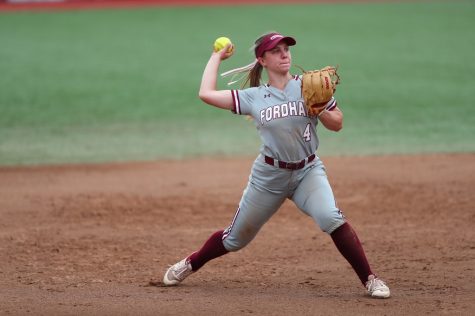 The Rams failed to strike with two runners on base following the first career hit from sophomore DH Katelyn Vara in the second. However, the scales soon evened out as Fordham regained the lead just one inning later. And in far-too-fitting fashion, it was Hubertus who again got the job done. 
Then came another three-run home run, this one into right center field to bring home Martine and Enoch. The blast completes Hubertus' spectacular 12 RBI weekend, single-handedly outsourcing La Salle both on the day and in the season series. It is also her tenth home run of the season, surpassing her 2019 total and doubling it in RBIs.  
The home run was not only enough to solidify Fordham's win on the day but added yet another argument to her case for team MVP so far this season. And it was the final note of a successful series for the Rams, kickstarting a new win streak as they head into the season's final stretch.
From here, Fordham is scheduled to square off in a midweek series with Binghamton University, followed by a weekend stint against the University of Massachusetts. Outside of a lone match against Army, the remainder of Fordham's game will all be at Bahoshy field as well. 
A step must be taken back from this weekend's result to recognize the quality of the competition being played. If every other team in the conference has defeated La Salle, there was no reason to believe the best in the standings would not do the same.
That being said, wins still hold value regardless of how they come. Fordham has earned its latest four in convincing fashion as they continue to look every bit the dangerous team they hope to be heading into the Atlantic 10 Championship.