Sharing a Passion: What Writing for the Ram Provided Me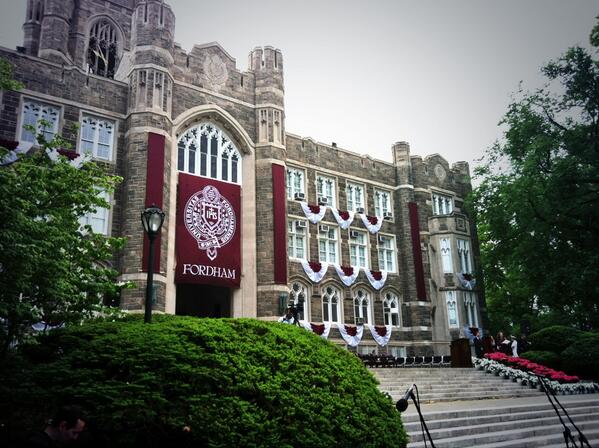 Each week of the past six semesters it became part of the established routine. A portion of that routine I grew to enjoy in my time here at Fordham. 
Following the previous week of witnessing and reading about the latest happenings in the world of sports, the peaceful hours of a Sunday afternoon were spent with my laptop and sometimes a sports game, if one of my favorite teams was on, jotting down a topic and my accompanying thoughts. As I sat in front of a window in my dorm hall, the goal was first to make the title engaging, the sentences crisp and the ideas flow as smooth as a quiet stream. 
More importantly, in piecing together my weekly column for the Fordham Ram sports section, my objective was much clearer — to display for the fellow readers on campus and beyond an unwavering passion for sports that hopefully carries into a career. 
Arriving at the Rose Hill campus for the first time in late August 2017, I found myself, like many other students, desiring to pursue a path into the sports industry through the rich experiences and history that the university boasts in the field. From a very young age, sports have always been a constant in my life — I played three different sports from elementary to high school and since my pre-adolescent years I have been an avid fan of a few local teams — and they are something that has strung at my chords and given me so much. 
Knowing these things, I knew I had to get involved with a sports-related club on campus, and that led me to sign up at the storied radio station WFUV. In the weeks I spent at the station as a trainee, I received my first portioned taste of getting behind a microphone, navigating the board and learning the additional intricacies of sports radio. Amid the business of everyday college life as a freshman — classes, advising meetings, clubs, homework and studying — attending WFUV training sessions allowed me the chance to do something enjoyable and talk sports with a group of like-minded individuals. 
Yet, as I would quickly learn, the reason for specialties and majors in college is primarily because not everyone's experiences and interests are the same. While I did catch praise from the sports crew at the station in certain aspects, there were others in which I struggled. I realized that perhaps being behind a microphone in a radio booth was not going to be my ticket into the industry. I needed to find a different outlet into sports, and that's when I found the Ram. 
Being on campus and seeing the newsstands scattered in different buildings and dorm halls, The Fordham Ram was not a foreign publication to me; however, picking up a copy was not a habit of mine. Who could in this new age of mass information and an oversaturated digital media environment?
Entering my spring semester of sophomore year, I briefly perused the Ram's website — the sports section of course — and admittingly I had enjoyed reading some of the students' contributions. That was the moment the lightbulb went off in my head and I decided to reach out to the staff about getting involved. Luckily, a fellow classmate of mine was a Volume 101 editor, and through one quick email he helped me immediately jump on the section. 
Starting as a contributor, my weekly articles covered the basics with simple game recaps for the Giants or Jets and short pieces detailing my disguised frustrations with front office decisions in the Knicks. One week, a piece of mine earned a spot in the printed issue, and a copy of that issue remains a keepsake for what I hoped at the time would be the first of many publications to come.
The following semester I applied to become a staff writer. From there, I began writing about serious topics and, in some cases, difficult moments in sports.
In January of 2020, Kobe Bryant's unimaginable death found me parsing my brain for words as I hoped to eulogize one of the biggest legends of my generation. Other pieces touched on the XFL's resurrection attempt, the Kevin Durant free agency saga that befell the Knicks, the Giants' struggles in the post-Eli Manning era, the National Anthem controversy at sporting arena and the discussions of troubling pasts that resurfaced for both current and former sports figures like Deshaun Watson and Phil Jackson. 
No sports or cultural moment that occurred over my tenure with the Ram could have been more mentally challenging than the COVID-19 pandemic. Suddenly, one of my biggest safe havens and the country's favorite distractions had the lights cut off like a closed bodega at the end of a business day. Not knowing what was ahead of us in the following months, I had to figure out a way to calm my anxieties through my writing and that wasn't an easy task.  
Looking back on that span from March 2020 to now, I believe that the pandemic and the changes it brought to daily life and sports helped me better appreciate both arenas. In the months following sports' resurgence, each week's publication left me feeling like I had produced my next best work. Now, as I approach the end of my time here at Fordham and with the Ram, everything that the latter has provided me has come full circle. 
The Ram has given me the chance to express myself and contribute to the broader work of the university community. It has allowed me to discover a hidden talent for writing, which I used to despise prior to college. It provided me with one of my first professional lessons in rejection through failing to make the staff for Volume 102, which motivated me to work harder on my strengths and weaknesses. 
Most of all, the Ram has provided me an avenue through which to share with a broader readership a long-held passion of mine — a passion that I hope showed through with every article, paragraph and sentence I wrote. 
So, as I sign off from writing for The Fordham Ram sports section, I most certainly will miss a beloved aspect of my weekly routine over the past two years. In leaving it, I do so with much gratitude.