Softball Drops Three of Four to St. Joe's Before a Rematch in the A-10 Championship
Coming into this past weekend, Fordham Softball had to lose a series on the season and was in the driver's seat in the Atlantic 10's Northern division. However, against their toughest competition thus far and the team right behind them, Fordham fell to Saint Joseph's University in three of four games from Bahoshy Field. Now, sitting in second, they will see the team one more time to start their run in the conference's double-elimination tournament.
Saint Joe's finishes its year with a 26-18 record and Fordham 36-8, but the difference comes in-conference. There, the Hawks played two extra games that proved to make the difference, with a 19-13 record compared to Fordham's 13-3. George Washington University ran away with things in the Central, at 33-8 overall and 23-1 in conference, but the Colonials turned down the opportunity to host, swinging things over to Philadelphia, PA instead.
That also means that Fordham will be stinging from a missed opportunity to host themselves, as a series win may have enabled them to do so. Regardless, Fordham heads into the tournament with a chance to amend this final week of the season, one that did not go their way.
Firstly, however, Fordham had much to celebrate for senior weekend. Through online social posts and pre-game ceremonies, the Rams got to send off their seniors in a rightful manner and with fans and families in the stands to see it.
Fordham also made what some may consider a surprising decision in such a pivotal series of adding their seniors into the starting lineup for it. Graduate infielder Brielle Cerchio took over at first base as senior catcher Aubree Barney handled the plate duties in game one. Unsurprisingly, graduate pitcher Madie Aughinbaugh led the way on the mound with seniors Brianna Pinto in center and Rachel Hubertus bouncing around the infield.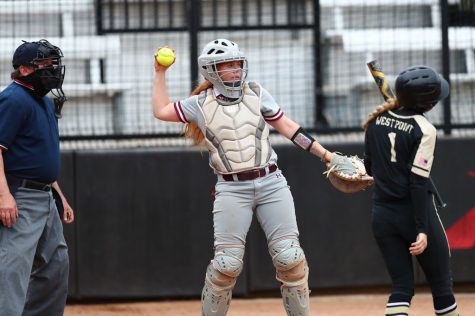 Continuing that trend on day two, senior pitcher Anne Marie Prentiss started the second game, with senior Gianna Ranieri at first and redshirt junior Kelly Bright in the outfield. It is a massive graduating class for Fordham, but they savored what, for some, will be their final games at Bahoshy Field. Unfortunately, they did not end all too well.
The opener remained locked through two innings, with both Aughinbaugh and the Hawks' Amanda Herr making short work of the respective orders. However, St. Joe's opened things up in the third inning. Following a pair of lead-off singles, Sarah Ostaszewski got ahead on a 2-0 count and took advantage with an RBI double into left field. With two down but another pair in scoring position, Molly Kapala singled up the middle to score them both and put the Hawks ahead 3-0.
Fordham is no stranger to shootouts, with both sides filling the scorecard in a number of games, but they simply did not have their stuff this weekend against St. Joe's. The Rams were uncharacteristically blanked in this one and failed to score more than a single run in three of four games. Fordham only produced three hits on Friday, and combined with three errors for a team traditional sound in that area, it seemed they felt out of place. Still, Aughinbaugh was able to keep things close through five innings until a mammoth sixth put seven runs on the board and the game away for St. Joe's.
There, it was a combination of singles from Caela Abadie, Madison Fife, Jordan Hinkle, Sarah Ostaszewski and an extra base hit courtesy of Molly Kapala that got the damage done. Aughinbaugh hung on throughout the inning but was relieved by junior pitcher Makenzie McGrath to earn the final out in a seven-hit, seven-run inning.
Fordham failed to bring anything across the plate in the bottom half, making it the first time they left a zero on the scoreboard this season. However, Saturday's doubleheader was a fresh chance, and in some ways, Fordham capitalized on it.
Game two of the series saw more of the same, with St. Joe's delivering another breakout third inning and tacking on two runs late to easily dispatch the Rams, 6-0. This time, sophomore sensation Devon Miller took the mound, but with a short leash considering the previous day's results, she was removed after just two innings. 
Key to Miller's pitching is control, but with five walks in the game's early going, head coach Melissa Inouye saw that was not there on the day. It showed in the third inning, where St. Joe's loaded up the bases and drove two home with one swing of the bat and a single from Molly Kapala. Enoch then took over in a tough spot, allowing two more runs to cross the plate to Miller's name.
Again, the Fordham offense struggled, producing a mere three hits and failing to travel beyond second base at any point. It is difficult to pinpoint why exactly that is, especially considering that Fordham broke out of its slump just an hour later with a 7-1 win against that same Hawks team.
This time, Fordham sent Prentiss to the mound for her senior day show and she delivered. Finishing as the Rams' only perfect pitcher on the season, she earned her seventh win with a five-hit complete game, allowing just five hits, one run and picking up a quartet of strikeouts. It was not as if St. Joe's changed anything either, trotting out their usual lineup, but sometimes the ball bounces the right away and that was the case for Fordham in this one.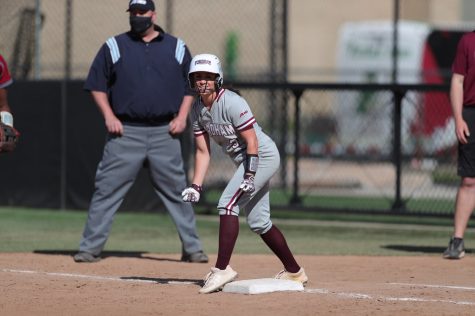 Prentiss was a double-dipper on the afternoon, transitioning from a solid first inning to a two-RBI single in the bottom half to give Fordham its first runs of the series and a 2-0 lead. After a silent period, Pinto forced a fielder's choice to drive one run home with the bases loaded. Fordham still missed chances — leaving three on base to end the inning — but at least they were producing runs. 
And they added three more in the bottom of the fifth. Again, in a prime spot with the bases loaded, Barney walked to force one home, Pinto was hit by a pitch to plate another and Bailey Enoch dealt the damage with a two-run double into left. Fordham failed to issue the mercy rule in what could have been a deeper blow to the Hawks, but they now had one win and, with it, something to look toward when they see the team again.
Fordham's successful regular season came to an unceremonious end on Sunday, however. That was a return to the series' norm, as St. Joe's brought nine runs in compared to Fordham's one and clinched the top seed up North.
The game was even at one through three, as Fordham responded to the Hawks' opening run with an RBI single from Enoch, who was on the mound for this one. However, things turned South in the fourth, as St. Joe's conjured up another wicked inning to produce six runs and force Enoch out of the game. 
McGrath stepped into a tough spot with the bases loaded, and St. Joe's plated four more runs with another pair of singles, three of which went against Enoch. One more came across in both the fifth and sixth, including the series' first home run from Jordan Hinkle, but the outcome was clear well before the 9-1 final through six.
And with that, the regular season comes to a close. Some may chalk this outcome up to the fact that Fordham was yet to play a team of this caliber that can bring runs home in a hurry and silence opponents at the plate. But even then, Fordham likely felt confident coming into it. Now, they will have to rethink things with just hours before they face the Hawks again. Perhaps that is an advantage for Fordham, but regardless of who they were to be playing, the goal of winning the tournament remains the same.
George Washington will face the four seed, the University of Dayton, Thursday at 11 a.m. while Fordham and Saint Joseph's squares off at 1:30 p.m. It is a double-elimination tournament, with the winners and losers of these games following different potential tracks to the May 15 championship. All games will be streamed on ESPN+.
After a rude awakening, the Rams now know where they stand and what they will need to do in order to add one more banner to Bahoshy Field.