Fordham Athletics' Patience Amid COVID-19 Pays Off
There is reason to be encouraged that sporting events at Fordham University are finally heading back in the direction of normalcy after not having fans in attendance for over a year.
March 2020 saw Fordham Athletics trending in an auspicious fashion for multiple programs on campus. Fordham Baseball and Softball were barely a month into their 2020 spring seasons, but expectations were high following both teams' capture of the Atlantic 10 Conference Championship in 2019. Fordham Women's Basketball had recently lost in the semifinals of its A-10 Championship, yet many believed they were destined for a fifth WNIT bid in the last eight years. Even Fordham Men's Basketball was coming off its best performance of the season after beating George Washington University in the first round of the 2020 Men's Basketball Championship at Barclays Center. 
On March 12, 2020, all of Fordham Athletics' positive momentum came to a screeching halt when the A-10 decided to cancel all 2020 spring sports competitions, citing health and safety concerns linked to COVID-19. Fordham ultimately shut down all athletic facilities just three days later despite no one within the campus community testing positive for coronavirus at that time. Athletics wasn't the only one taking necessary precautions. Our entire world was put on an indefinite pause by the pandemic.
Student-athletes were essentially sent home and stuck in limbo, anticipating further word on a realistic timeline for their return. Hopes to return sooner rather than later were dashed in July when the A-10 announced the postponement of all fall sports competitions and championships. A "look-in window" was initially established by the conference and institutional leadership for mid-September to see if a condensed fall schedule could potentially be played.
However, the ongoing pandemic quickly slammed the door shut on that idea, leaving fall sports programs no choice but to wait until the spring semester to play a competitive schedule. In the meantime, Fordham Athletics focused concerted efforts on the well-being of its student-athletes by releasing a health and safety plan to prevent any COVID-19 outbreaks moving forward. The plan detailed guidelines to follow, including periodic testing for student-athletes, resocializing them in four distinct phases and modifications to organized team activities such as practices under newly approved safety protocols.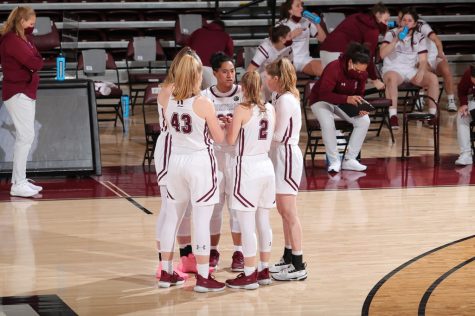 Each individual program and department also created its own health and safety plans to reinforce these guidelines further. As a result, only one program was directly affected by a positive tier one COVID-19 test during the winter season and the period preceding it when student-athletes began returning to campus last August for the fall semester. Fordham Men's Basketball was put on a 14-day pause of all activities on Nov. 30 but did not register another positive test for the rest of its season.
Unfortunately, an alarming spike in COVID-19 cases at Rose Hill prompted Fordham Athletics to implement a mandatory two-week pause on Feb. 14 as required by New York State. There have been positive tests among other athletic programs, but the student-athlete community played little part in the university-wide pause. 
Programs like Fordham Women's Basketball voiced their frustration with the decision and certainly had every right to do so. The entire team tested negative three times a week for six months straight. Being forced to stop doing what you love because of circumstances beyond your control is a tough pill for anyone to swallow. But, they did it, along with the rest of Fordham Athletics.
It's a testament to these young men and women when you consider the sacrifices they have made over the past year to play competitively again: being tested multiple times on a weekly basis, staying sheltered and isolated from everyone else on campus to avoid putting their teammates in danger, not to mention making sure their academic obligations are fulfilled for eligibility purposes. Being a student-athlete over the past nine months may have been as arduous and unpredictable an experience as we'll ever see in college athletics. 
Luckily, there is light at the end of the proverbial tunnel. Fordham Athletics updated its attendance policy, allowing fans back at sporting events based on capacity measures while still adhering to health and safety protocols. Fordham Baseball and Softball recently welcomed Ram fans back to home games at 20% and 50% capacity, respectively, in accordance with New York State. Slowly but surely, Fordham Athletics' patience in navigating COVID-19 is ushering sporting events at Rose Hill back to normalcy.