Beyond the Scoreboard: Creating Something New and True
There is a grey area where the sports world meets current social issues, and Beyond the Scoreboard aims to provide readers with iridescent insight on it.
Conceiving the right idea for a full-time column at The Fordham Ram isn't as straightforward as patiently waiting for that "Aha!" moment when the proverbial lightbulb goes off in your head. In November 2018, I was under the imaginative impression it'd be analogous to what a gourmet chef experiences when creating their signature dishes: Spending countless hours bouncing ideas around in your mind mixing ingredients to just the right proportions and ultimately ensuring its consumption be palatable for those willing to give it a try.
Truthfully, coming up with Beyond the Scoreboard felt noticeably more like connecting the dots and watching it transform into a perfect picture. Perhaps it all worked out so seamlessly because I was absolutely hellbent on joining the staff for Volume 101 after chickening out at the last minute from submitting my Volume 100 application.
Missing out on being part of production for the centennial volume due to my own anxiety and trepidation was a painful pill to swallow, but I took my medicine graciously. Volume 101 manifested a different destiny. To this day, I'm not sure you'll ever encounter another applicant who was more insanely motivated and extremely confident to become an assistant sports editor than me. I had an ace up my sleeve that I  received early on courtesy of two Fordham Ram staff emeriti: former editor-in-chief Theresa Schliep and former sports editor Jack McCloone. 
I already found myself feeling slightly stale following an anticlimactic and forgettable debut article for The Ram on Real Madrid CF. My article wasn't horrid by any means. It was good, something you'd expect to read while browsing through the sports section, more or less, a generic, standard "team preview" piece one might write when fresh ideas don't immediately come to mind and all else fails.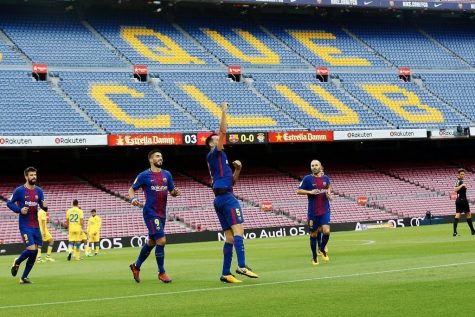 So, I decided to switch up my thought process and write about something that wasn't solely predicated on what one witnessed in between the lines of play and the statistics screaming from inside the box score. I chose to look through a different lens of sports journalism, much like more along the lines of ESPN's "Outside the Lines" which examines topical issues on and off the playing surface.
My second article highlighted FC Barcelona playing without fans in attendance amid protests against the Spanish government's efforts to impede Catalonia's independence vote. The club opted to play in front of an empty stadium to show their discontent with how Catalans were being treated at polling areas by police. More importantly, Barcelona used their platform on social media to condemn the Spanish police's actions and support the citizens of Catalonia for exercising their right to vote through an official statement.
I felt like I hit a home run with the piece. My suspicions were confirmed when Jack sent me an email letting me know how much he and Theresa enjoyed reading it. Their stamp of approval planted the seed in my head that stories like these needed a sanctuary at the Ram. I had found the "missing ingredient" for our sports section.
However, I will admit there was one fatal flaw at the time. I knew it immediately after submitting my new column application. The column was initially going to be named "Stick to Sports?!" Thankfully, my better judgment quickly realized how banal and corny that sounded. I spent the next few days pondering a new name ahead of my Volume 101 interview with Theresa.
I channeled my inner Tom Cruise in "A Few Good Men" by walking around the house while carrying a bat in my hand for inspiration, conversing with myself and contemplating potential column names without much success. I remember finally blurting out at one point, "how hard is it to come up with a name for stories that go beyond the final score?!" and the lightbulb went off. Beyond the Scoreboard was born and the rest is history.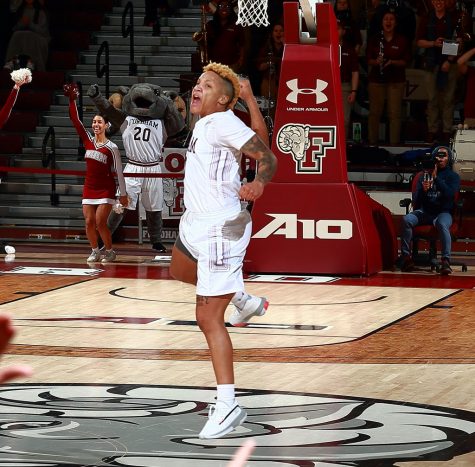 Since Beyond the Scoreboard's debut back in Jan. 2018, I take great solace in the fact that we've covered critical social issues in all major sports around the world. There is humble gratitude in knowing all of the columns for Beyond the Scoreboard could resonate with anyone. Casual readers may not fathom how a particular sport is played, but they can understand how social issues and current events can ultimately affect athletes just as much as regular people on a day-to-day basis.
Beyond the Scoreboard has been a cathartic release for me. I felt disgruntled for Colin Kaepernick when writing about his future in the NFL following his 2017 grievance case settlement. I was completely heartbroken penning a farewell letter to my favorite athlete of all time in Kobe Bryant. I was proud to highlight Fordham Athletics' plan to address racism in our community and honored to give my conversation with Bryson Cavanaugh the spotlight it deserved so he could speak his truth about finally coming out. You name the emotion and I guarantee I felt it throughout this entire journey.
Here comes the difficult part: Finding the words to finish up my final Beyond the Scoreboard before passing off the baton. To Jack and Theresa: thank you for giving me the vote of confidence which got the ball rolling on this column. To my former teammates in the sports section, Jimmy Sullivan and Dylan Balsamo: thank you for believing in Beyond the Scoreboard and contributing with columns during Volume 101. And to the Ram copy staff, past and present: thank you for never changing my voice and allowing Beyond the Scoreboard to always speak for itself.
I leave extremely confident in our sports section to continue upholding the standard put in place for Beyond the Scoreboard. There is no one else I feel more comfortable leaving my column with than current sports editor Alex Wolz. So to Alex and assistant editors Kaley Bell and Michael Hernandez: if you should ever feel like you don't have an idea for Beyond the Scoreboard, come back to this column and use it as your muse to find the next story idea.
Describing what it feels like to see what Beyond the Scoreboard was, is and will always be moving forward for the sports section is impossible. I put my heart and soul into the Ram, focused solely on providing the best content possible. Sports has always been my one true love. And I've loved every moment of sharing my passion for it through Beyond the Scoreboard.