In Memoriam: Reflecting on a Period of Loss in Fordham Athletics
It has been a difficult time for Fordham Athletics, losing two beloved members of the women's basketball program and its iconic golf coach, but their legacies and memories will shine through the present struggle.
There are many moments in sports, this past year amid the COVID-19 pandemic being one of them, where we remember that things are much bigger than what happens on the playing field. The past few weeks have been just that for Fordham Athletics, witnessing the loss of multiple members of its community: Fordham Golf head coach Paul Dillon, Women's Basketball assistant coach Sonia Burke and Martha Vanderslice, mother to Women's Basketball head coach Stephanie Gaitley.
Vanderslice, better known as "Nan" to the team, was born in 1925 and grew up with a love of sports that carried into her eight children, establishing them as one of the most athletic families in Ocean City, New Jersey. From there, Gaitley's coaching career blossomed between the University of Richmond to Saint Joseph's University, Long Island University, Monmouth University and now a decade at Fordham.
All the while, her mother has been at the center, constantly serving as a source of motivation and enthusiasm. Just as she danced in the center of a circle at house parties, she did the same in the locker room of the women's basketball team, exemplified through a video shared by Coach Gaitley.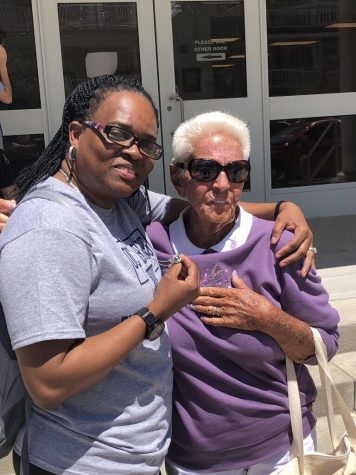 "How do you say goodbye to the greatest mom ever- someone who brought love and joy to everyone she met? I know we will meet again and that brings me great peace…" she said. To honor her mother's legacy, Gaitley will post "Mondays with Mom" to "make a difference in someone's life everyday," just as her mother did.
The first of those posts commemorated Sonia Burke, who tragically lost her fight with cancer on July 16. Burke joined the women's basketball program as an assistant coach in 2017, leading both on the floor and in recruiting, building a special relationship with players as a result of it. 
Before Fordham, Burke spent over a decade with the Manhattan College organization and previously led the Saint Francis Red Flash. Her terrific coaching career began in her playing days, serving as captain of the Barbados national team and lifting the trophy at the 2000 Caribbean Basketball Championships. She was named head coach of the team just a year ago.
All of that made her a natural fit for the Fordham program. However, Burke's greatest impact did not come on the playing floor but in who she was as a person. In an email to the Fordham community on July 19, Rev. Joseph M. McShane, S.J., president of the university, said, "Coach Sonia came to Fordham just four years ago, and in that time she secured a lasting place in the hearts of all with whom she worked, most especially our student-athletes … She was soft-spoken and kind but also passionate about the basketball program, giving her all to help our student-athletes exceed themselves and be their best. She both challenged them and cared for them. In so doing, she earned their deep respect."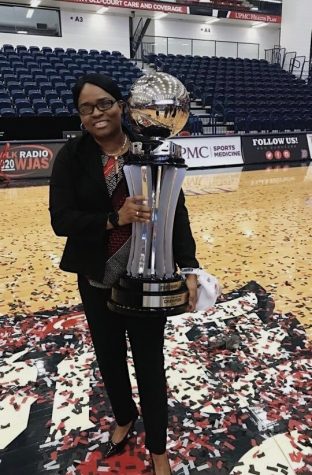 Burke took a leave of absence this past year to address her struggle with cancer. She had made positive strides to rejoin the team during the 2020 season, making the loss a sudden surprise but the final moments together remarkably special. In those moments away from the team, Burke still sent a message of encouragement before each game, sometimes even during it.
Coach Gaitley emotionally echoed that message on Twitter, saying in a video, "I think we're all at a loss for words right now. We're all grieving because you could say loyal, you could say compassionate, I think of love … Even though it's been a tough time on Rose Hill, she would say 'Be Ram Tough.' 'Be Sonia Strong.' And we'll definitely get through it together."
Burke's impact will resonate among each of those she touched as well. Gaitley echoed those words to Fordham News, saying, "Sonia made an incredible impact in the four years that she's been here, and we certainly will miss her, but her legacy will live on with everything she taught each and every one of us." That is true of her partner, Sherlon Burke-Quarless, her three stepsons and all the individuals at the Celebration of Life on July 20 in the McGinley Ballroom.
That same day, Fordham received another difficult burden, the loss of Golf head coach Paul Dillon, who passed away at 85 years old after a hard-fought health battle himself. Dillon's roots in the maroon run deep, spending a remarkable 23 years at the university and ushering in a fantastic era for Fordham Golf.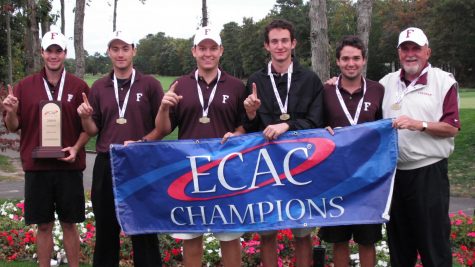 He joined Fordham in 1995 after spending over three decades as a packaging systems manager, leading the Rams to a historic fourth place finish at the 2004 Atlantic 10 Championship, the best finish since they entered the A-10. That year, Dillon won the Atlantic 10 Golf Coach of the Year Award and a co-winner of the Iron Major Award as Fordham Coaches of the Year. 2009-10 was another fantastic year in Dillon's run, with seven top five finishes, an ECAC Championship team title, and a record-breaking season from Jason Del Rosso.
Most recently, Dillon entered the Fordham Athletics Hall of Fame in 2019. As Father McShane stated in an email from the university on July 22, "He was always devoted to the formation of our student-athletes, and molded the character of hundreds of them over the years," earning rightful admiration for it." Athletic Director Ed Kull emphasized those sentiments, saying, "Fordham lost a man who epitomized the Jesuit value of being a man for others … Paul was so much more than just a golf coach to his student-athletes."
Dillon was an avid golfer himself, a member of the Winged Foot Golf Club in Mamaroneck and the Wykagyl Country Club in New Rochelle. He was also the president of the Metropolitan Golf Association and Westchester Golf Association. His lifelong mission was to give back to the sport that gave so much to him, serving as president of the WGA Scholarship Fund that has raised over $23 million. With the MGA, he spearheaded public golf efforts and earned numerous recognitions for his work, along with a spot in the Westchester County Sports Hall of Fame.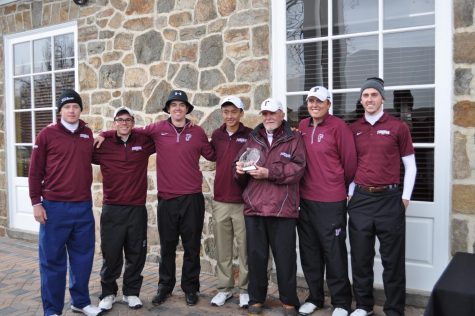 Jay Mottola, former executive director of the MGA, said about Dillon, "Everybody thought highly of him and I think it's because he treated everyone with respect and had a way about him that resonated with people. It didn't matter if you were the president of Winged Foot or a rookie caddie, he was your friend."
In time away from the golf course, he found a new love for painting. He produced artistry of some of the greatest golfers in history, such as Arnold Palmer and Jack Nicklaus, currently featured in prominent clubhouses and showrooms across the globe. Atlantic 10 Commissioner Bernadette V. McGlade made special note of that, saying, "Paul's story is extraordinary, from being an award-winning golf coach to a noted portrait painter … I offer prayers and condolences to Paul's family, the golf team and to the Fordham community."
Dillon's legacy continues not just in the program that he built but his family. He is survived by his wife of almost sixty years Mary Ellen and their six children, with a wake taking place this past Sunday July 25 at John J Fox Funeral Home in Larchmont.
Times like these are especially difficult for a community as strong as Fordham's. The response has been widespread and heartfelt, with fellow coaches both in the university and well outside of it, student-athletes, journalists and more uniting to celebrate the lives of three cherished members of the Fordham family. Their memory will carry through the present challenge and into each moment on the field or court that follows.