2021's Most Overvalued NBA Free Agents
NBA free agency has become one of the most anticipated events in sports.  Every summer teams either collect the missing piece to a championship run, retain their core to run it back or lose everything and bottom out. Then there are the mistakes — overpaying, injury risks or simply a lack of talent — that can turn summer dreams into winter nightmares.
With that being said, here are five soon-to-be free agents that will be highly overvalued in 2021.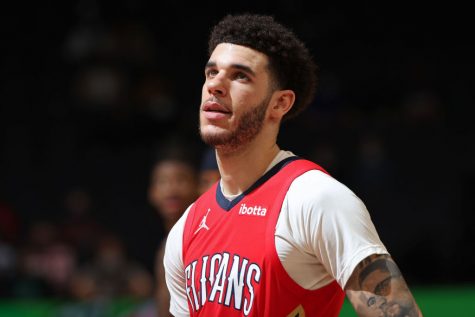 Lonzo Ball: Restricted Free Agent
The name value trap is one that far too many teams fall into yearly in free agency, and Ball is no exception to that.
Lonzo Ball's first few years in the NBA were wildly inconsistent as he showed an inability to perform in the big market of Los Angeles. He was then traded to the Pelicans in the Anthony Davis extravaganza, along with now all-star Brandon Ingram, Josh Hart and a boat load of draft picks. Beside Zion Williamson and notable role players, Ball was expected to be a pass-first point guard and elevate those around him.
2021 showed some signs of that statistically. He averaged a career high in points (14.6), free throw percentage (78%) and field goal percentage (41%).  His three point shot finished at 38% for the second consecutive year with a new shooting form. But his percentages are what can potentially hoodwink teams into thinking he is Stephen Curry when he might become Evan Turner.  
His three point shooting, while improved, is still only on eight attempts per game. Place that against volume shooters such as Collin Sexton — a hot name in the trade market — that shoot 37% on half as many attempts. Ball's field goal percentage improved but on 18 shot attempts.  Sexton's shot attempts matched Ball's, but he shot 48%.  Teams should think twice about asking Ball to be a valuable offensive component.   
While the percentages were better, there are still some red flags with his potential role and long-term production. Some of the teams rumored to be in the Ball sweepstakes include the New York Knicks and the Chicago Bulls. As a restricted free agent, Ball is projected to get north of $20 million a season, a hefty overpay to ensure New Orleans will not match any offer sheets.   
The Bulls are in need of a point guard to complement Zach Lavine and Nikola Vucevic as they are clearly in win-now mode. The Knicks component is a weird one. They finished last in team assist averages this year (18.6) but somehow made the playoffs. Adding Ball would provide a true point guard but the shooting could decline and the pressure of a big market might make this signing a bad idea when there are better options ahead in 2021 such as Kyle Lowry, Reggie Jackson and Mike Conley.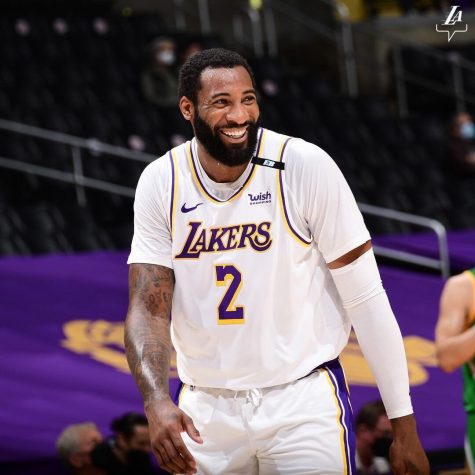 Andre Drummond: Unrestricted Free Agent
"Big Penguin" is going to get paid, the question becomes who wants him.  While Drummond offers defense and rebounding, the eye test says otherwise.
VORP (value over replacement player) evaluates a starter's impact by comparing one number to that of a bench counterpart on his team.  Drummond's VORP this season was a flat 0.0, meaning that he had no real impact on either side of the ball.  His 36 year old backup, Marc Gasol, had a VORP of 1.0 in 19 minutes a game to Drummond's 25.  
Other advanced defensive metrics have Drummond as a plus defender, but he handcuffs teams offensively by swallowing touches without any real impact. Drummond's offensive +/- for the 2021 season was -2.7, the lowest of his career. While his points (14.9), rebounds (12) and blocks (1.1) can intrigue teams, his advanced metrics and on-court play waive red flags.
It is hard to evaluate where Drummond will land this year and there are a select few teams that need a center who would be willing to offer him money.  The only real team that I see is the Toronto Raptors as they look to remain competitive and are desperate for a true center.  The Six is projected to have $28 million in cap space and with some maneuvering could generate more.
Drummond will request a hefty contract worth about $15-$20 million in average annual value, and he may get it. But again, why should anyone pay for someone whose stats do not translate to winning basketball?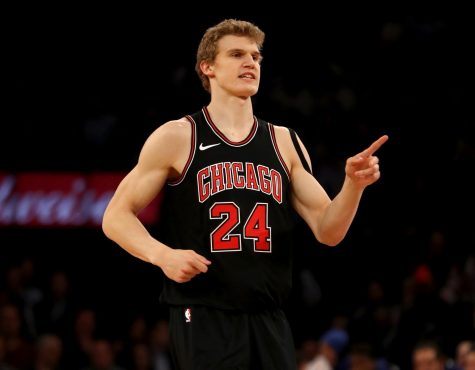 Lauri Markkanen: Restricted Free Agent
The biggest wild card in the market, Lauri Markkanen, is set to leave the Windy City as the Bulls struggle to identify his role.
Markkanen's counting numbers and volume have decreased since the 2019 season but his percentages have improved and his advanced numbers show him as a plus offensive player.  Chicago drafted Patrick Williams who they feel can offer more than Markkanen gives them right now. If Markkanen leaves, I'd expect teams like San Antonio and Oklahoma City to be calling his name. 
Markkanen would help a Spurs team that finished 21st in offensive rating and needs a replacement for LaMarcus Aldridge.  They also have the second most cap space in the league, behind the Knicks, and would be able to absorb Markkanen into their young nucleus headlined by Keldon Johnson and Dejounte Murray. 
Oklahoma City was the worst offense in basketball last year, finishing last in offensive rating and 28th in points per game. Markkanen and promising youngster Aleksej Pokusevki would form an interesting front court on the offensive end but the defense is a major concern.
While he and Luguentz Dort already form a dynamite defensive backcourt, Shai Gilegous-Alexander would not complain with Markkanen entering the mix. However, if Pokusevski's -0.7 defensive box score does not turn positive, their front court defense might suffer tremendously.
Markkanen's 40% three point shooting will have a lot of teams wanting his services. We saw the money that players like Joe Harris and Davis Bertans got for being great shooters, so it would not shock me if he signed on for $19 million or more over four years.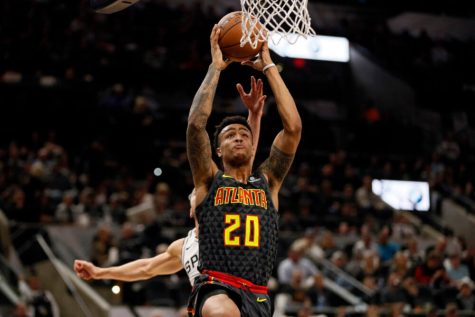 John Collins- Restricted Free Agent
Expected to be paid like a star, John Collins is one of the most anticipated players to hit the free agent market.
Collins is definitely an above-average NBA power forward averaging 17.6 points per contest along with 7.4 rebounds on a loaded Hawks squad that made a surprise run to the Eastern Conference Finals. He shot 40% from three point land for the second consecutive year and is an offensive force along with steadily improving defense over his four year career.  
Collins has the makings of an all-star caliber player and that idea does not seem too outlandish in the near future if he lands on the correct team.  Collins has not earned any notable accolades other than an all-rookie selection in 2018, but being the second option on an elite team will ensure he receives close to a max contract deal.  
Atlanta is going to do whatever they can to ensure that Collins stays since they do have bird rights on their 19th overall draft choice in 2017. The Hawks have Tony Snell, Lou Williams and Solomon Hill's expiring contracts which will free up around $22 million. With Kris Dunn traded after accepting his five million dollar player option, Atlanta could have a grand total of $27 million, most of which should be used to retain Collins.
If Atlanta does not match any offer sheets, the Sacramento Kings should try swooping in for Collins. They are not a pretty team, or a likely destination, but the idea makes sense if they want to keep De'Aaron Fox happy, even with his $36 million extension kicking in this year.
Harrison Barnes' $22 million would have to be moved away, perhaps in a sign and trade for Collins. Buddy Hield's contract would also have to be shipped, and I envision a team like the Knicks taking on his $20 million. The Knicks need shooting and Sacramento does not want to keep "Buddy Buckets" with his diminishing value.  Sacramento is also looking to get rid of Marvin Bagley, potentially plopping in Collins as their new pick and roll machine with Fox. Pairing the two of them alongside rising youngster Tyrese Haliburton is an enticing prospect.
If the Sacramento scenario does happen, Collins could easily be rewarded an average annual value of $30 million or more over four years. Other teams with cap space would also offer something similar for Collins, putting him out of Atlanta's grasp. Either way, Atlanta will be desperate to keep their team together and teams will have to offer obscene money to pry a non all-star, under 20 point scorer away.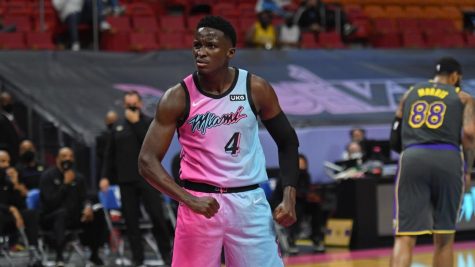 Victor Oladipo- Unrestricted Free Agent
Nobody has fallen off the cliff harder than Victor Oladipo. While he has not hit rock bottom, he certainly is nowhere near his 2018 peak.  
Trading Oladipo in the James Harden extravaganza had to be done, and Indiana got decent compensation in Caris LeVert.  And while LeVert is an injury risk, Oladipo is a much larger one as he went down with a season-ending injury for the second time in his career. After being traded to Miami, he played four games before suffering a knee ailment.
Miami's offseason is murky as their immediate future sits in doubt. Pat Riley has some decisions to make. The entire roster will be free agents other than Bam Adebayo, Tyler Herro, Precious Achiuwa and Jimmy Butler.  Oladipo is one of seven free agents Miami has to deal with, and he already turned down a two year extension indicating he is looking for more.
Oladipo, when healthy, is an ideal complementary wing player, but to reiterate, a four year contract in the neighborhood of $25 million per year for someone with a massive injury risk entering his 30's can be alarming. Nonetheless, the name value trap will strike again.  
Dallas is a team who can possibly make a play for Oladipo as they grow increasingly desperate for talent around Luka Doncic. They will have about $32 million total due to Tim Hardaway Jr., and J.J. Redick's expiring contracts. Josh Richardson is heading to Boston, giving Dallas a grand total of around $43 million in cap space.  If Oladipo provides playoff progress to ensure Doncic is happy, then overpaying might be Dallas' only choice.
The Memphis Grizzlies could be another team in the mix. The Music City possesses a great tune with four expiring contracts and their main core on rookie deals and trending in an upward direction. Once again, this is a case of a team needing to find the right compliment next to a star in Ja Morant, who had the highest usage rate (27.2%) on his team while simultaneously managing the majority of ball handling duties (33.5% assist rate).  Oladipo can provide some relief for Morant and give them a secondary crunch time shooter.
Memphis, like Dallas, does have to open up some money first. They can do just that through declining Justise Winslow's $13 million team option and trading Kyle Anderson's $9 million and Tyus Jones' and Grayson Allen's expiring money in 2022, a total of $33.5 million. Oladipo will want a hefty contract like that, possibly in the four year, $25 million or more range.  
The unfortunate reality is that overpaying for restricted free agents is the only way to lure them away from their incumbent teams. Teams will more than likely fall into that trap or the name value of unrestricted free agents. However, those who manage to land free agents like those on this list at least restore some relevance to their franchises in today's competitive NBA.