Brianna Pinto: What Makes a Woman of the Year
March 30, 2021. It is a deadlocked game between Fordham University and Stony Brook University. 6-6 heading into the bottom of the ninth as a twelve game win streak sits on the line for the Rams.
Bella Ayala singles, Amanda Carey reaches first and an intentional walk to Michaela Carter loads up the bases. In steps Brianna Pinto. With just one out, the Fordham captain could be expected to win the game. She earned that respect. And she did, not just with a base hit, but with a home run, a grand slam, which is the very first of her career.
Pandemonium ensues. A walk-off win for Fordham in one of its toughest games of an already tough season, with Pinto delivering the final strike. However, it was not about the accomplishment for Pinto, but the response. "That one was definitely up there for my favorite moment," she said. "They were so beyond excited for me, like it was insane, more excited than I even was. It felt like literally a dream."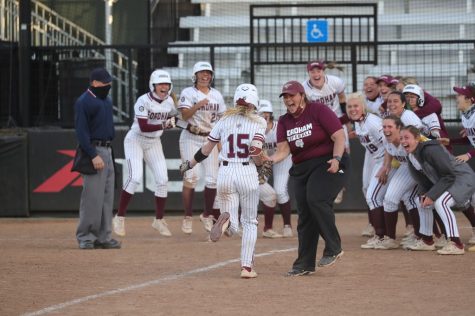 It might be just one moment, but it encompasses everything that Pinto's four year softball career provided. An extraordinary number of individual accolades and achievements overshadowed by an everlasting impact on her teammates and gratitude for every moment on the field. Now, all of that combines into Fordham's nomination for the NCAA's prestigious Woman of the Year Award.
Pinto understands the gravity of all of that. Coming into her freshman year as wide-eyed as others, with the difficult task of balancing a focus on academics instilled by her parents with the relentless pursuit of success on the softball field. "You have to do both. I always want to be the best at whatever I do, so whether that's school or softball," says Pinto.
It was a precedent set during her four years at H. Frank Carey high school in Franklin Square, New York. There, she was a four year letter winner, three-time All-County selection all the while being a member of the National Honors Society.  It is not dissimilar from Pinto's constant standing on the Dean's List at Fordham.
None of that is by accident, but a product of who Pinto is as a person. "I think if you do well in the classroom it also ties into what type of player you are on the field, how hard you work and all the qualities stem from each other. And that also makes me a leader."
That first year of leadership came during the COVID-19 pandemic and a softball season unlike any other. Twenty games into their 2020 campaign, Fordham sees the season come to a sudden end, with the desire for competition sizzling within. Instead, they had to wait an entire year to satisfy that urge.
For some, that might have been a time of torture and in some senses it was without the sport that has been a pillar of Pinto's life for a decade. "I don't really react to situations. I kind of think about them, take a step back and then respond to them which I think is a strong quality," said Pinto. And that quality shone through at a time when patience proved to be needed the most.
"To take on all that of the year getting canceled was kind of crazy but also gave me a lot of time to kind of self-reflect on who I wanted to be coming into next year," said Pinto. She took the time to reconnect with her team, empathize with them as both people and players and share the same feelings that she conjured up with them. "A big thing I did throughout was just reminding everyone like this could be taken away from us any moment and just like appreciate it and really enjoy being out on the field and being happy," said Pinto.
That mindset of gratitude becomes very evident in speaking with Pinto, someone who has always had an eye to the world outside of sports. And, sometimes, it takes a time of struggle to find an even greater perspective. "It [the canceled 2020 season] really made this year like so much more special … I really found the love for the game again in a sense…"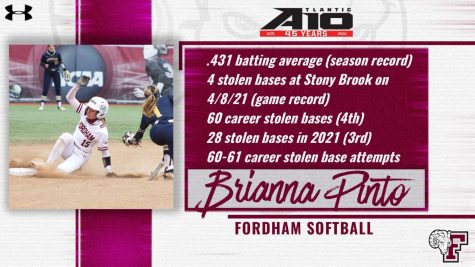 That renewed focus led Pinto to one of the greatest individual seasons in Fordham Softball history. The senior started 46 games in the year which is her second as team captain, blasting off to a single-season program record .431 batting average to pair with a team-high 53 hits and 28 stolen bases. She was also a fielding gem, committing just three errors for a career-high .956 fielding percentage.
It is not a coincidence either that every mark on the 2021 season was the highest of Pinto's Fordham career. For one, it is a product of three years of experience preceding it. Yes, Pinto has the natural athleticism and speed on the field, along with an athletic background behind her, but so much more goes into that. "I am a hard worker and when I care about something, I care deeply, especially about softball," she said. Take the weight room as one example, a place where Pinto believes she has cemented her impact. All of the work in the shadows shines onto the field.
However, it treads even deeper than that. For Pinto, that success is also tied to a sense of freedom that was never really there before. "I think every athlete at a point deals with something mentally," said Pinto. "Sports in general is such a mind game in a sense. You're gonna fail sometimes more than you succeed." It took four years for Pinto to realize that. "I noticed, 'Why did I put all this pressure on myself?' When I finally let go and just said to myself, 'Let me just enjoy it,' was when a flip kinda switched." 
That switch led Pinto to the Student Athlete Advisory Committee, a place fostering a collective support of mental health in the Fordham community, in which Pinto serves as a student representative. "I really think it's amazing how they are emphasizing these initiatives and Fordham's creating a space where they have these resources and I think it's really gonna be beneficial to a lot of student athletes."
Pinto is one of those athletes, who came to realize that her mental struggles were not isolated to herself, and that there is much more to accomplish outside of athletics. "I would tell myself not to only focus on athletics and really focus on how you're gonna stay happy and impact the people around you," she said.
That type of perspective is what makes a Woman of the Year nominee. It is not just about athletic success, something that Pinto certainly has garnered, but the role a female athlete serves within their larger community. Even then, it was something she never expected to receive. "I have no words for it cause I'm just like: Wait, really? Me?"
The response is largely because Pinto understands how significant the award is. "If I can look back, this is something that I will remember for the rest of my life in that I was able to impact people athletically, with academics, in the community. I think this is like the best award I could ever receive within my four years and I think it's awesome to know that I really did make an impact at Fordham."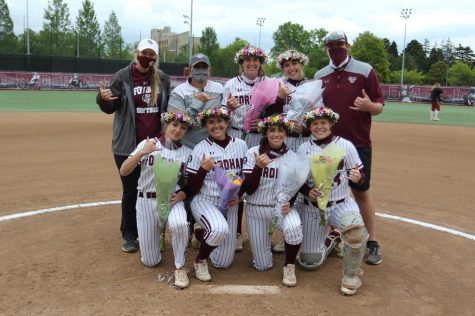 It very well could be the crowning achievement of a tremendous four years, but that drive to be the best led Pinto returning for one more. There are the on-field accolades on her mind, such as bringing the A-10 Championship back to Fordham and writing her name in a few more record books, but that is not all. 
"I also think it's gonna be a big thing for me to just really influence the younger girls and the underclassmen and to be able to take all these experiences that I've had so far and like really have an impact on them is what I'd really rather accomplish." And, she does not want to look like too much of a grandma out there either, something that sounds impossible for one of the fastest baserunners in the A-10 to do.
But there will be a time for Pinto when that speed does vanish and it becomes time to step away from the playing field. However, she is already well-prepared for that, as we spoke at the end of her nine to five workday with an audit internship at BKD CPAs, where she hopes to transition into a full-time career. "Right now my passion is for doing accounting. I eventually want to do accounting data analytics and hopefully get into the sports industry somehow."
That does not mean softball will disappear, however, as she says it will always be a part of her life. "When I hang up my cleats, I'm gonna hang them up but it's gonna be nice reflecting on it and I will always give back when people need me to." No matter where Pinto ends up, though, her message to others remains the same, one that transcends the lines of the diamond.
"One thing is to always literally put 100% in everything you do and don't put so much pressure on yourself at the same time. Be able to create that balance and really sit back and be like, "What's gonna make me happy?" What I did, did it impact other people in a positive way?"
That impact can come in many forms, whether through softball or any walk of life. It boils down to a few simple tenets that neatly summarize Pinto's mindset and the meaning of the Woman of the Year. "Don't put too much pressure on yourself. Enjoy the moment. Try to get involved in other things. Try to have a positive impact on people no matter what." 
Part of that mindset for Pinto also comes from the fact that she recognizes the impact others have had on her. In speaking, she continually referenced her parents, coaches and all those who helped her earn this award."I wouldn't have even been able to even be nominated for this award without obviously the support of my team and my coaches and Fordham in general…" she said.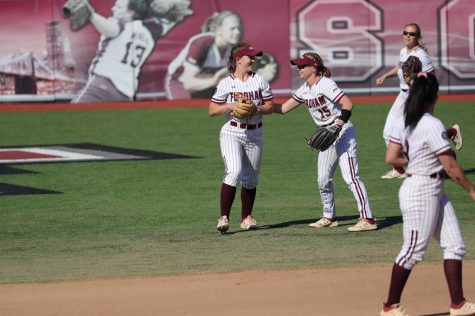 One of those people is Coach Inouye, who she was on the phone with prior to us speaking."She always pushes me. She always reminds me in a sense, 'You don't realize how much you can impact this team.' Just show up, work hard. You are able to connect with everyone."
Another is Senior Associate Athletic Director, Djenane Paul. "She's been like kind of like my mentor … Throughout the four years she's always been there for me. I could go to her for anything."
It is the same type of person Pinto has strived to be as a captain. And it shows in the three words her teammates used to describe her: Understanding, passionate and level headed. The only one she would add? Approachable. Someone her teammates could come to for anything, even issues not softball-related.
In listening to the names Pinto mentioned, and her overall perspective, one common theme became clear: Very little of it surrounds softball. Her parents instilled an academic balance, Coach Inouye entrusted her as a leader and Paul was an avenue to her involvement in SAAC. And, Pinto's greatest memory was not in a home run, but in the team reaction that followed.
It all leads to one final message. "Get involved when an opportunity presents itself. Always think when you do something, how you're impacting other people. Whatever you say and the actions you take. People may not say it but it impacts them. So always be aware of it and just always try to be the best version of yourself."
People are always watching Pinto. That is true of the underclassmen looking to her for guidance or the fans returning to Bahoshy gazing in awe at one of the greatest athletes in Fordham Softball history. They have just witnessed the latest chapter, "Woman of the Year," in a story that is constantly being written.