Who's that Kid? It's Christopher Zissimatos, GSB '23!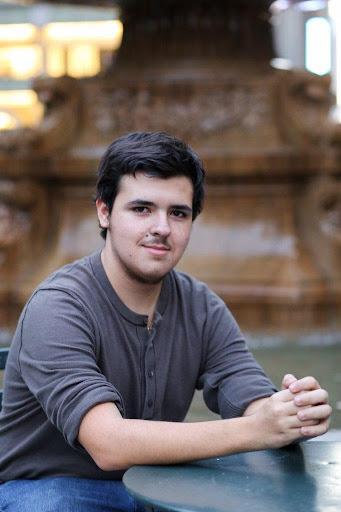 Hofstra, Saint John's, American University and Fordham. Those were the choices that Christopher Zissimatos had three years ago when deciding on where to go to college. However, the moment he received a letter of acceptance from Fordham, he cancelled the four other college applications and committed to Fordham University. When asked about his decision to join the Ramily, he said that he chose Fordham because of  "the school's various business programs and connections, as well as its proximity to the heart of the city." His father also received his MBA from Fordham, so he already had a connection with the university.
Zissimatos, who is 20, was born in Manhasset, New York and currently resides in Queens. As a junior, he lives on campus in Finlay Hall. Zissimatos attended Chaminade High School, where he was a member of various clubs, but his proudest achievement was becoming a member of the National Honor Society. He was also the president of the Culinary Arts club, where students learned how to prepare a variety of dishes. In addition, he participated in the Debate club. Here, Zissimatoslearned how to formulate arguments and articulate them to other people.
Zissimatos is currently majoring in Public Accountancy and minoring in Business Law & Ethics. He has high aspirations after his time here at Fordham. After he finishes Fordham's five-year Accounting program & obtains a CPA, Zissimatoswants to return to Fordham for law school. Upon completing law school and passing the bar exam, he wants to get a job merging his accounting and legal knowledge, such as in mergers and acquisitions: "I've always wanted to become a lawyer and honestly, I haven't considered any other career paths." Zissimatos's ultimate goal is to obtain a career at a fashion house such as LVMH. He cites watch-industry pioneer Jean-Claude Biver & Blackrock CEO Larry Fink as two of his personal business heroes. A major part of his aspirations for fashion are attempting to solve fashion's major carbon footprint by finding economical ways to produce fashionable clothing & accessories. His major focuses are on traditional menswear & luxury watches. He is also an avid suit collector and has a special record at his high school. Zissimatos is the only student to have participated in the faculty v. senior basketball team while wearing a three-piece suit. When asked about this peculiar record, Zissimatos said that he did it because he was bored.
In addition to his academic pursuits, Zissimatos is also heavily involved on campus, serving on the e-board of the Contemporary Science Fiction club as its event coordinator. Contemporary science fiction, or CSF, is a club where students gather from 4-6:30 on Fridays in Keating Hall to play video games, Dungeons & Dragons and board games. "It really is like no other club on campus. It may sound really nerdy, but in truth it's nothing more than a place where students can relax from their classes and make friends," Zissimatos said. In his tenure as the event coordinator, he hopes to fashion club events that bring the club closer together and serve to help the new members become more involved. "For me this club was really the place where I made the most friends. I barely had any coming into my Freshman year and this club really served as the place where I made all of my friends." 
As well as CSF, he currently works as a luxury reseller & the in-house fashion expert at an auction company. At the auction company, he manages the clothing lots, organizing them by styles, seasons & brands. Before his current job, he was an intern at the International Trade Administration, a subset of the Department of Commerce. Zissimatos was also a teacher's assistant for the ground floor course, which is mandatory for all freshmen in Gabelli. With Fordham now back in person after a year of mostly online courses, he is excited to continue his studies: "I'm looking forward to in-person classes and being able to interact with other students that isn't over a computer."