Tacos El Bronco II is the Perfect Alternative to The Caf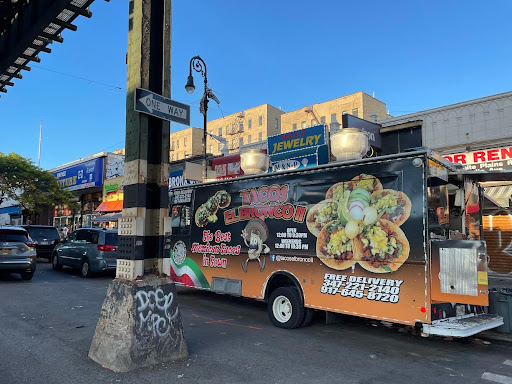 Filled with many remarkable restaurants, the Bronx is host to great but expensive spots on Arthur Avenue.  Still, I have struggled to find an affordable taco spot that I really enjoy. So, in pursuit of good Mexican food that did not break the bank, I ventured a little bit further away from Fordham and discovered the food truck Tacos El Bronco II. 
Tacos El Bronco II is approximately a 30-minute commute from campus but well worth the trip. Located on the corner of White Plains Road and Lydig Avenue, students can choose to make the 30-minute walk or take the Bx22 bus to shorten the trip. 
At first sight, the food truck does not look like much on a street corner under the Metro-North tracks. There is little to no atmosphere around the truck and no seating, which may seem like a concern at first. However, Tacos El Bronco II's location provides easy access to Pelham Park, allowing students to take their food to-go and picnic in the park.
When you walk up to the truck, the employees inside are focused, efficient and friendly. The truck was relatively busy when I went; however, I only waited about five minutes for my food.
The menu is limited, which makes ordering very simple. Tacos El Bronco II only offers  tacos. However, they have a wide range of meat options, allowing the customer to mix many different flavors into their meal. Each taco comes in two corn tortillas and topped with cilantro and onions. For drink options, the food truck offers Coke products, water and Jarritos Mexican soda — a personal favorite.
I ordered one chicken and one fried pork taco. Both were excellent, and the varying meats meshed different flavors. Additionally, the tacos came with green salsa and red salsa. Even though the tacos were simple, they had an abundance of flavor, which appears to be lacking in Fordham food.
Notwithstanding the savory tacos, the main selling point of Tacos El Bronco II is the price. Each taco costs $2.50, and the drinks range from one to two dollars. My order of two tacos and a can of soda came out to $6, making this one of the cheapest meals I have had during my time at Fordham. The food truck is cash only, which is worth the sacrifice for an inexpensive and high-quality meal.
Tacos El Bronco II is the perfect restaurant if you are looking for a break from the Fordham food or craving authentic tacos. The low prices of the delicious food make it the perfect meal for you and your friends.