Ferragosto is an Italian Wonderland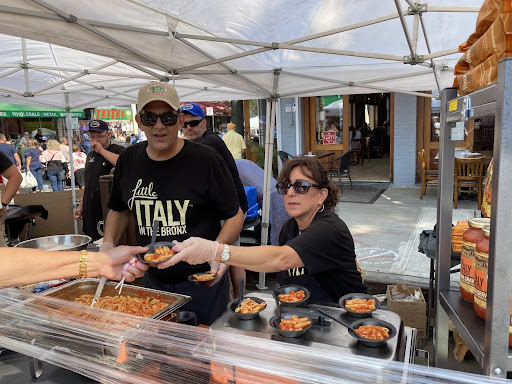 I came to this university on a whim. After an informational session in Duane Library and deciding to skip the walking tour, my father and I went to Pugsley's Pizza thanks to a recommendation from the Bathgate guard. It was there that I first heard it. In their booths, on the patio and behind the counter, I heard the voice of Italian America. I was compelled to go to the neighborhood. I had to be here. I had to get to know these people. I had to taste their food, dance to their music and listen to their stories. Thanks to COVID, freshman year didn't give me much of a chance. But, come September of Sophomore year, the Ferragosto Festival was in full swing, and I got what I came for. 
Traditionally, the Ferragosto Festival celebrated the end of the harvest season, where weary Italians fled their cities to relax with the fruits of their labor. Now, it's a yearly festival of food, song and jumping from spot to spot in New York wherever Italians are found. It was held on Arthur Avenue this past Sunday, Sept. 12.
Most attendees are Italian Americans from the Bronx. But, if you look closer, you'll see people from all walks of life. Representatives from all five boroughs have come to join our little parade, and from the looks on their faces, they're better for it. There's not a solemn face in the crowd. Maybe they're still riding Italy's victory in the Euro Cup final, or maybe they're just happy to have the festival back. I reckon it's a combination of the two. 
The Ferragosto Festival starts from 187th Street at Full Moon Pizza and ends at 184th right at Prince Coffee. In between, there isn't a dull spot. If you haven't seen the Bronx before, you will here. Never in my life have I seen more gold chains draped over graphic tees. There's a lot of love in this festival, but a lot of business as well —business that doesn't like being interrupted. Upon asking a cigar vendor his thoughts on the festival, he waved his arms at me saying, "Forto, forto. Forto!" I know that word doesn't mean "leave," but that's certainly what he meant.  
That's not to suggest that people I met at Ferragosto were not friendly, quite the opposite. The people I met in my brief tour showed me some of the greatest hospitality one can show to a stranger. One lovely couple, after taking my picture, offered me a cappuccino. Asking for nothing in return, they went on their way. Nico Toliano, spokesman for The Wooden Spoon, offered me a delightful conversation and an authentic wooden spoon with my name engraved. 
Taking a left at 185th, passers-by came en masse to listen to Graziana Maria Lazzaro. "Ay Mambo! Mambo Italiano!" she sings. There's some light clapping from some of the older onlookers. It's clear they know the song and are pleased with the rendition.
A little further down, you get a tasteful rendition of "Uptown Funk" in front of Gene's Beans. "I'll say it again, is the Bronx in the house?" Similar activities take place outside Pasquale's Rigoletto. Festival goers, young and old, boogie down to Kool & The Gang's "Celebration," sung by a man in a pompadour. In between the two, outside Mario's Restaurant, entertainers sing "The Way You Look Tonight" to a newly engaged couple. "Are you Italian?" the singer asks the groom-to-be. "No, but my fiancé is." "Well, you're Italian now." 
By far, the greatest musical performance came from the dynamic duo Angelo Coppola and Luigi Trombetta, an accordion player and tambourine player, respectively. Strangers danced and spun and dipped. Words cannot describe the immense pleasure I received from Angelo playing the accordion. I didn't know it was possible to shred one of those things, but Angelo found a way. 
 If you haven't had enough of what Ferragosto has to offer by now, treat yourself to one of the local food vendors. Just make sure you bring cash. Little Italy in the Bronx, a local sauce company, handed out free samples of their sauces. I had the best marinara sauce I've ever had in my life. Go and ask for Janet and Mike; they'll fix you up. 
 As I sat down reflecting on the day, I looked over towards 184th and saw three flags gently waving in the breeze—two Italian and one American. They looked at peace, almost as if they were meant to fly together. No one said it better than Angelo Coppola, the accordion player: "Keep the Italian tradition going."  Ferragosto is the perfect way to honor that.