2021 NFL Award Predictions
One of the most anticipated days in American sports is here, week one of the NFL season. Teams open their seasons with high hopes and, for some, expectations to win a Super Bowl.  Sometimes there are players who make instant impact as rookies and stars that elevate themselves to the next level. Earning individual accolades always adds to the legacy score and brings players one closer step to Canton, Ohio. 
With that being said, here are the 2020 NFL Player awards predictions for the 2021 season.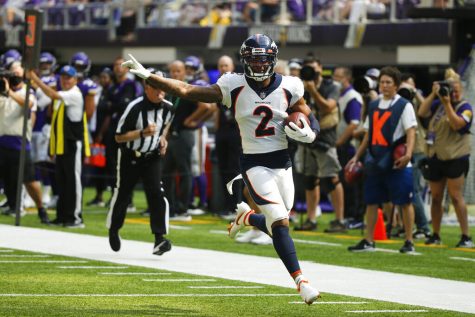 Defensive Rookie of the Year: Patrick Surtain II
With a rejuvenated defense headlined by Von Miller's return, the Denver Broncos have the chance to join the likes of football's elite defensive groups. The additions of cornerbacks Ronald Darby, Kyle Fuller and resigning safety Justin Simmons certainly make the Broncos' pass coverage group a no fly zone. And while Patrick Surtain II might be at the bottom of the pecking order to start, he has more than a good chance to not only contribute but have plenty of opportunities to shine.
Teams will actively try to avoid the star secondary players, giving Surtain the chance to show his capability as a nightmare for receivers. Surtain's numbers did not jump off the page at Alabama, though his nine passes defended along with 3.5 tackles for loss in his final season did.  Surtain is not an interception machine but his ability to deny passes still makes him a great corner, almost like Dolphins cornerback Byron Jones.
He also possesses an innate ability to press and time his jumps to contest passes, which are receiving high praise out of the Broncos camp. He has earned the nickname "The Specimen" from Miller Simmons. Six year pro and fellow cornerback Bryce Callahan echoed his abilities in an interview with milehighsports.com
"His press technique [is the most impressive thing about him so far].  He kind of looks like he's been in the league for a couple of years already. Real calm. He's got a lot going for him."          
Surtain already showed some of what he can do, with a pick six against the Vikings in the preseason, and is ranked as the number two cornerback in rookie rankings according to NFL Draft Bible. There are tons of expectations for the Broncos as a team and Patrick Surtain II will have an important role to play.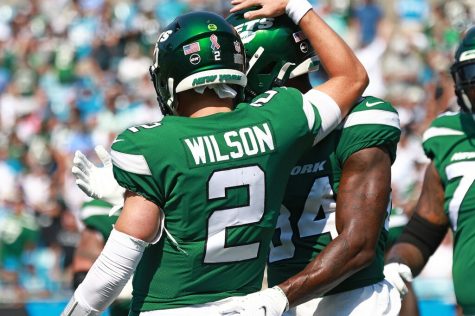 Offensive Rookie of the Year: Zach Wilson
The Jets are almost cursed at this point. Players who could hae been a part of the solution are already hurt. Carl Lawson is out for the year with an achilles tear, Zane Lewis has a torn MCL and will miss the season and promising receiver Denzel Mims has a hip injury where he is considered day-to-day.  That is three key pieces going down, with the Jets investing $45 million in one of them. 
But this Jets team is much deeper than in previous years, especially at their skill positions and offensive line. The latter could slingshot the second overall draft choice into the offensive rookie of the year award.
Wilson, the BYU field commander, had a superlative junior year, throwing for nearly 3,700 yards with 33 scores and three interceptions.  Despite not being a scrambling quarterback, Wilson can also move, rushing for 254 yards and 10 endzone parties.
The lack of weaponry in 2020 was a key issue for the Jets, and they addressed that via free agency and the draft. Wilson will have Jamison Crowder, Keelan Cole and Corey Davis as his receiver core, along with second round pick Elijah Moore from Ole Miss. Fourth round pick Michael Carter II and Tevin Coleman  round out a productive tail back platoon.
The offensive line, outside of standout left tackle Mekhi Becton, was ranked 29th out of 32 NFL offensive lines in 2020. Becton performed well while simultaneously battling injuries, the rest of the Jets O line allowed rush pressure in 2.5 seconds. This past draft the Jets took USC's Alijah Vera-Tucker with the 14th overall pick, once again boosting an O line that should jump from the 29th spot.
The Jets still have tons of questions to answer on both sides of the football, but the tools are in place for Zach Wilson to succeed and become a staple at quarterback for a long time.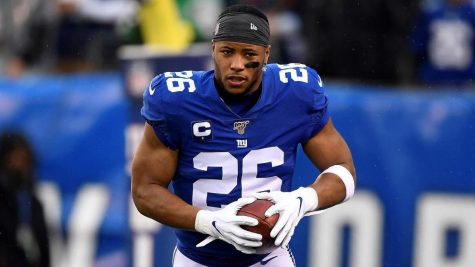 Comeback Player of the Year: Saquon Barkley
Barkley's magical 2018 season accumulated 2028 total, 1307 rushing and 721 receiving yards. He also collected the Offensive Rookie of the Year award and a Pro Bowl selection, then followed that up with another 1,000+ yards on the ground in 2019.
An unfortunate week two ACL tear ended Barkley's season for the Giants, who became the second-worst scoring offense (17.5) in football, only bested by the Jets. Disaster struck early, but the Giants season was a positive one, especially on the defensive side.
Even if he misses two weeks to start the 2021 campaign and will be competing against an overwhelming amount of talented wideouts, 1000 rushing yards, five or so touchdowns and the Giants sneaking into the playoffs will allow Barkley to win this award.
The offensive line has been a recurring issue for the Giants and, even when Barkley was healthy, the Giants o-line ranked 24th (2018), 17th (2019) and 31st (2020). Losing Kevin Zeitler does not help this matter, and the inconsistencies of 2020 fourth overall pick Andrew Thomas already have the Giants faithful concerned.  Nate Solder will return after his 2020 opt-out which can provide some stability, but there is lackluster depth beyond that. 
Barkley will breathe life into the Giants offense, and maybe he can overcome Jones and the terrible offensive line. Nonetheless, Barkley has a good chance to make a serious comeback and perhaps be the key to an NFC division title for the Giants.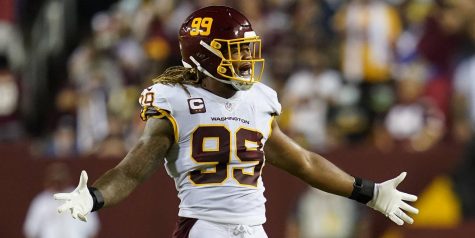 Defensive Player of the Year: Chase Young
The "predator" has been everything and then some for the Washington Football Team. 44 combined tackles — ten of those for loss — seven and a half sacks, three recovered fumbles — four forced — and one score helped lead one of the NFL's most efficient defenses last year. Young finished second on the team in sacks and tackles for loss, and first in forced fumbles.
With the pace that Young is going at, a new world class defensive end might rise to the top the echelon of the NFL's best defensive players.
Ron Rivera once again commands an elite defense including Young and bulldozing defensive linemen Montez Sweat, Daron Payne, Matthew Ioannidis, Jonathan Allen. Add to that a great secondary and Young will be at the front and center of a Washington defense that will force offensive coordinators to rip up their game plans in frustration and help the Football team compete for an NFC East title.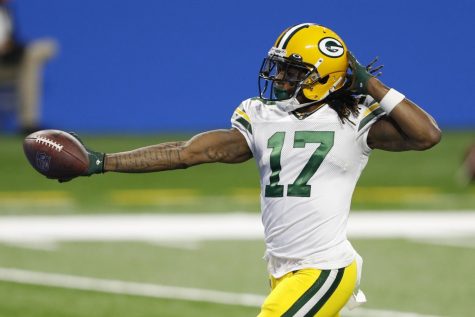 Offensive Player of the Year: Davante Adams
A potentially disastrous off season for the Packers looms next winter and the future is about as murky as it gets after a series of cryptic offseason posts and comments, but Green Bay faithful will be treated to the duo of Aaron Roders and Davante Adams for at least one more season.
Adams is coming off his best season as a pro with a league-leading 18 receiving touchdowns — the most since Randy Moss in 2007 — and 98.1 yards per game accumulating to 1374 total yards, franchise-record 115 catches and 18 receiving touchdowns and a first team All-Pro selection.
The individual accolades are something to behold, which catapulted Adams into the best receiver conversation with DeAndre Hopkins, Tyreek Hill and DK Metcalf. Playing with a Hall of Fame quarterback certainly benefits Adams, but the two are inseparable on the field. 
Adams' immaculate footwork and route running make him the total package that a lot of teams will pursue in this upcoming free agency.  "OneSeven" has all the motivation in the world to play like a star again, with the reward in the form of a big payday, whether in Green Bay or somewhere else.
Green Bay has addressed their issues from last season, adding new cornerbacks Isaac Yiadom and first round pick Jarnell Stokes to compliment stud corner Jaire Alexander. The only other piece they lost was All Pro center Corey Linsely and they released receiver Devin Funchess after a season-ending foot injury.  Everything else is in place for Green Bay to succeed this year, and hopefully Adams and Rodgers are front and center for one more season of magic.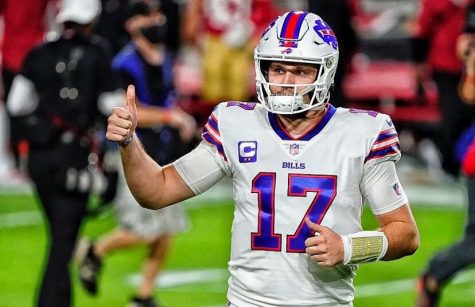 Most Valuable Player: Josh Allen
The Buffalo Bills brought almost everyone back from last season and the skill position players, especially at receiver, are an excellent tandem of star power and those who go the extra mile. 
Allen and Stefon Diggs were one of the most unstoppable duos in the NFL last year, with Diggs catching a league-leading 127 passes and totaling 1535 receiving yards. Add Emmanuel Sanders, slot machine Cole Beasley and Gabriel Davis and the Bills will once again have an elite pass-catching group.  
Allen made his first Pro Bowl team last season as all of his numbers popped off the page.  He cut down on his interception percentage to 1.7, raised his touchdown percentage up to 6.5, led the Bills to a division title and marched onto the AFC championship game. And while the Bills mafia has had nothing to cheer for in terms of playoff success in the last two decades, to see Allen raise this team to greater heights was a breath of fresh air.  
With the Bills only getting better, Allen will make a strong case for MVP and maybe even a Super Bowl run. The defense, specifically the pass rush, improved this offseason and a secondary led by Tre'Davious White will hawk opposing receivers in both man and zone coverage. Tremaine Edmunds still heads the linebacker core and made his second Pro Bowl roster last year. A top 10 offensive line returns, headlined by Daryl Williams at right tackle, that will buy Allen enough time to make a decision or scramble if need be. The run game of Allen, Devin Singletary and Zack Moss will be more than enough to make up for not having a true RB1.  
After his massive leap year in 2020, Josh Allen is now a top tier NFL Quarterback. One can only imagine he has another level he can reach with the coronation being a Most valuable player award.