Who's that Kid? It's Jacob Myron, FCRH '24!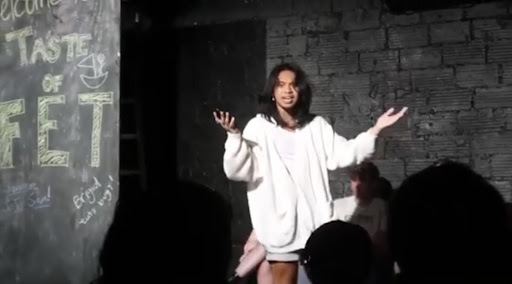 There are many thoughts running through the head of Jacob Myron, FCRH '24. This is immediately apparent when I walk into his O'Hare dorm room: plastered on the wall are photographs, scraps of poetry, Aboriginal boomerangs and various knick knacks representative of his Filipino heritage. The same is true of his longboard, the bottom side of which is covered in signatures and stickers. 
Both his walls and his preferred method of transportation are indicative of his diverse, collaged personality –– one which, at Fordham, has been expressed through Myron's involvement in mental health clubs, Rodrigues' Coffeehouse and, most important of all, the Black Sheep Performance Poetry collective. 
"My poetry is inspired by empathy," Myron says, pouring me a mug of matcha. "I want my poetry to be accessible to people on all intellectual and emotional levels." Myron, who auditioned for and was accepted into Black Sheep during his first semester at Fordham, writes poetry about what he considers to be the grander themes of life. Inspired by the people he has met, his athletic past, and the various revelations he has experienced atop upstate New York's Mt. Beacon, Myron channels his creativity into crafting poems that, though stemming from niche concepts, cater to universal truths. 
Though he is by now an established part of the Black Sheep community, Myron wasn't always an aspiring poet. When he was younger, he played soccer and was on track to play semi-professionally in Europe. However, in his sophomore year of high school, he tore his ACL and meniscus, and damaged cartilage in his left knee. 
"That was a very damaging event for my ego," Myron recounts. "And I think with ego-death comes a very large change in worldview. It was very humbling for me." The injury, which left him unable to play soccer for eight months, led Myron to significantly reflect on his "personality collage." "I experimented with various forms of emotional catharsis, including writing to myself," Myron explains. "I had a lot of time to express myself in ways that were much more meaningful to me. And I'd say that expressing yourself to yourself is very helpful for inducing positive change in your life."
In addition to his several years of experience writing poetry, Black Sheep offered Myron new opportunities to perform his work –– something that proved distinctly different from simply reading a poem. "Acting is dynamic; I found this out in the past year," he says. "The eyes tell a lot and eye contact is very intimate. There are also things like walking around the stage, gesturing with your arms and hands. You're speaking poetry, but your poetry is also speaking through your body." 
Poetry in general, Myron postulates, is not nearly as enigmatic as it seems. "Poetry is a lot more accessible as an artform than people think," he clarifies. "Any structure of words can be poetry –– any structure of words written with intention. It's really all about the intention."
Aside from his work with Black Sheep, Myron enjoys longboarding around campus –– perhaps a remnant of his athletic history –– and working at Rodrigues' Coffeehouse. Taking up Monday and Thursday shifts, Myron speaks fondly of the student-run coffee shop: "Rod's has historically gotten a bad rep for being cliquey and exclusive. But I'd say that the workers are a lot nicer than you think they are. They love to get to know new people. It's a warm environment and a safe space." In addition, Myron has already left his mark on Rod's comprehensive menu ("Please try my drink, it is called the Coco Loco!").
Myron also enjoys events with the Happy Hopes Mental Health Collaborative, based at the Rose Hill campus. The club, which functions under the Fordham Social Innovation Collaboratory, provides students with a place to meet and exchange advice regarding mental health. According to Myron, it is a space where, "everyone who feels the need to destress…can just explain their issues and get peer advice, student to student. Not from a CPS official who is disconnected from studenthood. We lead with breathing and mindfulness exercises, we leave having respected the privacy of…the individuals who come."
The different aspects of Myron's life come full circle –– every moment he experiences and every person he meets has an influence on his ever changing personality. "A [personal] collage is like a history; it doesn't change," Myron explains. "It grows and amalgamates into something more beautiful than before, as long as you see it that way. You might want to drop pieces of it but you can't. You have to accept it's part of you." This realization was one of Myron's most fundamental, and came to him after his injury in high school. It's clear from his answers that he truly is a poet at heart: "Part of the collage, for me, was consciously recognizing that in sophomore year, I wasn't a good person. Looking back on that piece now, it's beautiful. The meaning comes from the change. There are remnants of who I was that still exist, but they operate in ways that are more meaningful to me and other people, that are much more productive."
Myron will be performing with the Black Sheep Performance Poetry group at 8 p.m. on this coming Friday and Saturday, at the Black Box in Collins Hall.