Fordham Hosts a Special Screening of "The Eyes of Tammy Faye"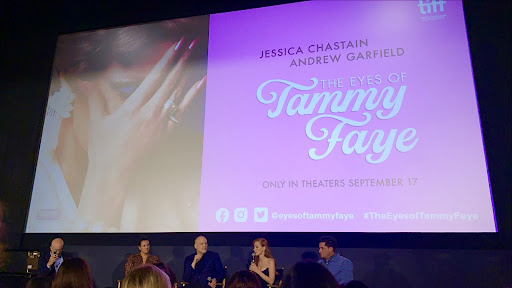 On Wednesday Sept. 15, Fordham's Center on Religion and Culture held a special screening of "The Eyes of Tammy Faye" before its scheduled release on Sept. 17. After the showing, David Gibson, director of Fordham's Center on Religion and Culture, guided a conversation with Jessica Chastain (Tammy Faye), Vincent D'Onofrio (Jerry Falwell Sr.) and director Michael Showalter. 
"The Eyes of Tammy Faye" is about the rise and fall of televangelists Tammy Faye Bakker and Jim Bakker. The film, though detailing their corruption, makes an effort to separate Faye from her ex-husband. Faye is presented in an empathetic light, and rightly so. Despite perpetuating greed in the name of Christianity, Faye cared deeply for everyone she came in contact with. Jim Bakker, on the other hand, let his ego and money hungry attitude destroy his life and reputation. 
Tammy and Jim began as traveling puppeteer evangelists, spreading Christianity to young children. From there, the couple  went on to host their own TV show and began working in elite circles with powerful evangelical public figures, like baptist pastor Jerry Falwell Sr. The film portrays Jim as desperate to occupy the power that men like Falwell have. While Tammy also seeks that lifestyle, her values drastically differ — she is not afraid to stand up to Falwell when it comes to loving all people. Falwell is vehemently against the LGBT community and Tammy powerfully declares, "I'm not telling people who's going to hell." One of the most impactful moments in the film is the depiction of Tammy's 1985 interview with Steve Pieters, a gay minister with AIDS. On Jim and Tammy's PTL network, Tammy spoke directly to Christian families in this interview, sobbing and telling viewers "how sad that we as Christians, who are to be the salt of the earth, we who are supposed to be able to love everyone, are afraid so badly of an AIDS patient that we will not go up and put our arm around them and tell them that we care?" D'Onofrio discussed his upbringing in the '80s and how important this interview was then and still is today.
Tammy Faye was a big personality who was excluded and mocked within her own community and others even before her downfall. Known for her extravagant makeup, Chastain explains how it was not a mask, but a way for Tammy Faye to express herself. The film shows instances where Faye was judged for her light makeup as a young woman at a Christian college, seen as a "harlot." She was then  mocked for her heavier makeup later in life. An image of Faye with makeup streaking down her face became popular in the media, mocked by shows like SNL. Chastain recalls an interview where Faye explained why she wore her makeup in such a way:  "I feel pretty this way…Why would God be against something that makes you feel so good and so beautiful? God is love and love is beauty."
Showalter explains that Tammy's journey was one where "she goes through this crisis of faith where she feels this God that's so important to her has left her…She realizes that God didn't let her down, but people let her down." But at the end of the film she regains "the God that is in all of us individually [and] it doesn't matter what other people think [of her]."
Though the film recalls a  time in the 80s where televangelists like Jerry Falwell Sr. were very popular , Gibson notes that televangelists under the Trump administration were closer to the center of power than Falwell Sr. ever was. Jerry Falwell Jr. was involved with the Trump administration and continues his father's mission, prompting Gibson to state, "The past is never past."
Chastain also discussed Tammy and Jim's children, Tammy Sue and Jay Bakker. Jay Bakker continues  his mother's work as a minister of Revolution church, a parish that embraces the LGBT community. His criticism of Christian fundamentalism is presented in the documentary series "One Punk Under God". Tammy Sue is a singer who sings "Don't' Give Up (On the Brink of a Miracle)" during the end credits of the film. Chastain was thankful to the Bakker children for sharing intimate details of their mother to help her prepare for the role. Despite their parents' troubles, they are still both people of faith.
"The Eyes of Tammy Faye" is a fantastic look at Faye's life and dedication to good, despite mistakes made and bumps in the road. The film masterfully presents how religion can be manipulated for the worse and the strength it takes to overcome that. Be sure to see "The Eyes of Tammy Faye" in theaters now.