Fordham Satin Dolls, The Fordham Ramblers & The Rockettes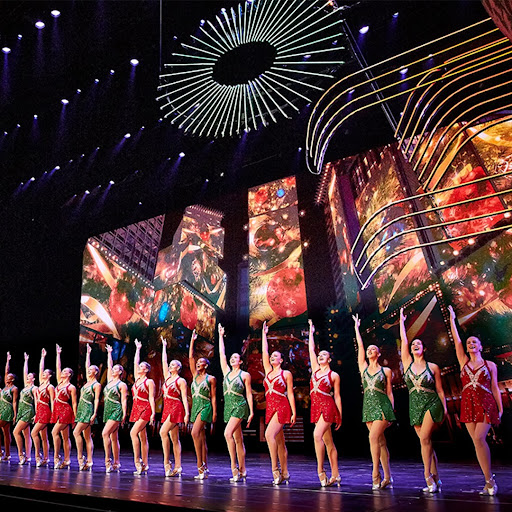 Two of Fordham's a cappella groups — The Satin Dolls and the Ramblers — will be performing at Radio City Music Hall to kick off the first weekend of the highly anticipated Christmas Spectacular on November 5th and 6th.
The two groups began practicing last week in preparation for their biggest show post-pandemic, the "Sounds of Christmas," where they will be opening for the beloved Rockettes.
"I'm most worried about performing at Radio City," said Julia Leahy, FCRH '23, a third-year member of The Satin Dolls. "This is by far going to be the biggest audience we have ever performed in front of."
Julia's stage fright is definitely a shared feeling among her fellow a cappella members. It has been almost two years since either group has given a live performance, apart from a small in-person spring concert the University allowed at the end of last semester. But that was only for an audience of 50 people. President of the Satin Dolls, Amanda Ojeda, FCRH '22, has the girls in rehearsal three times a week to ensure that they will be at their absolute best. "I'd say we are all a little worried about feeling completely comfortable and confident with the music, but we always learn quickly," said Ojeda.
"It's really the opportunity of a lifetime," Ojeda said. She explained how a representative from Madison Square Garden reached out to the a cappella groups after seeing some of their video performances online. "We just can't wait to get up there and show them what we're made of." Each year Radio City selects a small number of local collegiate a cappella groups to perform on the Great Stage for the "Sounds of Christmas." It is a testament to the groups' talent to have been selected. "So many incredible artists and musicians have played on that stage and we are so honored to be included in that list," said Ojeda.
Once the opportunity was presented, E-board members from each group jumped to secure their spots and immediately began working on their showcases. The groups are still in the early days of preparation for this event. Earlier this semester, the groups had to go through tryouts and initiation, but they are finally able to focus on preparing for the "Sounds of Christmas".
Understandably, the a cappella singers are buzzing with nerves and exhilaration over the initial shock. Hearing this news just days after tryouts and initiation, many new members are especially on edge. "I am definitely nervous, but I am more excited to see our progression over the next few weeks," says first-year Satin Doll, Lily Brown, FCRH '23. "I am excited to see how we evolve as performers, both individually and as a group, and I cannot wait to see what our hard work and dedication will look like at the end of this process." 
The groups are still in the early days of their preparation and members are looking forward to getting into a normal routine of in-person and regular practices to help feel prepared.
"It is definitely an adjustment after the past year and a half, but this is exactly what I signed up for," says Lily Brown. "I love singing and I love that I share a passion with my fellow Satin Dolls. We all feel so blessed to be able to have an opportunity to showcase our love and talent for singing."
The Satin Dolls and the Ramblers will be utilizing their five minute slot on the Great Stage to showcase each of their carefully curated Christmas medleys that are a mix of both traditional and pop. Each of their arrangements includes Christmas classics such as "Underneath the Tree," "Last Christmas," "Have Yourself a Merry Little Christmas" and "All I want for Christmas is You." Over the next few weeks, they will be practicing tirelessly for their huge post-pandemic debut. Among all the stage fright and nerves, Fordham's a cappella groups are thrilled to perform in front of so many new people.
Tickets for the Christmas Spectacular are on sale now.
Elisabeth Murray, FCRH '23, is an International Political Economy Major from Ridgewood, New Jersey