The 2021 Emmys Highlight the Return of Awards Season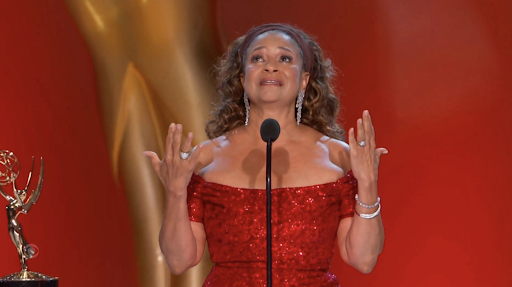 The past 18 months have been a bumpy ride for the entertainment industry. Nevertheless, despite delayed release dates, modified shootings, canceled projects and the complete uncertainty the COVID-19 pandemic cast upon awards season,  the 73rd Primetime Emmy Awards were held (mostly) live and in person on Sunday, Sept. 19. During the show's three hour air-time, there were plenty of highlights from speeches, tributes and red carpet looks that everybody's talking about. Here's a run down of what you missed in case you forgot to tune in. 
One of the most anticipated and contested aspects of any awards show happens before the ceremony itself even starts — the red carpet. After a year of virtual acceptance speeches, attendees were expected to bring their fashion A-game. Anya Taylor-Joy looked gorgeous in a piece by Dior Haute Couture. Michaela Coel stunned viewers in a bright yellow Christopher John Rogers dress. Sarah Paulson walked the red carpet in a bright red Carolina Herrera taffeta gown. Classic beauty Kerry Washington wowed the audience in a silky satin dress and cinched corset piece by Etro. 
Other stars took the opportunity to take fashion risks. Looks ranged from the stunning black Ashi studio ensemble Billy Porter wore, adorned with a $1 million Lorraine Schwartz necklace, to Emma Corrin's black stiletto manicure to complement her extraterrestrial Miu Miu look. 
Once the show started, attendees and viewers immediately realized they were in for something new and exciting when host Cedric the Entertainer ditched the traditional opening monologue. He was joined by LL Cool J, Lil Dicky and Rita Wilson to commence the ceremony with a rendition of "Just a Friend." This was a sing-along tribute to Biz Markie, the late artist behind the 1989 rap hit. Cedric refined some of the tune's original lyrics, singing "TV, you got what I need" as an ode to his love of television. The musical number charged the crowd with energy as everyone in the audience joined in.
However, within the first hour of the show, things quickly went from exciting and new to predictable and monotonous. Netflix's "The Crown" swept the drama category for the second year in a row, winning every award it was nominated for, mirroring the "Schitt's Creek" comedy sweep from 2020. 
Apple TV+ flagship "Ted Lasso" was up against HBO Max's "Hacks" in the comedy race, starting strong with receiving awards for three out of four comedic acting nominations — Jason Sudekis for outstanding lead actor, Hannah Waddingham for outstanding supporting actress and Brett Goldstein for outstanding supporting actor. "Ted Lasso" was also nominated for best comedy writing and directing, but both went to "Hacks." Ultimately, "Ted Lasso" nabbed the award for outstanding comedy series, which was expected. 
The only category where more than two series got a piece of the pie was in the limited series category. Ewan McGregor from Netflix's "Halston" received the award for outstanding actor, while HBO's "Mare of Easttown" won the awards for outstanding lead actress (Kate Winslett), outstanding supporting actor (Evan Peters) and outstanding supporting actress (Julianne Nicholson). "I May Destroy You" won for writing and Netflix's "Queen's Gambit" won for directing as well as outstanding limited series. Unsurprisingly, streaming services dominated yet another awards show. 
Several heartfelt and powerful speeches redeemed the show's repetitive announcements. Waddingham screamed as she took the stage to receive her first-ever Emmy award, both shocked and honored to have won against fellow nominees Aidy Bryan ("Saturday Night Live"), Kate McKinnon ("Saturday Night Live"), Hannah Einbinder ("Hacks"), Rosie Perez ("Flight Attendant") and her "Ted Lasso" costar Juno Temple. Waddingham thanked Apple TV+, Warner Bros and the writers behind the hit, then paid tribute with a nod to her costar and fellow nominee Temple, saying, "there's no Rebecca without Keely". 
Michaela Coel, named outstanding writer for "I May Destroy You," is the first black woman to win this category. Also a first time winner, Coel expressed her gratitude in her acceptance speech which she concluded with a powerful message to the audience: "write the tale that scares you, that makes you feel uncertain, that isn't comfortable. I dare you. In a world that entices us to browse through the lives of others to help us determine how we feel about ourselves, and see in turn still the need to be constantly visible, for visibility these days seems to somehow equate to success. Do not be afraid to disappear from it, from us for a while, and see what comes to you in the silence. I dedicate this story to every single survivor of sexual assault."
The highly esteemed Governor's Award was presented to Debbie Allen. Allen was introduced with a video tribute to her life and career voiced by Gayle King before being welcomed onstage with a standing ovation. Allen, a writer, director, choreographer and producer was bestowed the award in honor of her "countless contributions to television" and her "commitment to inspiring marginalized youth through the performing arts mentorship" as well as her "philanthropic endeavors."
"I am trembling with gratitude and grace," Allen said upon accepting the honor. "It's been many years in the making, taking a lot of courage to be the only woman in the room most of the time." She continued before she caught sight of the countdown clock, indicating how long she had left to speak and then telling producers to "turn that clock off, I'm paying no attention to it." Allen continued, making her acceptance speech a pointed one towards women. She concluded by saying: "Let this moment resonate with women across the world, across this country and across the world, from Texas to Afghanistan… it is time for you to claim your power, claim your voice, say your song, tell your stories, it will make us a better place. Your turn."
This year's Emmys highlighted the trials and tribulations of the pandemic, the importance of diversity (or lack thereof) and celebrated the achievements of stars over the past year. But most importantly, the Emmys reminded us all of one cultural truth: the world is ever changing and unpredictable, but television is with us forever, documenting it all.