With "MONTERO," Lil Nas X Proves He's Not a One Hit Wonder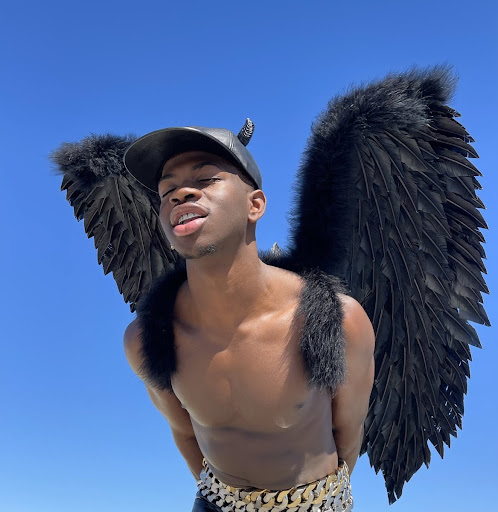 At last, Lil Nas X has given birth. After documenting his pregnancy on social media for weeks, the pop-rap star released his highly-anticipated debut album, "MONTERO," on Sept. 17.
After the unprecedented success of his 2019 single "Old Town Road," which was number one on the Billboard charts for a record-breaking 19 weeks, many assumed that Lil Nas X would end up riding off into the sunset. Even though his debut EP "7" also produced hits like "Panini" and "Rodeo," it failed to connect with audiences as well as "Old Town Road" did. 
Lil Nas X made sure this wouldn't happen again. After years of development and an extensive promotion, "MONTERO" achieved something that all artists dream of; it is absolutely a no-skip album, with every song offering something different.
One may expect "MONTERO" to have a more humorous, peppy tone based on Lil Nas X's hilarious promotion for the album. Instead, "MONTERO" grapples with the heavy expense of fame, something that Lil Nas X still struggles to understand. On one hand, Lil Nas X relishes in his triumph, having risen above his haters and escaped the moniker of "one hit wonder." Yet, as a Black queer artist he still feels pushback from the music industry with the weight of the world pressing down on his shoulders. Even though Lil Nas X garnered the fame he dreamed about for so long, a void within him persists. 
Thematically, the album explores two very different sides to fame. The first flaunts Lil Nas X's success for all to see, whether they want to or not. Lil Nas X considers himself an underdog after spending years in his sister's basement, struggling to strike the right chord. Now he's on top of the world, scooping up views, fans and awards left and right. 
A chorus of trumpets anticipate Lil Nas X's arrival on "INDUSTRY BABY," featuring Jack Harlow. Here, he lets everyone know that he knows he's something special. "I told you, long ago, on the road / I got what they waiting for" he raps, cementing that he's here to stay.
"DON'T WANT IT," a later song on the album, continues to reaffirm Lil Nas X's staying power. The track utilizes various clips of award show hosts announcing his victory in various categories, including his 2021 VMA for "MONTERO (Call Me By Your Name)." Two of Lil Nas X's features, "SCOOP" with Doja Cat and "DOLLA SIGN SLIME" with Megan Thee Stallion also flaunt his celebrity status.
"ONE OF ME," Lil Nas X's collaboration with Elton John, takes a much different approach regarding his success. Here, Lil Nas X sings from the perspective of those who never believed in him, featuring John's piano skills in the background. "Word on the block is you fell off, and I'm just sayin' / If it ain't 'Old Town Road,' Lil Nassy, I ain't playin'," he croons. The song shows how Lil Nas X still made it big while brushing off the haters, yet it also showcases many fears that persistently plague him.
Underneath his bubbly, jokester exterior is an individual who questions nearly everything about himself. The majority of "MONTERO" tackles the darker aspects of Lil Nas X'S life, ranging from struggling with his sexuality, difficult relationship with his mother and suicidal thoughts. A triad of songs midway through the album — "TALES OF DOMINICA," "SUN GOES DOWN" and "VOID" —  each express his desire to run away from it all.
Lil Nas X throws listeners off by making some of his saddest songs some of the most hype. Even though "MONTERO (Call Me By Your Name)," "THAT'S WHAT I WANT," and "LOST IN THE CITADEL" utilize upbeat, quicker tunes, each address various struggles that Lil Nas X faces as a queer man in the music industry. In "MONTERO (Call Me By Your Name)," he begs for his lover to stop hiding their relationship, and "LOST IN THE CITADEL" explores his tendency to run back to toxic partners because he has no one else to turn to. 
"THAT'S WHAT I WANT" exemplifies Lil Nas X's growing desperation in the catchiest way. Lil Nas X asks the universe for someone to absolve his loneliness in a world defined by hookup culture, toxicity and homophobia, all with a cheery guitar section playing in the background. It's a heavy topic, but it gets the audience to listen with its catchy melody. 
Lil Nas X ends the album on a somber yet perfect note with "AM I DREAMING" featuring 
Miley Cyrus. Lil Nas X questions if he'll be forgotten, despite the impact he has on others. The song summarizes the entire album's message with one simple question — "what is this all about?" Is life primarily about finding success or discovering oneself?
At the end of the day, "MONTERO" is a deep dive into the psyche of one of society's biggest stars, showing us that the grass isn't always greener on the other  side. However, that never stops us from continuing to live and showing the world "we've got what they've been waiting for."