Who's That Kid? It's Anna Nguyen, FCRH '24!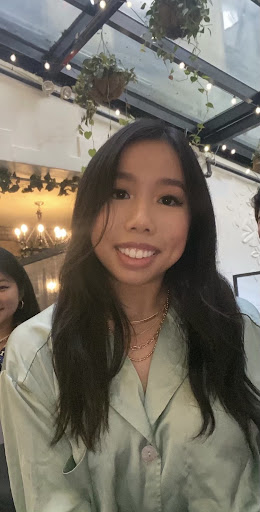 "[There's] a whole 'woman in STEM' mentality. Not a lot of people think you can do it, and proving them wrong pushes you to work harder than anyone else," said Anna Nguyen, FCRH '24.
Nguyen is currently a biology major on the pre-med track and is a part of Fordham's honors college. 
"That sounds like a lot and it is a lot, " said Nguyen, "Sometimes it feels like you're pushing yourself to the point where you're going to fall off a cliff, but at the end of the day, I know I'm working towards something. I know that I have people supporting me, just in case I need it." 
Because of her extremely heavy course load, Nguyen spends a lot of time studying and working on her academics. While that is tiring and difficult, Nguyen also finds it rewarding. 
"I study a lot, almost constantly. So when I see other people that don't have to, it makes me sad but it makes me happy that I know I am pushing myself to my fullest potential," said Nguyen. 
After her time at Fordham, Nguyen hopes to attend medical school to get her M.D. Nguyen is currently interested in the field of psychiatry, specifically clinical or forensic psychiatry. Like many fields in medical practice, psychiatry is male-dominated. However, that does not intimidate Nguyen. Nguyen is inspired by her mother and other strong women in her life, whose attitudes and life lessons help to make this gender gap less intimidating.  Additionally, Nguyen notes the high female presence in a lot of her classes. 
"I would say my science classes are pretty 50/50 female and male. My honors classes are more female-dominated" noted Nguyen. 
Additionally, Nguyen stated that she has found comfort and felt more at ease on campus with the new freshman class of 2025. 
"I'm Asian, and the freshman class has been the most diverse class at Fordham, and that is so apparent and comforting," said Nguyen,  "I have been attending ACE club meetings and when you look at the roster, most of the members are from the class of 2025."
The heightened diversity on campus has also affected Nguyen's classes. According to Nguyen, this year there have been more  minority students and students of color in her classes.  
"Seeing so much more diversity on campus makes me really happy. Seeing people like me or seeing people who are also minorities trying to find a place in this place we call our college [makes me happy]" said Nguyen. 
Nguyen has always found a community within Fordham's honors college. 
"Honors is amazing and they really push you to try your best and think outside of the box," said Nguyen. 
The honors college is a community that Nguyen finds helpful in inspiring her to contour to work hard and be driven. 
Nguyen is originally from New Orleans, Louisiana. New Orleans and its unique culture have impacted how Nguyen lives her life, especially when it comes to achieving her goals. New Orleans has a focus on living life to the fullest and enjoying every day like it's your last. For Nguyen, this mentality has stuck with her after moving away and it continues to inspire her to push herself to her highest potential. 
"New Orleans is a big part of who I am," said Nguyen.