Women's Soccer Falls to the Spiders and the Bonnies
Kaley Bell, Assistant Sports Editor
September 29, 2021
Conference play has had a rough start for Fordham Women's Soccer as it tries to grab its footing as the season reaches its apex. This past week, the Rams faced both the Richmond Spiders and the St. Bonaventure Bonnies. With those games behind them, the Rams are gearing up for a new level of intensity.
This past Thursday, Sept. 23, Fordham faced a team on a winning streak. The Spiders came into the game after winning two consecutive games in which they beat Coastal Carolina and St. Bonaventure, ready to clinch another win. They started off strong, scoring within the first ten minutes of the game.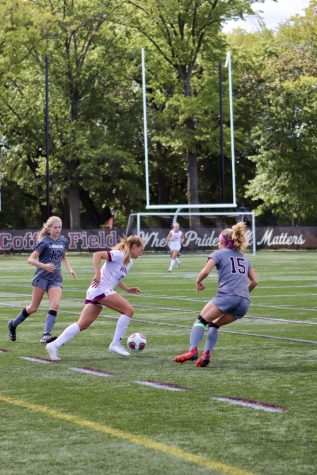 At the seventh minute, sophomore defender Olivia Redden tried to clear the ball on the defensive side of the field. However, Richmond stole the ball and scored.
In the next five minutes, the Spiders scored again despite sophomore goalkeeper Serena Mensah's best attempts to protect her net. Even so, Mensah had five saves this game, only one shy of her career-high. Fordham remained aggressive, shooting seven times throughout the game, three of which were on target. They did not break through, though, losing 2-0. Despite that, the Rams emerged ready to fight ahead to the next game.
On Sunday, they returned ready to have the support of the fans as they faced the St. Bonaventure Bonnies at home. In a different approach, Fordham started the game off strong. Twenty-eight minutes in, the Rams scored off a corner and took the lead. Senior defender Kendall Dandridge headed home her first goal of the season. 
Things took a turn for the worst when sophomore defender Schae Gorton was red-carded for a hard tackle after kicking a Bonaventure defender while going to ground. This forced the Rams to fight  with a player down for the remainder of regulation. In the 71st minute, the Bonnies tied up the game, and then scored again ten minutes later in a heartbreaking loss for Fordham, 2-1.
The Rams are now gearing up for their next game in the Bronx against Davidson College. The Pride Game is set to take place this Thursday at seven p.m.