Fordham Welcomes New Interim Assistant Dean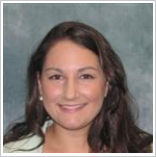 After the retirement of William Gould, the former assistant dean for juniors at Fordham College at Rose Hill , the university began searching for a replacement. Dr. Jillian Minahan Zucchetto, FCRH '13, has stepped in to serve as interim assistant dean for the fall 2021 semester.
Minahan Zucchetto grew up in New Jersey and earned her undergraduate degree in psychology. After graduating, she took a year off from school to gain work experience but then returned to Fordham to complete a doctorate in applied developmental psychology.
Minahan Zucchetto took over her role as interim assistant dean for juniors and pre-health first-year students in mid-August. She said she feels her years as a Fordham student, both in undergraduate and graduate programs, have helped her understand the ins and outs of the university. During her years in graduate school, she worked as a graduate assistant and eventually a fellow in the dean's office, which she said helped her prepare to take on her current position.
Through her previous work in the dean's office, Minahan Zucchetto worked closely with Dr. Rachel Annunziato, the associate dean for strategic initiatives, helping to facilitate the undergraduate research symposium. Minahan Zucchetto has also served as a core advisor for first-year students for several years, as well as an advisor for incoming students for the last three summers. She also worked with the ASPIRES program at Fordham, a cohort of first-year STEM students who receive scholarship awards and funding for undergraduate research. Stepping into the interim assistant dean post felt like "a natural progression" of her previous work with students, said Minahan Zucchetto. 
However, Minahan Zucchetto said taking on her new role has still been challenging. "Since starting the position, it's been a lot of learning," she said. In her previous advising roles, Minahan Zucchetto mostly worked with students interested in psychology, her area of specialty. Now, she said she has been working on expanding her knowledge of resources on campus to provide academic counseling and support to students of all backgrounds and interests. 
Minahan Zucchetto said she also had initial concerns that her young age might make her look more like a student than a dean but said she has gotten over that fear. "I think it ended up being a strong asset," said Minahan Zucchetto. "I have a lot of different perspectives. I was an undergraduate once, so it's nice to be able to say [to students], 'I was in your shoes once.'"
A lot of Minahan Zucchetto's current work with students involves providing academic support for students who come to her for advice. However, Minahan Zucchetto said she is always sure to connect students with other resources on campus that can help them with the challenges they face during their college years. 
"My focus is on helping students thrive academically," said Minahan Zucchetto. "But I'm definitely always communicating with Dean Garcia [and] Residential Life and all of these different places on campus that are involved in a student's life." 
Minahan Zucchetto said she connects her students with academic opportunities, advising them on how to gain research experience and build competitive graduate school applications, as well as sharing information on fellowship opportunities. She also has a series of graduate school advising sessions for the fall semester, which walks students through the process of applying to graduate programs. 
Minahan Zucchetto said she hopes to continue to build deeper relationships with other departments on campus in the coming months. "I think that it really is helpful to build a strong team that helps students," she said.
She said she is also focused on helping her students through the transition back to in-person classes. "Everyone wanted to be back in person," she said. "But it's a transition and transitions are always going to be difficult. We are being sensitive to the fact that it's still a pandemic — it's still a looming stressor." 
Minahan Zucchetto will remain in the interim assistant dean role until the end of the fall semester, though her position could be extended. Either way, she said she would be happy to stay at Fordham, whether in her current position or a new one. Minahan Zucchetto said she deeply values the Jesuit values she has learned at Fordham, especially the idea of "cura personalis," or care of the whole person. 
She said she appreciates that faculty and administrators at Fordham treat students as whole, complex people and that students are encouraged to view others in the same way. "We aren't just helping students grow academically," said Minahan Zucchetto. "We're helping them grow morally."