Shakya Trading Inc. Embodies The Mantra of Compassion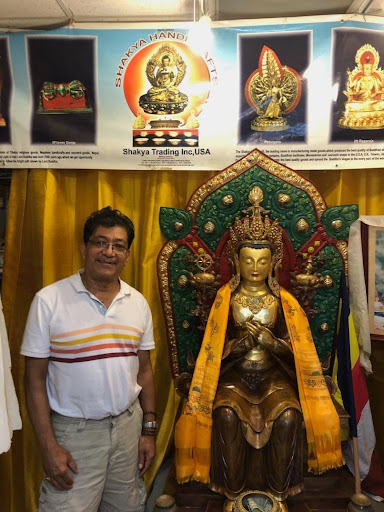 The sun covers the store in a warm blanket of light, its rays dancing off a myriad of gold and silver. The noise of the street outside is reduced to a faint din, tamed by the ringing of meditation bells. A string of colorful prayer flags flap in the breeze across the doorway. Shakya Trading Company is tucked away on Mulberry Street amongst a row of similar storefronts. It offers a huge stock of handmade statues of the Buddha and other Tibetan Buddhist icons. The proprietor is Sagar Shakya. His easy smile and relaxed tone mirror the effortless tranquility of his store. 
A Nepalese immigrant, Shakya used to travel to his hometown of Patan every few months but has not been able to do so for the past two years due to international travel restrictions during the COVID-19 pandemic. COVID-19 cut his retail sales in half and stifled his shipping process. Despite the pandemic's impact on Shakya's personal life, his chief concern lies with the welfare of his two homes: Patan and Chinatown.
​"Just in the last two weeks, they [Nepal] started to open up, but many places are going to close," Shakya said as his tone softened. "Last month, around 10,000 people died." Nepal is small and relies on tourism. With no economic stimulation, they have relied on vaccine donations from other countries. It is a slow process with no clear end. "We are suffering," Shakya said. 
Shakya's family is embedded in a culturally rich community of Buddhist artists. Patan serves as Nepal's artistic center and carries a long tradition of metal crafting. "Almost all the people who live there work with metal statues and metalwork," he said. In Patan, the multitude of artists is like an extended family of sorts in which loss is felt collectively. Shakya's demeanor shifted and became somber when talking of their pain. "Our friends are getting lost. We are artists, you know. So, we are like one community. That is Patan," he said.
​Shakya learned the metalworking trade from his father, who learned it from Shakya's grandfather, carrying on their craft for at least three generations. Every piece in his store reflects the commitment to a legacy of craftsmanship. The largest statue in the store, located at the back, is one of Maitreya Buddha. "You imagine this one statue," he said, gesturing to the Maitreya Buddha, "I'm making it in maybe two years and seven months." 
The process consists of four crafts: clay making, wax making, metal casting and gold plating. Shakya's face lit up as he described each step. The projects involve different artists and require a great deal of teamwork. 
​In 2004, Shakya brought his business to the United States. In Nepal, he would work for months on projects and then travel to the United States to sell them. It was a back-and-forth business until 2009 when he established the store on Mulberry. Shakya's first major client was Dorje Ling Buddhist Center in Brooklyn, established in 1991. Since then, he has sold to clients across the United States and even the world. "Seattle, Colorado, North Carolina and Chicago. And now we just did the project for San Francisco. We even did a project for London," he nodded with satisfaction. The San Francisco project is an eighteen-foot-tall golden Buddha statue. Shakya displays this accomplishment with an unassuming photo at the front of the shop. 
​As pandemic restrictions in the United States have relaxed, people are returning to Chinatown. This has improved Shakya's business somewhat, but he fears for the safety of other business owners in the area. "They're getting a very bad effect. People are coming to see Chinatown, and they give the store owners problems. Everybody's scared," Shakya said with great concern.  
Shakya noted that the many residents in the area have come in to buy statues of Green Tārā, one of the many Buddhas venerated in Tibetan Mahayana Buddhism. The statue is intended to bring health and wealth. He believes that this is a sign of people's suffering. 
Shakya's past year has been one of disruption and loss, but he credits his Buddhist practice with keeping him in Right Mind. Such practice entails chanting mantras at the temple, meditation, engaging in acts of compassion, and working to walk the path of Enlightenment. "We are lay people, we are not like the monks. We have to go to work; we have to do everything. But our mind is getting very good if we practice every day." Shakya described Tibetan Buddhism as a daily force in his life. It grounds him in the dual virtues of wisdom and compassion, which can help to deal with the unpredictability of life. 
​"Om Ma Ni Pad Me Hum; it is a six-character chant," he said with a smile, "Oh, it is very strong." Shakya offered this mantra as a finger pointing towards compassion. "Anyone can do it. We need to see that everybody is the same. I am not a Lama, but I know that people need compassion."
Shakya Trading serves as an intersection between the authentic traditions of Nepalese craftsmen, an enclave of Chinese immigrants and a global market of Buddhist faithfuls. This interconnected position greatly informs Shakya's concern for his fellow humans. Shakya's mantra can serve as a call to look around and help each other pick up the pieces we can. 
Shakya Trading Company is located at 82-A Mulberry Street, New York. You can learn more about the company and peruse their wares on their online store as well.