Van Life Trend Takes Over the Internet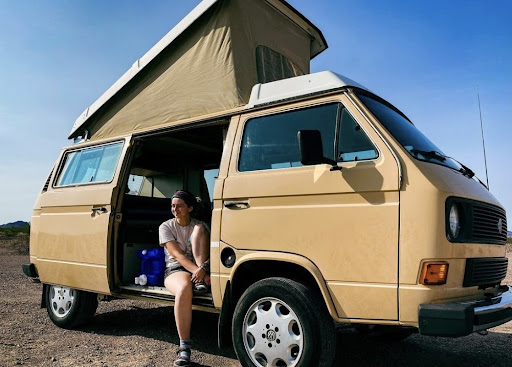 As the Gabby Petito case has taken over the media this past month, a new spotlight has been cast over the so-called "#VanLife" trend. Petito and her fiance, Brian Laundrie, were a quintessential "vanlife" couple — they were young, good-looking and they actively posted about their extraordinary adventures — pushing the very fantasy of excitement and freedom that has compelled young adults across the U.S. to participate in the trend for quite some time now.
"Vanlife" is the term that has been coined on social media to describe the adventure-tourist lifestyle that involves living in a converted, self-sustained van to explore remote areas. Petito and Laundrie are just one example of an entire genre of influencers who glamorize and promote the minimalistic way of life in the name of simplicity and balance. 
The #vanlife dominates TikTok and Instagram as audiences are eager to watch these social media nomads go about their excursions. Videos of camper conversions and migratory daily routines attract just as many likes as the sweeping landscapes and breathtaking horizons. Posts are usually accompanied with descriptive captions expressing how incredibly freeing the vagrant lifestyle is; going through a vanlife influencer's Instagram page is like watching a scene out of "Nomadland."
Halle Homel had been dreaming of this lifestyle ever since she came across a road trip Facebook post when she was 15. In the summer of 2019 Homel set off to follow her wanderlust dreams, hitting the road for a three month cross country road trip in her Kia Soul just three days after graduating college. 
"Halfway through that trip, I knew I didn't want to stop," Homel said. Once she returned home, she sold her Kia Soul in exchange for a van and traded her settled life in her hometown of Los Angeles, Calif. for a nomadic journey all over the map — she has not looked back since. "Car repairs can definitely make you think twice," Homel explained when asked if she had ever doubted her decision to live on the road. "But I'm so much happier on the road than living in one place." 
While the vanlife trend has been popular for years now, it has really taken off in the wake of the COVID-19 pandemic. Commercial van sales skyrocketed — with Mercedes sprinter vans increasing in sales by 26% in 2020 — and the subculture's presence on social media has exploded. But what is it about vanlife that has drawn so many people to it?
Homel said the answer is quite simple, "remote work means people are realizing they don't have to work in one location" but road-tripping in a van still provides a "home base" that is not as accessible in other forms of travel. Vanlife has served as a perfect balance of freedom to alleviate the stir-craziness of prolonged quarantine, while still allowing people to maintain some kind of stability that you can't get "just living in a backpack and traveling abroad" Homel said.
However, despite the pleasing aesthetics and riveting tales of adventure, vanlife isn't for everyone. Beyond the obvious difficulties that come with living on the road — long car rides, budgeting, strategic packing and having to find a new place to sleep every week — the nomadic way of life calls for fundamental lifestyle changes that can be hard to get used to. "In order to complete basic tasks it often takes a bunch of extra steps you wouldn't have to worry about in a house," Homel explained. For instance, limited access to water means you have to be mindful of how much you're consuming. Cooking, showering and just using the bathroom suddenly becomes much more complicated when you live in a van.
Becoming a social media trend has trivialized the trials and tribulations that come with vanlife by romanticizing the vagrant lifestyle with aesthetically pleasing posts and enthusiastic captions. The recent rise of the trend has also brought a new wave of criticism to vanlife influencers. 
"A lot of people think people who live like this are automatically rich," explained Homel, who works full time. "Or they think that we're lazy or that this is temporary and just for fun, but people live this way for a myriad of reasons, including financial insecurity.". For Homel, like many others, vanlife is the happy medium that allows for travel without breaking the bank. "I wanted to travel, but I couldn't if I was paying rent, so I chose to take my house with me instead."
Social media isn't real life. This sentiment has been repeated time and time again in the context of beauty standards and material flexes — but it applies to vanlife, too. Every popular vanlife TikTok and Instagram page is meticulously curated to show the highlights of each adventure without a look into nitty-gritty behind-the-scenes circumstances. 
Vanlife has its perks — but if you're just intrigued by it because of what your favorite influencer is posting, then you should probably do a bit more research. It's not just a trend, it's a way of life.