Who's That Kid? It's Robert Megennis, PCS!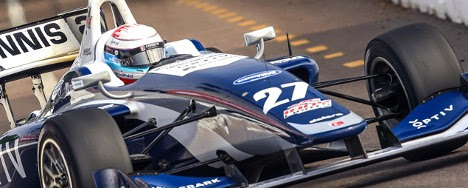 No two days are the same for Indy race car driver and Fordham student Robert Megennis, PCS. Megennis has been racing since the age of nine when he began go-karting and found his passion for the pavement. After going on a trip to the go-kart track with his family for his father's birthday, Megennis became fascinated with the sport of racing and knew he had to get started. He worked his way up through go-karting before ultimately joining Mazda Road, a driver development program which provides drivers the path to reach the IndyCar Series, where he currently drives today. 
Megennis is currently a member of the Andretti Autosport team in the Indy Lights series as well as the Vasser Sullivan Racing team, a Lexus-sponsored racing team that competes in GT races. In his time as an Indy Lights driver, he has earned a pole position at the Freedom 100, a race win at the iconic Indianapolis Motor Speedway and a double podium at Circuit of the Americas. Before Indy Lights, Robert competed in 2019 for Juncos Racing team in the Pro Mazda Championship with six podiums and 11 Top 10 finishes. He also competed for Team Pelfrey in the 2016 and 2017 USF2000 Championship seasons, where he collected three podiums and 21 Top 10 finishes, earning the 2016 USF2000 Rookie of the Year award.
Due to the enforced hiatus of the Indy Lights season last year during the height of the COVID-19 pandemic, Megennis had to look for other places to race. He was selected to compete in the 2020 European Le Mans Series for RLR MSport, taking him around the world to places like France, Italy and Belgium for races and earning Top 10 finishes. Additionally, he finished seventh in an eight-hour Intercontinental GT Challenge race at the Indianapolis Motor Speedway in February of 2020, competing for Acura/HPD/Racers Edge Motorsports. These were his first forays into the endurance racing circuit. "It was so much fun working with other drivers, doing pit stops and most especially having more strategy come into play while racing for a team," Megennis said. 
Prior to becoming a student at Fordham, Megennis grew up in New York City and was homeschooled for most of his life which allowed him the flexibility to race and fence competitively. He took a gap year before attending Fordham to focus on racing and building his career. Megennis began his studies in the fall of 2019 as a philosophy major at Fordham College at Rose Hill before switching to the school of Professional and Continuing Studies in the spring of 2021 to continue his racing and academic careers simultaneously. 
Some of Megennis' interests outside of racing include fencing, reading philosophy, dirt-biking, watching Newcastle United in the Premier League (the team his dad used to play for) and hanging out with his dog Bertie. He is also an ambassador for the Starlight Children's Foundation as well as an outside advisor for West Point and M.I.T. as they aim to build completely autonomous versions of his race car. Megennis still enjoys racing go-karts in his free time and competing with his brother George, who is also a race car driver.