Wrapping up the NHL Preseason
The NHL's opening day has arrived, but before that, there are a number of signings and controversies to break down from a surprisingly busy preseason.
I am writing this on October 12, opening day for the 2021-22 NHL season. There are so many storylines to look for at the beginning of this season: new television channels, a season of expectations for the Islanders, an expansion team in Seattle and much more. Before we into that, the preseason provided a lot more drama than usual. From more Jack Eichel drama to controversial comments by Robin Lehner, there's a ton to discuss. 
Beginning with the never-ending saga involving Eichel and the Buffalo Sabres. Eichel's neck injury is still lingering over six months after he exited the 2021 season. He has been stripped of his captaincy, failed his physical and has not reported to training camp. 
The Sabres' doctors want him to get a neck fusion surgery and his doctors are recommending an artificial disk replacement surgery. Buffalo says that the replacement surgery is too risky for an athlete while Eichel says he does not want to get another surgery down the road, which is common with the fusion. The stalemate has lasted throughout the summer and tumbled into the regular season. 
Buffalo is actively trying to lose games this season and trading Eichel would net them pieces to begin their rebuild. Reports surfaced last week that Eichel and the team were close to working out a solution, whether that be surgery or a trade. The Rangers are big players, even after inking Mika Zibanejad to a long-term extension.
There were three other big contracts signed in recent weeks. Restricted free agents (RFAs) Kirill Kaprizov, Elias Pettersson and Quinn Hughes all signed during training camp to re-join their teams. The defending Calder Trophy winner Kaprizov signed a five-year, $45-million-dollar deal to continue his NHL career with the Wild. There was quite a stalemate between the two sides and rumors that Kaprizov was considering heading back to the KHL. What could have been ugly was saved as the face of Minnesota's franchise is under contract until he turns 29. 
Hughes and Pettersson signed contracts with Vancouver on the same day late early last week. Pettersson signed a three-year deal at an annual average value of $7.35 million. He will be an RFA after the 2023-24 season at age 25. Hughes locked himself into the Canucks for a much longer time and got rewarded for that. He will get paid $7.85 million dollars for each of the next six seasons. He will be an unrestricted free agent (UFA) at age 27, when he will most likely get a pay raise again. All three players have set themselves up for an extremely profitable future. Brady Tkachuk and the Ottawa Senators continue to engage in a staring contest but there is hope that the two sides will agree to a deal well before the December 1 deadline.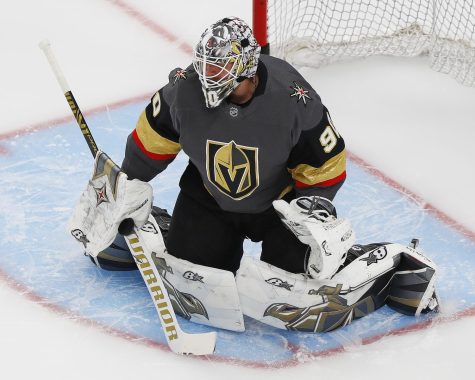 The most recent, and surprising, drama came from Vegas Golden Knights goaltender Robin Lehner. Lehner has been an outspoken advocate for mental health since his return to the game with the Islanders in 2018-19. He suffered from addiction, alcoholism and bipolar disorder during his time with the Senators and Sabres. He landed in rehab toward the end of the 17-18 season, recovered and signed a prove-it deal with the Islanders. His 2019 Vezina nomination led him to a long-term contract with Vegas after the 2020 bubble. 
He has been outspoken about many issues since his return, but this is the most concerning. He claimed on Twitter that teams "give out benzodiazepines (commonly referred to as Benzos) to employees when they travel and Ambien…" He also called out Philadelphia Flyers head coach Alain Vingeualt as a "Dinosaur" who mistreated his players. The allegations are separate, Lehner claimed. 
Lehner and the NHLPA discussed the issues on Tuesday, the results of which have not been published. Many former players, including former Ranger Daniel Carcillo, spoke in support of Lehner. No current players spoke out on the issue. This is clearly an ongoing issue that Lehner hopes will be resolved quickly. 
That is the story of an adventurous preseason setting the stage for the first 82 game season since 2018-19. Oh, and the Olympics! So much excitement around this season as training camps were just the beginning and much more to come.