12 "Do It Yourself" Costume Ideas Inspired by 2021 Pop Culture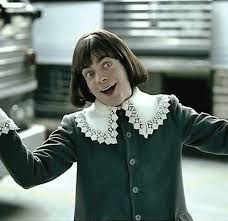 The leaves are starting to fall and there's a chill in the air, which can only mean one thing: Halloween is just around the corner, and it's time to start preparing for it! Deciding on a costume can prove to be very overwhelming, but once you start brainstorming ideas you'll come up with a scarily good one in no time. 
When picking a costume, be sure to stay with the times! Use current pop culture references or memes from the past year to inspire your costume. It's an easy way to come up with a creative idea that everyone will recognize. Also, don't fear DIY. There's no need to drop $60 at Spirit Halloween when you can make something yourself. Sometimes, a solid t-shirt and a relevant prop is all you need. Finally, think outside the box. You want your costume to stand out. Here's a list of some 2021 trends to take advantage of! 
SQUID GAME: The Korean Netflix hit "Squid Game" has taken the world by storm, and Halloween is the pink soldiers' next victim. To dress as a player and channel your inner 067, find a green track suit and paste white numbers on your chest. You can also find a two piece set from the show itself on Amazon for about $30. If you prefer not getting hunted down during "Red Light Green Light," grab a pink tracksuit instead to dress up as a pink soldier. To make their signature mask, buy a pair of black anti-fog goggles. Cut out your desired shape, such as a triangle or square, out of paper and tape them on the goggles to finish the look. 
OLIVIA RODRIGO in "Good 4 U": Want to exact some vengeance on your exes this Halloween? Channel some of Rodrigo's anger by recreating her "Good 4 U" look. Find a blue and white cheerleading outfit — a top and skirt will suffice — and match it with a pair of long, black gloves. To finish the look, straighten your hair and tie two front strands back with hair ties. If you want to top it off with a red jerry can prop, just make sure you don't accidentally burn your ex's house down, as tempting as it is. 
AMONG US: The minds behind the smash hit released inflatable suits of the crewmates just in time for the Halloween season. Just keep an eye out for the impostor. 
KIM K AT THE MET GALA: It'd be easy to mix Kim Kardashian up with a Dementor after seeing her at this year's Met Gala. To steal her look, wear a black full body suit that covers your face and a black mini skirt.  
HARLEY QUINN (THE SUICIDE SQUAD): Harley's (sexualized) 2016 look is now a thing of the past. Recreate her newest look from the 2021 edition of "The Suicide Squad" with a black and red jacket and leather pants. Harley has left her blue and pink hair behind with the Joker, opting for a black and red 'do instead. So, coat half of your hair with black temporary dye and the other half with red. (A wig would also work.) Top it off with temporary Harley Quinn face tattoos, which can be found on Amazon.
CRUELLA: You'll be looking like a "daaarling" in this one. For Cruella, you could wear any extravagant, over-the-top outfit you want, as long as you wear her classic black and white wig. However, to specifically recreate her 2021 movie look, be sure to wear a leather jacket and a little black dress.
HARRY STYLES AT THE GRAMMYS: Harry has taken over NYC, as he does. To channel this style, wear a yellow plaid blazer with a pink feather boa. 
SNL'S GUAPLORD AND "SMOKE-CHEDDA-THA-A—GETTA": There's no better 2021 duo than Pete Davidson and Timothee Chalamet's rap monikers. For Davidson's look, grab an orange jumpsuit, blue hair dye and a chunky gold chain. For Chalamet's, wear a white tank top, white pants, bright pink hair dye, red nail polish and another big gold chain. You'll be yeet-ing and skrt-ing across all of the parties.  
THE SCARLET WITCH: Look like quite the vision as Wanda Maximoff this year. You'll need a whole lot of red for this one, such as a red cape, gloves and boots. To tie the entire look together, wear Wanda's signature scarlet crown. 
BERNIE SANDERS WITH MITTENS: It's often very cold on Halloween night, and what better way to stay warm than channeling your inner Bernie? All you need for this Inauguration Day look is a large coat, a blue disposable mask, a pair of glasses and a cute pair of patterned mittens. 
THE LITTLE LAD: Be prepared to do the "little lad dance" this Halloween. For this costume, wear a bobbed wig, a black jacket with a white collar and cuffs and white tights. Bring some berries and cream in a bowl with you to finish off the look.
WHAT HAPPENS WHEN YOU'RE COMPLETELY STUMPED?: Taping a sheet of paper labeled with "ERROR 404 – COSTUME NOT FOUND" onto a t-shirt is a good last resort.