Faculty Takes On The Mercury Lounge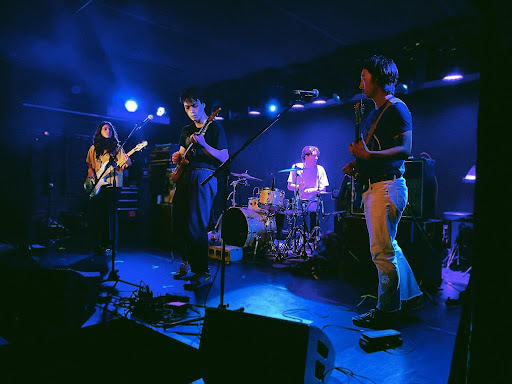 Faculty is on the rise. This is true in a figurative sense, as they've gone from nonexistent to gracing the stage at one of New York City's preeminent indie venues in under two months. It's also true in a more literal way: the Sunday night set at the Mercury Lounge was the first time the band has ever played on a stage.
"It was cool to be on stage," said Khadija "Deej" Aslam, FCRH '22, the group's bassist. But Aslam and the rest of Faculty — fellow Fordham students Hugo Keith, FCRH '22, (vocals/guitar), Nilson "Nils" Wilson, FCRH '22, (vocals/guitar) and Aidan Drouse, FCRH '23, (drums) — all agreed that being on the same level as the audience brings a certain intimacy that the stage can't always replicate. "I like it when the crowd could theoretically walk over to you and knock your mic over," said Keith.
Still, playing the Mercury Lounge is an impressive accomplishment, especially for a band as young as Faculty. The show's setlist contained covers from bands such as Joy Division and The Flaming Lips, as well as a healthy dose of original material which they've been consistently working on over the past month and a half. According to the band, the process of creating new music together is an exciting one.
"A lot of times, one of us comes to practice with a riff, a drum part or a bassline, and we'll just go from there," explained Aslam. It pointed to one song, tentatively titled "Something Else Against You" (a nod to the Pixies song that inspired it), as a particularly rewarding example.
"I had a song that I wrote, which I didn't love the lyrics to, but I thought the riff was really nice," said Wilson. "We were all jamming, I played the riff, and Hugo started yelling on it, and we all went 'Oh s—! This is crazy!' It was this really powerful moment, and I thought, 'This is perfect.'"
The band debuted "Something Else Against You" —  previously known simply as Faculty Untitled — at local bar Last Call about a week prior to the show at the Mercury Lounge. "It was one of those moments where it felt like, 'We're in a band, we made this together and now we're playing it for people,'" said Aslam.
The progress Faculty has made as a band in such a short period of time is all the more impressive considering some of its members are relative newcomers to their instruments, but playing together has helped them all improve in new ways. "My path to learning has been accelerated by being thrown into this 'baptism by fire' environment," said Drouse, who began drumming less than a year ago. As Faculty continues to work on new music (they plan to put out an album "as soon as possible"), this symbiotic relationship between its members will only benefit the band. 
Another benefit of increasing their original repertoire is that cover songs will become less present on the band's setlists. "The more we play originals, the more people will know them and become attached to those songs," said Aslam. The band credited Tom Curless and the 46%, who opened for Faculty at the Mercury Lounge show, for encouraging the band to drop covers from their setlist and hammer down the original music they've been working on.
In focusing on, and eventually recording, more original music, the band will also pave the way for more live performances. "A lot of venues want studio recorded stuff so they can get an idea of what show they're putting on," said Drouse.
However, the current lack of studio recordings hasn't stopped Faculty from being invited back to Mercury Lounge (they play again on Nov. 15) and booking a performance at fellow Lower East Side venue Pianos. On top of that, the band will be playing a number of shows in the Belmont area, beginning with a couple performances throughout Halloween weekend. Fans of the band ("The Facult," more accurately) will therefore have plenty of opportunities to see the band live before a Faculty album hits the digital shelves.
And regardless of whether the band is playing from the floor or on a stage, one thing remains true: Faculty is on the rise.