Minnetonka Apologizes for Appropriating Native American Culture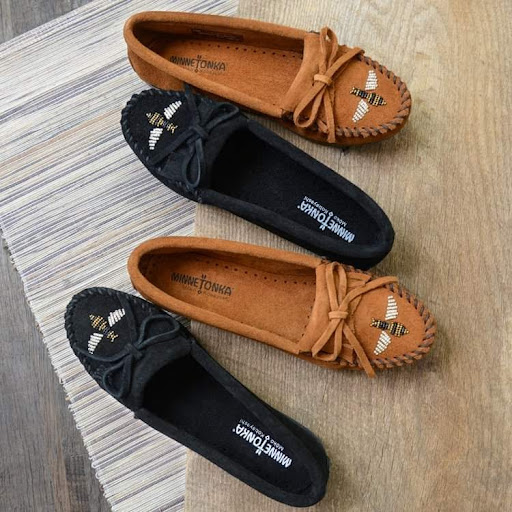 Minnetonka Moccasin Co., a popular Minneapolis-based footwear company, has issued a formal apology for appropriating and profiting off Native American culture by using their designs for moccasins and other shoes without acknowledgment for the past 75 years.
The company's CEO, David Miller, released the apology on Monday, Oct. 11, in light of Indigenous People's Day, promising a commitment to the culture to which the brand "owe[s] so much."
This is not the first time Minnetonka has tried to make amends with Native American communities. The company initially came under fire for appropriating moccasins, a type of traditional Native American shoe, as it is not a Native-owned business. Additionally, the term "moccasin" comes from the Ojibwe word "makizinan" — meaning that the company had not only been appropriating traditional Native American style but language and culture as well. In 2008, the company dropped the word "moccasin" from its logo and redesigned it to exclude the sacred Native-inspired symbols. Since then, as seen in the apology issued this past month, the company simply refers to itself as "Minnetonka." However, Minnetonka did not publicly acknowledge this cultural disrespect until July 2020, 12 years later, in an admittedly "long overdue" statement. 
The apology addresses two questions that are often and rightfully asked of the brand: "Is Minnetonka Native-owned?" and "Does Minnetonka support Native American peoples or causes?"
Minnetonka is not Native-owned. Minnetonka was started as a family business by Phillip Miller, a white man, in 1946. At the time, it was one of many companies selling Native-inspired products to roadside gift shops. However, as the company has grown in popularity over the past decades, Native American communities have become increasingly angry at the white-owned business for profiting off the appropriation of their culture without any type of acknowledgment or representation. The Miller family still runs the company.
In regards to the second question, Miller admits that although Minnetonka has "privately supported Native causes in our home state of Minnesota," the company has not done enough for Native American communities.
"We deeply and meaningfully apologize for having benefited from selling Native-inspired designs without directly honoring Native culture or communities," he said. The apology addresses the company's principal criticism before outlining its "five key commitments to the Native American community." The commitments include a promise to foster diversity within the company, use respectful and appropriate language in branding, foster design collaborations with Native artists, build business relationships with Native-owned companies and contribute financially to Native causes. This effort is to ultimately incorporate cultural authenticity to the elements that Miller states are "core" parts of the brand. 
Minnetonka's first design collaboration will launch in December. The company is working with Adrienne Benjamin, an Anishinaabe artist and a member of the Mille Lacs Band of Ojibwe, as the reconciliation adviser. This is the first step in the right direction.
However, Minnetonka is not the first major company to appropriate Native American culture. In 2016, the Navajo nation brought Urban Outfitters to court for illegally using the tribe's name on a variety of products, including a "Navajo scarf" and a "Navajo drinking flask." The company ultimately had to reach a settlement with the tribe. In 2020, the Washington Football Team dropped their controversial name and mascot after decades of criticism for using a racial slur and perpetuating caricatured stereotypes of Native Americans.
Native American-inspired symbolism and design have shown up in many different facets of popular culture throughout history without credit or appropriate context. As people are becoming more educated on issues that Native Americans face as a marginalized group, companies that inappropriately misuse Native likeness face nationwide criticism. Minnetonka seems to be receptive to this criticism as per their apology. The company's effort to include Native people in its business is of the utmost importance when it comes to honoring its commitment, as it is only appropriate that members of the community be credited for products inspired by their likeness.
Minnetonka's apology serves as a statement to declare that the company is committed to reconciling its past wrongs and doing right by the culture on which it is based. "We will continue to move forward in a manner that acknowledges and honors the Native American culture, design and people who have influenced our brand and business. This journey will remain important to our company forever."