Softball Shines in Fall Season, Looks to the Spring
After missing out on the opportunity to play in the fall last season due to COVID-19, Fordham Softball is officially back in action, bonding as a team and flexing their depth along the way to sweeping their seven game slate.
After missing out on the opportunity to play in the fall last season due to COVID-19, Fordham Softball is officially back in action after completing its seven-game fall slate. Unsurprisingly, the Rams rattled off seven victories as they look to return to Atlantic 10 championship form with the spring season rolling into view.
"I think the team was super excited for the fall season," said head coach Melissa Inouye. Much of that relates to, first, the fact that it has been two years since they had the opportunity, and second, that this was the first real game experience so far outside of intrasquad practices. "To play somebody else was awesome. I think the feelings of gameday got back for a lot of players and they really enjoyed it."
There was certainly a lot to enjoy in this fall season as the Rams went undefeated against a myriad of opponents ranging from familiar foes such as Binghamton University to the lesser-known, Divisional II competition such as Dominican College. It is a testament to the great relationship the program has with schools in the local region, along with other schools wanting to play up to a team of Fordham's caliber.
When choosing to do that, however, Fordham makes them pay. The Rams started things off with a dominant 15–0 victory over St. Thomas Aquinas College before downing Dominican 13–1 at Bahoshy Field. They then embarked on their annual fall road trip to Vestal, New York. There, they defeated Binghamton, Canisius College and Seton Hall University before having their first and only cancelation against Villanova University. Lastly, they returned home to defeat both St. John's University and Monmouth University.
"Not many schools do that," Inouye said in reference to the road trip. "But I think it's one that I think we choose to use our budget smartly." It gives the team an opportunity to bond — headlined by a trip to Dave and Buster's — and prepare for the dense road trips the A-10 provides before the season begins.
"It's just nice to kind of play on the road early like that in the fall so in the spring it's not as new to the newcomers," Inouye said. Fordham has four of those newcomers this season, all of which will present a unique skill set on the field that Inouye will utilize.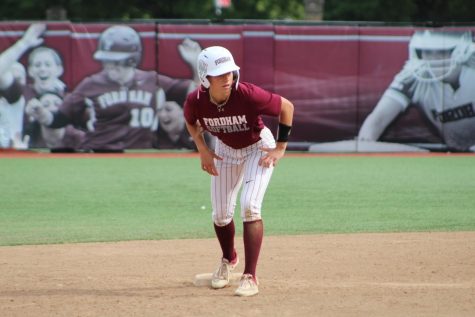 First is Emilee Watkins, a pitcher from Mansfield, Texas who will help fill the shoes left behind by program icon Madie Aughinbaugh. Burgeoning academic junior and athletic redshirt sophomore Devon Miller and senior Makenzie McGrath will aid in that process as well. So too will sophomore Bailey Enoch, primarily a position player and hitter last year who will see a role reversal and feature more on the mound this season.
All of that combined has given Inouye reason to trust her pitching group this season. "I think we have a pretty deep pitching roster that they all compliment each other well and they're different too." Even though they do like to score a lot of runs, it is the pitching and defense that Inouye says shapes the backbone of the team. 
When it comes to runs, Inouye has much to choose from there too, emphasized by the production from the fall slate alone. "We can run, we can small ball, we can hit for power, we can hit for gaps … I think our lineup can be very creative depending on who's on the mound and then depending on who we play too," she said. "I think we're going to be pretty deep again lineup-wise, which becomes harder to make the lineup, but that's a good problem to have."
Complicating that situation are a number of other freshman additions, including lefty catcher Sydney Wells. Infielder Allie Clark and outfielder Mallory McClellan are both expected to provide depth to the field. Rounding out the incoming group is speedy lefty outfielder Mary Grace O'Neill. "I think they're all going to bring a different role," Inouye said.
The Rams will have a number of veterans to lean on as well. Due to the extra year of COVID-19 eligibility, the Rams bring back redshirt seniors Kelly Bright and Rachel Hubertus along with graduate student Brianna Pinto. That comes in addition to a number of senior players, including Julia Martine, Sarah Taffet, Gigi Speer and McGrath.
"It's nice to have the three fifth-years. They bring so much experience as well as the true four seniors," said Inouye. It iss nice on the field, as the Rams return their co-MVPs from last season, but also in the locker room. That clubhouse has been a particular focus during this opportunity to spend some time away from the field, as the team has taken trips to the Bronx Zoo, battled in a scavenger hunt and had a pumpkin carving contest, with an Olaf pumpkin coming out in first place.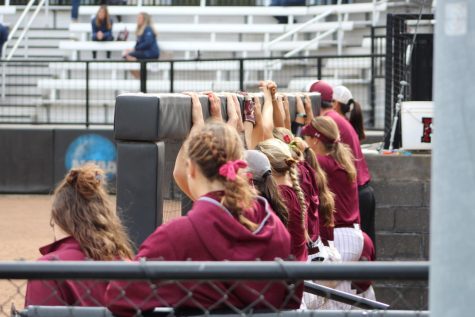 Those bonding activities bent into the strength and conditioning room. Coach Josh Greer split the team into three groups of six, each named after one letter representing the abbreviation of Oklahoma City, home of the College Softball World Series. Teams received points for success at each lift and had them taken away when committing an error, such as not completing a daily questionnaire.
"We like to brew a lot of competition," said Inouye. This was one way of doing it before the season even started. So, too, was the fall season as a whole. Inouye understands the importance of that. "I think the difference was we didn't get a true preseason last year with testing ourselves early and taking our lumps … We weren't tested as much as we should've been." She even would have liked to see her team get tested more this fall.
Instead, however, Fordham took care of the teams in front of them, showing their depth along the way. They will need it all when the time comes this spring. "We'll play some good variety of teams that will be able to test us so that we will be better prepared for the A-10s," said Inouye.
The Rams have dominated the A-10 years before, but 2021 is an entirely new slate. Fordham is already preparing for it.