Student Athlete Column: Momentous Mentors
Many people have guided me from the early stages of finding a love for a sport to the many layers of life I have experienced in my 21 years. Now, in my senior year, I realize the importance of that, and fortunately, am in a place where I can give back and mentor others.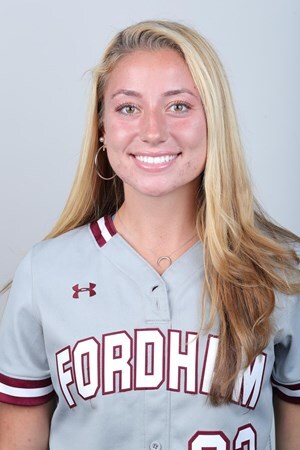 My father taught me how to throw. He showed me the form, explained the T-Ball rules of T-Ball and drove me to every game. Motivation and passion bloomed inside of me as I stumbled my way around the small diamond, drowning in my oversized t-shirt.
My dad and early coaches helped me fall in love with the sport and feel powerful enough in my ability to pursue a plentitude of sports. I met new coaches, looked up to older girls and fantasized about playing with famous female athletes. 
As I grew into my t-shirt, my love for sports grew alongside my network of mentors and coaches. Being the youngest of six children, my older siblings mentored me along the way, guiding me through right and wrong, directing me away from bad choices and pushing me to be better. In college, my network of support has expanded exponentially as coaches, professors, alumni, former teammates and so many others I have met guide me along the rocky and ever-changing path that is senior year. 
When I got to an age where I could coach younger girls, I recognized how difficult yet amazing it was to be able to be a guide for them. Over the summer, while I stayed at Fordham, head strength coach Joe Gilfedder noted the importance of mentorship. Even for someone who seems to be at the peak of their career and physical journey and who is responsible for coaching hundreds of student-athletes, he insisted he has coaches that help him every step of the way. "You're even a coach," he said, surprising me with, albeit linguistic, authority. 
That realization that I could be a mentor, while I feel as if I require endless mentorship, was crucial heading into senior year. Although I am like a sponge in my quest for knowledge and understanding, being a rock for those around me helps me to develop myself even further.
Recently, my teammate Rachel Hubertus and I started a "Strong Girls United" program at Fordham, where we coach a group of 20 elementary school girls weekly with the help of other female student-athletes. The games we play with them, like Spin-the-Exercise Wheel, and the activities we lead them through, like writing down "I am" affirmation statements, remind me just how important it is to have fun, to learn consistently and to work with others.
These Sesame Street-type ethics may seem extremely basic and easy to grasp. Yet in a whirlwind of doubt and comparison in the epicenter of striving that is New York, getting back to basics is essential. Serving as a mentor in any regard reminds me of the simplicity of life, and listening to my mentors shrinks any monster of a problem I might have at the time into a digestible life lesson that is all part of the plan. 
From the early stages of finding a love for a sport to the many layers of life I have experienced in my 21 years, many people have guided me along the way. They have pushed me to be my best, to believe in my best and have even encouraged me to get to a place where I could guide others. The pendulum of coaching to being coached sways throughout the day and certainly throughout the weeks and months of my final year of college.