Fordham A Cappella Hosts Halloween Teaser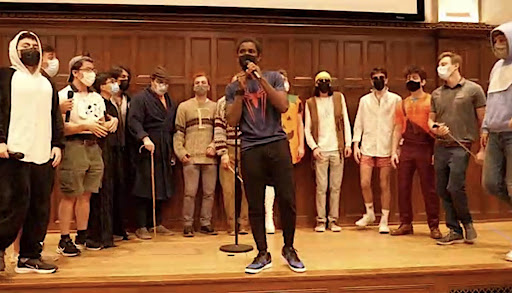 On Thursday, Oct. 28, Fordham a capella hosted a Halloween Teaser performance. The B-Sides, Hot Notes, Ramblers and Satin Dolls dressed in their Halloween best and treated Fordham students to a lively array of songs to kickstart their Halloweekend.
The Ram's Managing Editor, Dylan Balsamo, FCRH '22, was the emcee for the evening and was happy to be a part of the event. "The a cappella groups are at their best when they're all performing in one show. It makes for a really fun and welcoming environment to gather and enjoy the music. Not to mention that this event was basically a musical costume party!"
The B-Sides started the show with "Hypotheticals" by Lake Street Drive, soloed by Emily Knight, FCRH '22, and "Dog Days are Over" by Florence + the Machine, soloed by Sarah Shanahan, FCRH '24. Shanahan told the Ram, "It was so much fun to be able to perform a solo for the first time with the B-Sides! I was insanely nervous and anxious because I've never performed anything like that before, but once the song started and we got into it, it was the most exciting thing ever. The crowd was so fun, and I feel lucky to have been able to perform with such a great group of people!" The B-Sides concert will be on Wednesday, Dec. 8 at 7:30 p.m. in Keating first.
The Hot Notes performed an equal parts soft and upbeat set. The Hot Notes performed "Stay" by Sam Smith and "Stay" by Mikky Ekko and Rihanna. Hot Notes representative Cole Mullins, FCRH '24, said he was happy the group was to perform at what has become an annual event, "This is always my favorite event that we do because it's more lowkey and allows us to have fun with our costumes! I also enjoy performing with the other group."
Fordham's only all-male group, the Ramblers, performed "Work Song" by Hozier, soloed by Sam Scriven, FCRH '25, and "Madness" by Muse!, soloed by Matt Tobin, GSB '22. "We always look forward to and love doing the teaser! It's so fun getting to hear all the other groups and foster the a capella community more, and seeing everyone go off on their costumes is amazing!" said President of the Ramblers Zach Abu-Orf, FCRH '22.. He participated in the fun dressed as Damien from "Mean Girls" for the performance. The Ramblers will have their concert on Friday, Dec. 10 at 7:30 p.m. in Keating first.
The Satin Dolls performed "Witchy Woman," soloed by Yustina Hryciw, and "Beggin'," with soloists Maddy Ford FCRH '24, Elena Smith FCRH '23 and Aidan Briggs FCRH '25. "Beggin'" was among the liveliest performances of the night. The entire crowd was clapping along and cheering as the Satin Dolls beautifully harmonized. Satin Dolls treasurer Olivia Eguia FCRH '22 told the Ram, "Halloween teaser was such a fun time! After not being able to put on this event in person last year, it was so great to be all together again to celebrate Halloween and Fordham a cappella!" The Satin Dolls are performing at The Rockettes Christmas Spectacular this Friday Nov. 5. They will also be performing at the Bronx Night Market on Nov. 13.
After the absence of live performances, it was wonderful to have the a cappella groups and Fordham community come together for a night of fun. Still, the performances were accessible on Twitch to those who could not make it in person. Be sure to see the different groups at their upcoming concerts!