What does NYC Look Like Under Eric Adams?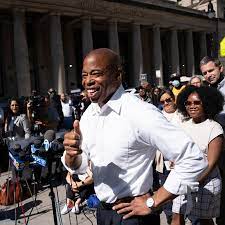 On Nov. 2, 2021, current Brooklyn Borough President Eric Adams was elected to serve as New York City's next mayor, the second Black mayor to hold the position.
Before his election as mayor, Adams spent 22 years working as a New York City police officer, served four terms in the New York State Senate and served seven years as the first African American Brooklyn borough president, according to his campaign platform website.
Adams beat the opposing candidate, Republican Curtis Sliwa, the founder of the New York City nonprofit the Guardian Angels, in a sweeping victory, according to the New York Times. News outlets began calling the election for Adams a mere 10 minutes after polls officially closed on election night.
Reactions to Adams' recent election among college-aged voters at Fordham were mixed. While he said he cannot speak for the club, Tim Koubek, FCRH '22, the president of College Democrats said his response to Adams' victory was one of "cautious optimism."
Adams' focus on improving the economy includes "revisiting regulations that discourage growth, particularly in Black and Brown-owned small businesses," according to his campaign platform website. Gabe Lopez, FCRH '22, the president of the Fordham College Republicans, said he thinks Adams is "pro-business, so it would be good to see some small business tax reduction because opening a business in New York is prohibitively expensive."
The changes Adams plans on making in New York City include "offering subsidized or free childcare to any New Yorker who needs it," as well as "eliminating fees and significantly reducing fines for small businesses," according to his campaign platform website. Adams also hopes to provide support to bars, restaurants and minority-owned businesses, as well as women-owned businesses.
With respect to COVID-19 vaccination mandates, Adams said he agrees with the current Mayor Bill de Blasio's decision to require a large majority of the city's municipal workers to be vaccinated, according to the New York Times.
Koubek said he agrees with Adams' response to vaccination mandates. "I personally am in support of it because these are jobs where you are supporting the public, and so actions need to be taken to support public safety," he said.
Lopez expressed a similar sentiment regarding COVID-19. "Government workers are subject to government regulations more than other people," he said.
Adams has proposed a multifaceted response to the New York City housing crisis. According to his campaign platform website, Adams hopes to "up-zone wealthier areas where we can build far more affordable housing units" and "think big by thinking small and add basement apartments, SRO's and other small units." Adams also plans to repurpose other structures such as hotels and office buildings to create more affordable housing options.
Koubek suggested that many of Adams' housing policies might positively impact college students who plan to move to the city after graduation. "The price for New York City housing has gotten ridiculously high," he said. However, Adam's policies will "make New York City housing more plentiful and affordable," said Koubek.
In addition to these goals, Adams has focused on creating policies that will combat the city's high crime rates, making New York City neighborhoods safer, according to his campaign platform website. These policies will focus on "reinventing the anti-crime unit as an anti-gun unit" and "civilanizing areas of the NYPD that don't need to be staffed by cops."
Adams, a retired member of the NYPD himself, believes that New York City police reform will require both diversity and transparency, according to his campaign platform website. He hopes to add "Black and Brown officers who will respect and protect New Yorkers." Adams also plans to assign New York City's "first woman police commissioner."
In an opinion piece for CNN, Eric Adams wrote that he supports Joe Biden's proposed "Build Back Better" plan. The plan includes a variety of infrastructure changes related to housing, gun violence protection, childcare, transportation and climate concerns.
Koubek said he is in support of Adams' commitment to creating "more renewable energy [and] less destructive environmental policies, leaving the next generation an Earth they can inhabit and live in."