Fordham Dance Clubs Hold Open Classes for all Experience Levels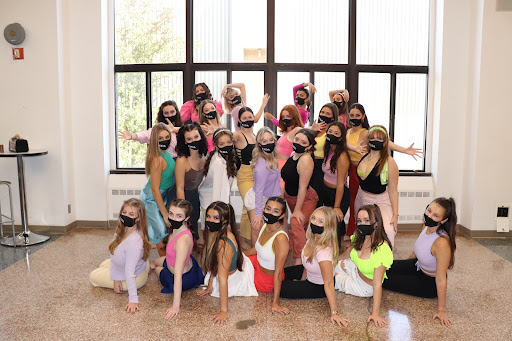 As you walk through a Fordham club fair, you are overwhelmed by tables advertising dance clubs: Sláinte, Expressions, Flava, Candela and Fordham Dance Alliance. If you have zero dance experience like me, you scurry past — the narrative that you have to learn to dance before the age of five running through your head. However, Fordham's Irish Dance Team Sláinte and the Expressions Dance Alliance are fighting that stigma by offering "open classes" that allow all students to experience dance. 
Patrick Breen, FCRH '22, the co-president of Sláinte, explained that at club fairs they always generate a lot of interest from students who have never Irish danced before. But Sláinte is an audition team, so they cannot accept everyone into the competitive group. However, they still want everyone to have the opportunity to participate, so last year they started hosting open classes so anyone could try it out, even if they had no experience. 
Sláinte hosts their open classes every Saturday from 3 p.m. to 3:45 p.m. in the Keating Basement Dance Studio. They begin their classes by teaching the basic forms of Irish Dance, like how to stand and how to hold your arms, and a traditional Irish jig — a soft shoe step. Next, they teach the attendees how to do a treble — a hard shoe step. Breen said it doesn't matter that the attendees don't have the traditional Irish dance shoes; they can practice in sneakers. If you are interested in attending one of these open classes, you can DM @slaintefid on Instagram to reserve a spot. 
Expressions Dance Alliance, a dance company that utilizes many styles, also holds periodic open "master classes" throughout the year. Their most recent master class was on Nov. 2, and it was taught by Meg Luca, GSB '22, the vice president of Expressions. Luca's class went incredibly well, "I walked into my masters class last week and there were at least six girls not on Expressions and it honestly just brightens your day to see [that] these people are interested, they want to come and dance with us." Luca described the experience as simply "happiness." 
At Expressions' master classes, one of the club members teaches attendees choreography. They do a warm-up, teach a little bit of choreography at a time until everyone is on the same page and then split into smaller groups to run through the whole dance. Luca said there was an improv section to her dance: "I don't like to improv, so I said to people if you are not comfortable doing it and you walk off I don't care … it's supposed to be a fun thing so if people didn't want to do it I wasn't going to make them." She explained that master classes are supposed to be a comfortable environment for people with all levels of experience. If you are interested in attending, Expressions will be hosting another master class on Dec. 6. Luca encourages everyone to come, as it can help clear your mind before finals. 
While it can be daunting to go into a dance class in your 20s with no prior experience, both Sláinte and Expressions welcome students who have never danced before.
Luca said that the stigma around learning to dance later in life doesn't exist in Expressions. At her master class last week, one of the Expressions member's roommates came who had no dance background, and she still had a great time, "She was very willing to learn." There are even some members of Expressions with less experience who still made the team and are incredible dancers. 
 Breen said, "We're trying really hard to get people who have no dance background to come, so all are welcome at Sláinte open classes." He explained that there is definitely a stigma within the Irish dance community that you have to have been dancing your whole life to participate. He himself started when he was just three years old. However, he finds that those who started dancing later often pick up the choreography faster. "There definitely is a stigma of starting older, but I don't think that should exist. I think anyone should be able to learn to dance at any age."
But, if you're not quite ready to lace up your dancing shoes, there are a few performances coming up so you can enjoy the art of dance from the comfort of the audience. Expressions Fusion will be on Nov. 19 and 20 at 8 p.m. in Collins Auditorium, and Sláinte will be performing at Fordham ASILI's Taste the World event on Nov. 11 in the McGinley Ballroom. Additionally, Sláinte will be competing at the Intercollegiate Irish Dance Competition at Villanova University in late November.