Who's That Kid: Junior Settles at Fordham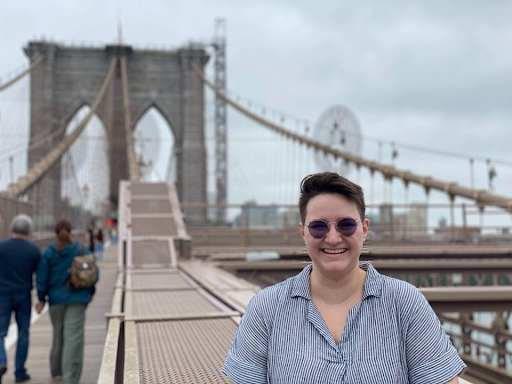 Growing up, she rarely spent more than a few years in one place. Her family moved from country to country due to her father's job, and Angie grew up in a variety of environments. Born in Jordan, she's lived in Syria, Virginia, Abu Dhabi, Turkey, Virginia again, and finally settled in New Jersey where she commutes to the Lincoln Center campus from.
The transient lifestyle has its pros and cons, according to Wright. 
"[The positives are that] I learned how to adapt, I learned about different cultures, I was friends with so many different people with different backgrounds. I definitely would have preferred that to the suburban life, where I'd spent 18 years grow up in the same house I was born in."
She continued: "On the other hand, some of the difficulties are that I don't relate fully to any one group of people." Wright reminisced on the last two years of high school she spent stateside, in Virginia. "I had a lot of trouble relating to everyone in high school in Virginia… Everyone had already formed their friend groups in middle school. I wasn't a part of that, but at the same time I'm not foreign— though I had a very different concept of America, having only learned about it through the eyes of people in the embassy, that people serving America diplomatically and militarily."
Wright is currently double majoring in History and Middle East Studies and minoring in Arabic. 
"I started out as a math major, actually," she said. "I was interested in minoring in history, but then the pandemic hit and I found a lot more joy in elective history course than I was finding in my major courses for math." The Middle East studies major and additional Arabic minor was a natural choice for Wright, who spent her childhood bouncing from one cultural setting to the next. "I wanted to learn Arabic at Fordham—I took French and Turkish in high school, and took Arabic when I lived overseas in 5th and sixth grade."
Languages aren't the only skill Wright likes to collect; she plays multiple instruments, as well. A list of the instruments she plays are as follows: clarinet, bass clarinet, contralto clarinet, alto saxophone, baritone saxophone, and she is currently learning to play the drums and piano. She played the clarinet in the Lincoln Center Chamber Orchestra from Fall 2019 to May 2020.Wright, who has participated in band and orchestra since elementary school, found that music was the same for her no matter where she was living.
"The one constant thing for me was music," she said.
Currently, she's the cultural programming coordinator of the Women's Herstory Month committee, which is sponsored by the Office of Multicultural Affairs. Her duties include brainstorming programs, organizing the committee, and planning out events for Women's History Month in March of 2021. 
When asked her favorite things about studying at Fordham University, Wright, perhaps inspired by Fordham's famous motto, "Fordham is my school, New York is my campus", reached for the location of Fordham's Lincoln Center campus. The fun of thrift shopping in the area, the ability to travel to famous landmarks and locations from the campus's central location, and the local foodie culture and restaurants all featured as benefits of coming to Lincoln Center. 
However, Fordham's location is not all it offers this student.
"I really like the professors here," she explained. "They're accessible, and they make the classes fun." She continued to discuss the smaller class sizes at Fordham. "It's interesting! When you're just outside of campus, there are so many people you pass by… it can be isolating to be in a city so huge and so full of people by yourself, but you come here and there are these small classes and the small campus… it's just so intimate," said Wright, "it makes me feel less alone."
Being a Fordham student has helped Wright realize what she is passionate about, as well. "I realized how much I want to get into international law," she explained. "I'm actually looking to go to law school right after graduation. I'm passionate about hearing people, listening to them, being empathetic, and I want to use the that skills I have to help people." The Syrian refugee crisis was something particularly important to Wright.
Finished Wright: "I just really want to engage with humanity on a large scale."