Inaugural Late Night Event Brings New Life to Rose Hill
Fordham tipped of a new basketball season with an electrifying event at the Rose Hill Gym, headlined by a musical performance from A$AP Ferg, with the hope that same energy will translate to the play on the court.
It's no secret that word on campus spreads quickly. Once Fordham Athletics announced that there would be an inaugural Late Night on the Hill, Fordham students were buzzing with excitement in anticipation about being able to both celebrate the basketball team and having a performer on campus.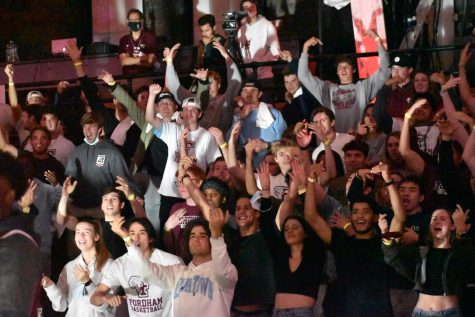 It is something Ram fans from a decade ago will recognize. "Midnight Madness," as it is often referred to, is an annual event just after the clock hits 12 a.m. on the first day of college basketball practice. Many teams have their own iteration of it, and Fordham used to have its own, "Ramtown." The annual event featured food from local vendors, a scrimmage and all the staples of the Fordham Basketball season.
However, as the men's program began to fade into futility, so too did the events associated with it. Now, with continued success from the women's program and a new energy with head coach Kyle Neptune, it became time for Fordham to bring it back again.
Athletic Director Ed Kull knew it too, as he has made a priority of reigniting the student and alumni audience. He felt this event was one way to do it, while also being a fitting way to reward a Fordham community forced away from its sports teams for over a year. That is true for basketball especially, who played the entirety of its 2020 season behind closed doors.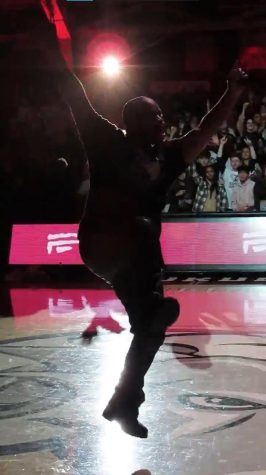 And so, Fordham gathered about 2,700 students in the Rose Hill Gym on Thursday, Nov. 4 to ring in the beginning of what is expected to be an exciting basketball season for both the women and the men. Each student that sat in the gym was given a free t-shirt: white with the words "Fordham Basketball" and the Block F logo. Some students may have come for the freebies, but others had much more of a reason. "I wanted to support the men's and women's basketball teams because I have friends on both," said senior Juliana Burke.
DJ Ria played the music along, with emcee Chuck Lott orchestrating giveaways and competitions. Waiting for the main act was rough at times, with a bit of standing around and a lack of action that other events usually see, especially considering the two hour wait. The build-up, though, set the stage for musical performer, New York native A$AP Ferg. 
The guest performance was one of the most anticipated aspects of the night, and rapper A$AP Ferg lived up to it, electrifying the red-soaked Rose Hill bleachers with his familiar hits and bringing energy to the long-dormant Rose Hill Gym. "I'm personally not an A$AP Ferg super fan, but I felt like it was an opportunity I could not miss," Burke added.
It was a fitting way to open up a new basketball season, with those same fans expected to storm the Rose Hill Gym for the regular season. "It was super fun, the energy was amazing. I didn't even feel like I was at Fordham," said Burke. And with two wins already in the books, it seems like only the start of the excitement this season will provide.