The Winter Village Brings Holiday Cheer to the City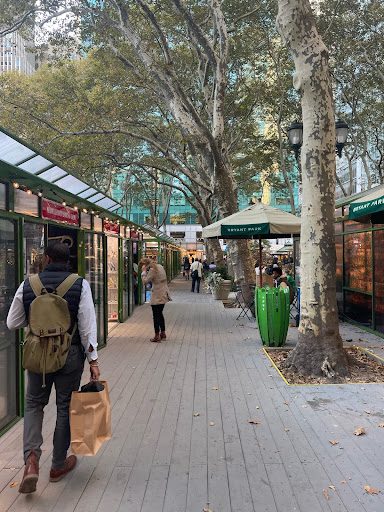 It may only be mid-November, but it's a winter wonderland downtown. Fake snow and tinsel adorn store windows, Starbucks has red cups and Bryant Park's Winter Village is in full swing.
Originally introduced in 2002, the holiday shops were a way to liven up the concrete jungle and became a fixture in the Manhattan winter scene in 2005. This year, the Winter Village opened on Oct. 29, while most were still putting together last-minute Halloween costumes with the holidays far from their minds. Combined with New York's unusually warm November weather, did it open too early?
Every winter, the same debate over when to start celebrating emerges, desperately dividing families between Christmas and Thanksgiving. Holiday music starts blasting through grocery store speakers by midnight on Halloween and self-proclaimed "Queen of Christmas" Mariah Carey vouches that the holidays begin as soon as November does. 
After the past two years, people are craving feelings of togetherness and may be more desperate for the holidays to begin to reignite those feelings. Many associate the holidays with nostalgia and happy family memories and want to make up for lost time by beginning celebrations as soon as possible. 
To fuel that holiday nostalgia, the Winter Village features its very own Santa's Workshop complete with ornaments, Santa hats and hot chocolate. On Dec. 17, 18, 21, 22 and 23, you can even get a free picture with Santa with your skating rink tickets. Admission to the ice skating rink is free if you bring your own skates and reserve your hour-long session online. Open rain or shine, from early morning to late at night, the rink makes the perfect backdrop for your next Hallmark holiday movie meet-cute. 
With the holidays coming up, stop by the holiday shops selling everything from handmade jewelry and hats to vintage-themed prints. St. Petersburg Collections has hand-painted Russian nesting dolls perfect for the aunt who can never have enough trinkets. Pick up a puzzle from the New York Puzzle Company for your dad. While you're at it, treat yourself to a bouquet of rose-shaped wire sculptures from One Million Roses that you don't have to worry about watering. There are at least 10 different stands throughout the market, so you can grab a hot chocolate, coffee or apple cider post-shopping spree. 
The Winter Village is modeled after Europe's Christkindlmarkt, Christmas-themed winter street markets with food and handmade goods. Bryant Park's take is packed with New York City flair. Many of the stands feature art from local artists and city-themed prints and posters. Additionally, there are stands offering food from all over the world including ramen, crepes and cheesesteaks. There are also a wide array of sweets like pie, chocolate and cookie dough.