Who's That Kid? It's Kat Timofeyev FCRH '22!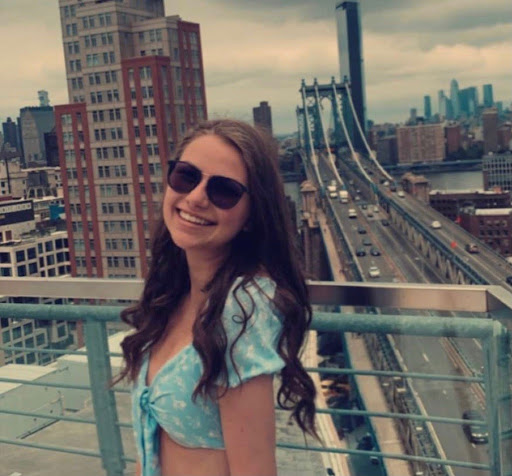 Kat Timofeyev, FCRH '22, does it all. A Rose Hill senior who ends her time at Fordham this semester, Timofeyev is heavily involved and makes it look easy. Majoring in psychology and minoring in political science, she is off to law school after Fordham and wants to work with children in schools to ensure they have access to sufficient mental health services. She already has a headstart on mental health work as the culture section's mental health columnist and as the founder of Fordham Happy Hopes. 
Fordham Happy Hopes is a mental health practicum, a part of the Social Innovation Collaboratory, dedicated to promoting mental health awareness at Fordham and in New York City as a whole. Timofeyev started Happy Hopes in March 2020. Happy Hopes hosts various events to spread awareness and positivity. They gave out cookies during finals and recently held an event for Halloween where they had candy and shared positive affirmations.
Working two jobs at Kumon and Mixx Boutique, Timofeyev has a diverse background. Her job at Kumon, a learning center in Midtown, has given her experience working with children, for the most part toddlers. She also works at Mixx Boutique, a clothing store in Brooklyn run by her best friend's mom. "It's so different from the other things I do, and I also just love spending time with my aunt," Timofeyev said.
Timofeyev is also a senior editor for the Fordham Undergraduate Law Review and involved in Mimes and Mummers, Fordham's main stage theater group. Timofeyev has a strong background in the performing arts. She used to dance jazz, ballet, lyrical, tap and more and can play nine instruments. Her schedule did not allow room to participate in band, but that just means she has many fun party tricks, like a cartwheel with no hands.
Most importantly, Timofeyev is a columnist and an executive copy editor for The Fordham Ram. Regarding her time at the Ram, Timofeyev said: "Nothing makes me happier than being surrounded by all of you beautiful people. I'm grateful every day that Rachel [our Editor-in-Chief] convinced me to write that Avril Lavigne article way back when because that's what really got me into this. Now, not only am I an exec editor, but I also have my own mental health column and amazing editors who let me write about whatever I want even if it's a silly little pug."
The culture section could not be luckier to have such a dedicated writer and thoughtful columnist who produces heartwarming and helpful articles. Kat's Mental Health Column is a staple of the culture section, and Timofeyev's departure is leaving a large hole to be filled. Kat's Mental Health column has provided comfort to incoming freshmen, advice during exam seasons and, on many occasions, importantly commented on mental health in our culture.
The Ram as a whole is lucky to have Timofeyev as a part of its staff. She is a ray of sunshine during production nights, bringing delicious baked goods to share with everyone and laughing around the copy table. Her presence will be greatly missed.