The Havana Film Festival Fosters Important Conversation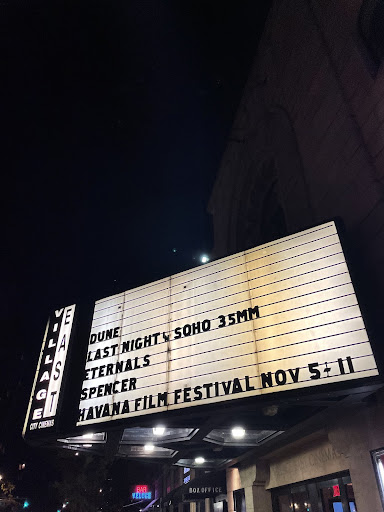 An ode to the emotional depth and grit of Latin cinema, the 21st Havana Film Festival in New York (HFFNY) has returned to theaters at the Village East Cinema. Running from Nov. 5 to  11, the festival showcased films from Colombia, Argentina, Chile, Cuba, Puerto Rico, Spain, Peru, Guatemala and Mexico in a vibrant celebration of global cinematic voices.
In addition to fostering immersive multicultural experiences, the festival also offers panel discussions and retrospectives with directors, actors and producers. In collaboration with other institutions and festivals, HFFNY is a beacon of dynamic international filmmaking in the city of New York. Out of the daunting 32 film line-up, I had the pleasure of seeing "A Media Voz" (dir. Heidi Hassan and Patricia Pérez Fernández) and "Nudo Mixteco" (dir. Ángeles Cruz). 
The centerpiece selection was "A Media Voz" (In A Whisper) directed by Heidi Hassan and Patricia Pérez Fernández. Visually stunning and emotionally moving, it paints the narrative of two childhood best friends and filmmakers in the midst of the Cuban diaspora in plaintive watercolor. In search of finding not only each other but themselves, Hassan and Pérez employ archival footage, photographs, voice overs and contemporary material to weave the intricacies of immigration like no other. Blurred images of buildings and rain greet the audience as the camera pans to an opening scene of two young girls in a swimming pool — teeming with movement. Water proves to be a recurring motif that constantly separates and unites the friends throughout the film. 
The fraught limbo of whether or not to leave Cuba is ubiquitous in Cuban cinema, yet there is a unique allure to how these two diasporic voices are portrayed in "A Media Voz." With the intimacy Hassan and Fernández have established with filmmaking, they bring another voice into play: the cinematography itself. Dangling from cranes for aerial shots and placing cameras atop vehicles, the intensive co-production process parallels the multifaceted narrative onscreen. Deconstructed and raw, both women dissect the simultaneous euphoria and existential suffering of immigration with their bare hands. Rather than honing in on top-down immigration policies and diluted generational stories, Hassan and Fernández allow us to see from their personal perspectives. Cultivating and sharing their gray spaces, their decisions to migrate are imbued with finding work in the face of discrimination, the solace and weight of motherhood, building homes (physically and emotionally) and welcoming old age with knowing arms. The nuanced complexities of their narrative surpass national identity with grace.
Set against the annual San Mateo festival, Ángeles Cruz's "Nudo Mixteco" artfully crafts a quilted narrative of three indigenous women as they navigate the intricacies of love and sexuality within the constraints of culture and tradition. An actress and filmmaker from the Mixteca region, Cruz's debut feature film portrays a community largely dominated by chauvinistic traditions that is combated stoic feminine empowerment. Originally conceived as three female monologues, Cruz eventually realized that the limited space in which women have autonomy over their lives and bodies is universal. The motif of immigration encompasses the three chapters, with the impact on family and community serving as a bridge between. Obligatory in nature, returning home becomes painful after leaving out of necessity.
How do we see our community? Ourselves? Where do we belong? Profound pain manifests itself in the openness of these three intertwined stories. A woman bars herself from being in a same-sex relationship due to prejudice from both herself and her father. An estranged couple loses communication when the husband leaves to find work, and they can only watch helplessly as their marriage and home go up in flames. Finally, sexual abuse of children proves to be a vicious cycle as a single mother struggles to mend a broken bridge between her and her daughter. With playful flair, Cruz seamlessly connects the narratives — two people step off the same bus, the funeral procession makes its way past the arguing couple, and single mother Tona attends the burial. With "nudo" translating to knot, the film pays homage to the title as we spectate the life for those in the village. These women have suffered, yes, but they're self-reliant and proud. Unraveling and twisting, coming and going, the bitterness of a woman's existence in othering spaces is an interconnected experience. 
Like the omnipresence of water in "A Media Voz," those who attend The Havana Film Festival are submerged in a pool of culture, diaspora studies, the passing of time, motherhood, sexuality, change and continuity. Wading through the love of cinema, we find ourselves reflected on the silver screen and flowing back into universal stories of friendship, grief, love and introspection.