Fordham Volleyball's Historic Run Concludes in the A-10 Championship
Fordham Volleyball upended a pair of top seeds before reaching the Atlantic 10 Championship to culminate a season in which they worked their way through adversity, injury and doubt before coming together to do something no other team in program history had ever done.
Amid a global pandemic, a shortened season, and a newly integrated pod structure, Fordham Volleyball punched its ticket to the Atlantic 10 tournament in April for the first time in a decade. Then-sophomore setter Megan Brzozowski earned a spot on the selective A-10 All-Championship team and then-freshman Whitley Moody secured the elusive title of A-10 Rookie of the Year.
With both players coming back, impressive first-year additions, senior leadership and stellar coaching headed by Ian Choi, the squad was predicted to finish fourth in the Atlantic 10 Preseason Coaches Poll. 
The 2021 season is Choi's fourth amid a three-year extension signed in January 2020 after taking the squad to 12 total and 5 league wins in 2019. Back then, his goal was always finishing within the top six of the conference: "The culture of the program is only getting brighter and more refined and as we continue to be process-oriented we should only see improvement," he stated after bringing in the class of 2023. Now, two years and three seasons later, he and his team have done that twice, losing in the first round last season and making it all the way to the finals this past weekend. 
"We didn't let our record define us because as our coach kept on saying it's not how you start it's about how you finish," Brzozowski said. The Rams finished 8–19 overall and 5–11 in conference play heading into the tournament, dropping four games in five sets the entire season. They started the year with three preseason losses and opened A-10 competition the same way against Virginia Commonwealth University, Davidson College and Saint Louis University, teams that finished second, fourth, and third in conference, respectively. They lost three straight home games against those same teams before facing the University of Rhode Island in the season's final home game, senior night.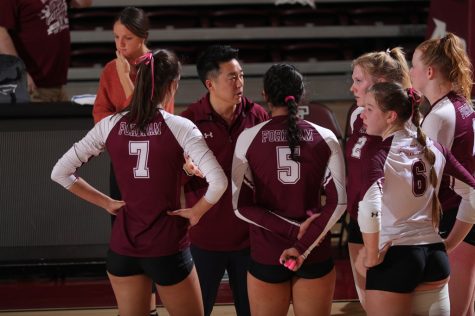 The team was just above the rival Rams, who were right behind them in seventh place, and an equal 4–10 in conference play, following those losses. This meant that they had to either win both games against Rhode Island — one at home and one away — or sweep them in one game and win at least a set in the other.
Brzozowski noted that having the fate of the season in their hands was exactly what they wanted heading into the decisive weekend: "We're really happy that it's still in our hands whether we make the A-10 tournament or not. We have to win both games against Rhode Island and I know we're capable. It was a tough weekend of losses, to say the least, we're gonna give our all on in practice this week and hopefully have positive outcomes this weekend."
That dedication and determination led them to sweep Rhode Island on senior night, and to take a set in Kingston, sending them to the A-10 tournament for back-to-back seasons, the first time they have done so in over a decade.
Their first matchup was against third-seeded Saint Louis, who they had lost to in a five-set thriller at home. The Rams cranked it up in playoffs, turning their fate around and taking the match in five sets. They rallied back from dropping the opening set 14–25, took the next two 25–22, 25–22 and dropped the fourth 17–25. The Rams had not won a single game that went to five sets the entire season. This changed in Friday's quarterfinals. The squad took the fifth set 15–10, outhitting the Billikens with 12 kills to their single one in the final set, and they only had one error to SLU's three. 
Senior outside hitter Bella Urena was proud of the team's momentous win: "Making history with this team was not surprising," she said. "We've worked so hard this season especially being back to back in seasons and we peaked late!"
With the win, Fordham went on the play second-seeded VCU in the semifinals. It was an extremely close match where they took the first set 25–22, lost the next one 20–25 and blew past the VCU Rams in the final two sets 25–21, 25–23. 
Sophomore and Second Team All-Conference member Whitley Moody had to sit out due to injury after the first set. Freshman outside hitter Lauren Sweeny stepped up to the plate in her absence, finishing the game with seven kills. 
The Rams were on their A-game in both of these matches. The offense put up an impressive 107 kills over the course of two days. Middle blockers sophomore Izzy Fichtel and junior Aria De La Rosa continued the success they have had all season long and junior Chloe Pejouan and senior Claire O'Neil contributed in a timely fashion. The defense was also stellar, with 172 digs over the two games. Junior libero Mallory Lipski and first-year defensive specialist Ryan Naumann were all over the court for the Rams, propelling them to the championship final for the first time in program history. 
Their opponents on Sunday were the juggernauts from the University of Dayton, who had a 25–5 overall record, a perfect 15–0 in-conference heading into the match. Historically, Fordham had never won in the 27 times these two teams had faced each other, yet they had taken a set from them earlier in the season for the first time since 2017.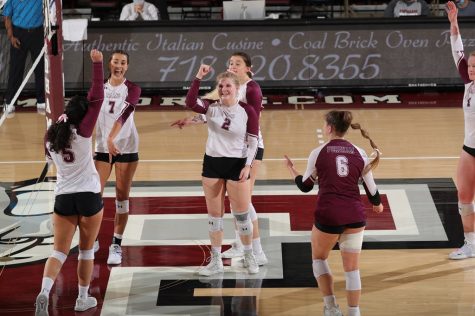 Brzozowski noted the amazing feeling the team sustained throughout the entire tournament: "It felt incredible. As a team going into this tournament I think we really fell back in love with the game and just were having fun!" she exclaimed. "Our team always plays our best when we have fun and that's exactly what we did. Our record this season does not even begin to show how [much] each and every one of these athletes has put into this sport. It was great to do what so many thought we couldn't do. VCU and SLU are great programs and it felt incredible to win together as a team to make Fordham Volleyball history."
Brzozowski and Lipski earned All-Conference honors after the game, the former among eight other players in program history for most assists of all time, and the latter finishing her junior campaign with the second-highest digs in a single season at 544. 
Lipski is thrilled about the team's success: "I couldn't be more proud of this team," she said. "It wasn't about playing perfect, it was about playing together and we did just that. Despite not having the outcome we wanted, we were all present in the moment and enjoyed every second. I'm so happy we could send out our seniors having upset the number three and number two seed as a six seed in the A-10 tournament and making program history in doing so."
The last-seeded team faced the first-seeded team and almost took the first set before eventually falling in three: 25–27, 13–25, 18–25.
Pejouan finishes her season with 1.53 blocks per set, second-highest behind Fichtel's freshman year campaign, and Fichtel finishes sixth all-time this year with 1.10 blocks per set. 
A historic season with a historic end, Fordham Volleyball worked their way through adversity, injury and doubt, coming together to do something no other team had ever done.
They finish the year 10–20 overall, yet their accomplishments speak volumes beyond their record. This was a team that peaked at the right time, trusted a process years in the making and, most importantly, incorporated some fun along the way.