Inside the Mind of an Athlete
Athletes are complex figures, possessing a love of the games they play that is difficult to digest, along with the unique tactics or routines that come with it. However, for those here at Fordham and beyond, the results speak for themselves.
Yelberton Abraham Tittle, better known as Y.A. during his playing days, is one of the NFL's earliest and most iconic quarterbacks in the 1950s and early 1960s. Known as "Old Reliable," Tittle was always one of the most consistent players at the position.
Tittle was a three time Pro Bowl player, selected twice for all-pro teams, the NFL's most valuable player in 1963 at the wee old age of 37 and led the New York Giants to three straight NFL Championship games in his four seasons there. The Giants lost all three of those championship games, but would not have improved as drastically as they did without Tittle.
In the early stages of the 1964 campaign, the Giants traveled to Pittsburgh to take on the Steelers in late September. Pushing the age of 38, Tittle went under center in a game in which the Giants were already taking a spill over themselves. John Baker charged past the offensive line and crushed Tittle as he dropped back in the pocket to force an errant throw which turned into a pick six.
Tittle's endmost season in 1964 was outright bad. It can be summed up in one single photo; one of only three that hang in the lobby of the Associated Press' headquarters in New York. A defeated Tittle is on his knees in the endzone; with blood gushing from his head coupled with the blank stare of defeat in his muddy white jersey. 
But what was going through his head at that exact moment? What is the reason he was able to go for all those years? What was his mindset?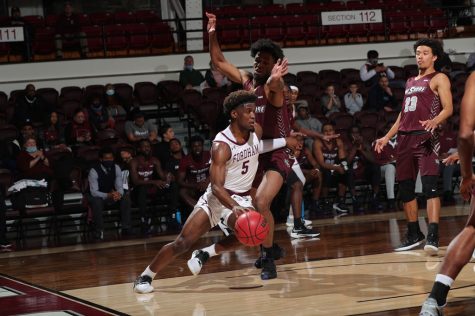 Athletes' mindsets are so sophisticated that it becomes difficult to ever understand them. The things they do are strange, some may even say abnormal, but they exist for a reason. Dissecting this complicated clockwork is no easy task. However, to athletes and those close to them, the results speak for themselves.  
Antonio Daye Jr., a junior on the men's basketball team, is one athlete with a unique game day routine.  
"On game day I have to listen to hype music and then R&B before the game. My hype music is in the morning and my R&B has gotta be before the game," Daye detailed. "A lot of people don't know, and I don't really have a philosophy behind it, is I play with money in my sock in every game; dollar bills, a five dollar bill or a 20 dollar bill."
Sometimes the athletes themselves can't understand why they do the things they do, but those routines are hardwired in their brains, becoming almost second nature.
Like Daye, many athletes approach their games in multiple different ways. The spiritual side is one of them, and senior softball player Gigi Speer has mastered the tool of utilizing spirituality and meditation as regular pieces of her game day routines.  
"I religiously meditate, but not for religious reasons, just more spiritual and out of necessity," said Speer. "It really is calming and part of my routine now, it's something I'm used to and it is usually a different topic every time; ten minutes I can be working on my breath, or I'll do a guided video with visualizations and stuff."  
Devon Miller, a junior teammate of Speer's, also shared some of her bizarre rituals that she practices before and during her games.
"I actually have a ton of little things I do. The first thing is that I always have to wear a teal ribbon in my hair," said Miller. "And if I don't have that on during the game I am freaking out."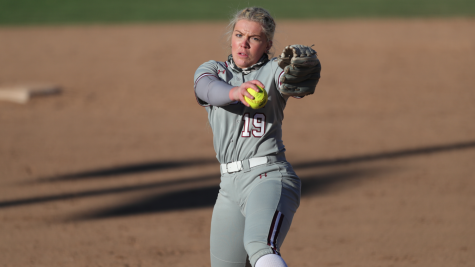 She attributes the teal ribbon to ovarian cancer awareness, which her late grandmother passed away from, and she wears it as a reminder every game to motivate her.
Kelly Bright, a redshirt senior on the softball team, talked about a certain accessory she likes to wear that keeps her mellow during times of difficulty.  
"I have this bracelet I wear, and it says, 'be where your feet are', and that's an expression that I've really leaned on in times like that to ground myself in the moment," she said. "If I can feel the way my feet are into the ground, and focus on something small, it's just a grounding tactic." Bright went on to detail that she also uses it as an anxiety tactic in everyday life.
Miller pointed to one instance last spring when the softball team was having a rough patch against Saint Joseph's University. She recounted her and the team taking every means necessary to try and fix the mojo within the dugout.
"We were doing anything we could just to try and get back into the flow," Miller elaborated. "There is a picture of it somewhere, but I had my neck gator on my head, I had my braid sticking up and then I had a cup on my hair and all this stuff. And I was walking around trying to try and bring light to our team."
Fordham Softball has had tons of success, and maybe these tactics are one reason why, as a source of both motivation and overcoming adversity. Athletes' minds drift into space some days, but the weirdness translates to success and that's all that matters for them. And while they are definitely a unique group, at the end of the day, they are human. Everyone has a different approach to how they get ready, and there may even be differences between men's and women's sports, but the concept of routines and the mentality to win doesn't change.